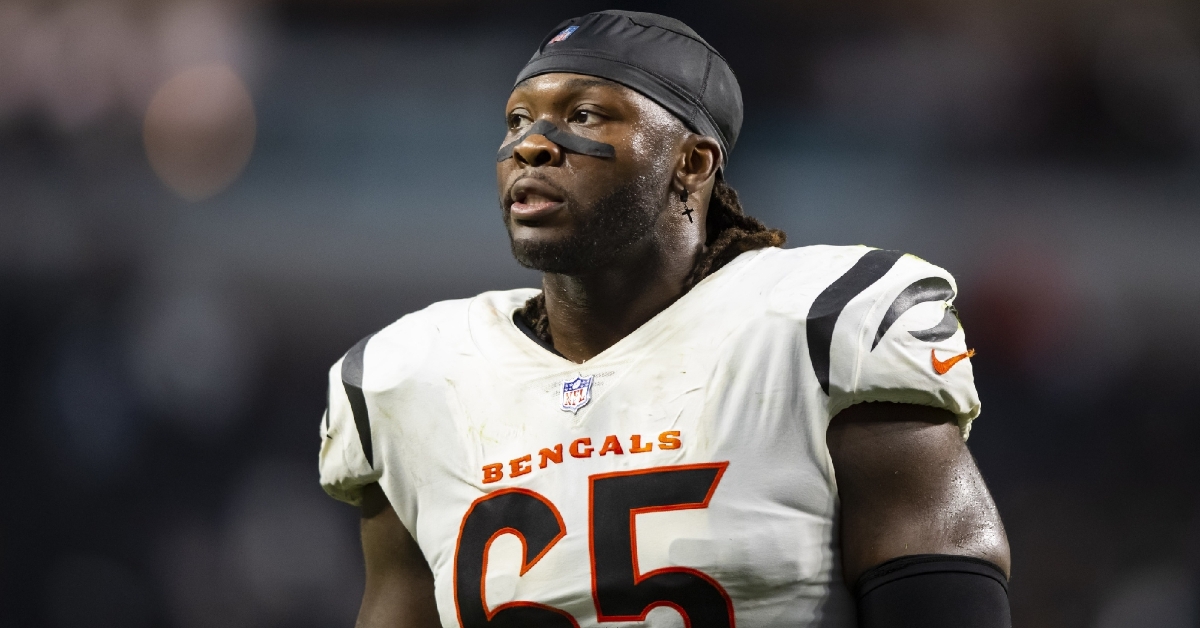 | | |
| --- | --- |
| Three ways that Larry Ogunjobi brings a lot to the Bears | |
---
| | | |
| --- | --- | --- |
| Tuesday, March 15, 2022, 8:45 AM | | |
For the first time in roughly three years, the Bears appear to be more aggressive on the free-agent market. A lot of that stems from more money being freed up, but you also have to look at the new regime and the impression they want to make. The best way to win the fans over would be to make a great first impression, and now is the perfect time to do just that.
Knowing that their primary focus would be on the offensive line and possibly WR, there are other positions the Bears need to worry about as several question marks surround this team. Already trading away Khalil Mack and having guys like Akiem Hicks with uncertain futures, you can see the defense going through a makeover of their own as the Bears want to get younger and shed some of those old contracts.
What better way to plan for the future than by adding a big man in the trenches as Chicago has come to terms with former Cincinnati Bengals DT Larry Ogunjobi on a three-year 40 million dollar deal with roughly 27 million in guaranteed money. The 27-year-old DT stands at 6-4 305 pounds and is a huge piece to plug in the middle.
After spending four seasons with Cleveland, Ogunjobi was with the AFC champion Bengals last season and put on quite a show. Not only did he play in 16 games, but he put up career bests in sacks with seven, QB hits with 16, and tackles for a loss with 12.
All of that would be a huge get for this Chicago Defense as he brings a few other things to the table with him.
Getting younger on Defense
For as good as the Bears defense has been the past five seasons, they are starting to age on that side of the ball. With that comes a series of injuries and inconsistent play, as some of their higher-paid players may be on the way out. Adding a guy like Ogunjobi is precisely what this team needs.
It gives them the physical presence in the middle and gets them much younger on that side of the ball, which is enormous. You are also getting someone coming off his best season and about to enter his prime. Should he be able to give the Bears three years of that same production, it would be considered a win for this team.
A playoff experienced vet
One thing the Bears don't have a ton of, especially on the defensive side, is playoff-tested vets. Sure, guys like Eddie Jackson, Mack, Hicks, and others have all been in the playoffs before, but neither of them has ever won a game. Not only has Ogunjobi been part of winning a playoff game, but he has played in six playoff games the last two seasons, including a Superbowl appearance this year.
That is precisely the kind of experience this Bears team needs. They need someone who has been part of a winning team and knows exactly what it takes to win games consistently. He also brings an intense motor and a hard-working attitude that will fit well with the younger players. Playing experience is one thing, but playoff experience is something you can't coach. That is something he has, and something Chicago would love to bank on for years to come.
Winning in the trenches
Having a good offense and a great defense is how you essentially win games in the NFL, but winning in the trenches often dictates that success. For the longest time, the Bears have been able to control the trenches on the defensive side, but have failed to duplicate that on the offensive side.
Things look to be getting better on offense, but the defensive line is suddenly becoming a question with Hicks, Eddie Goldman, and others with an uncertain future. Ogunjobi does not thoroughly answer all of those questions, but he at least gives the Bears someone to work with on defense. His presence in the middle may not be as good as Hicks, but he will do a lot of the same things.
Most importantly, he will set the tone in the middle and will help control the trenches at the line of scrimmage. For the Bears to get back to winning football, they need to be more physical, and Ogunjobi is about as physical as they come. This is an excellent get for Chicago, and it could be the steal of the free-agent class on the defensive side.