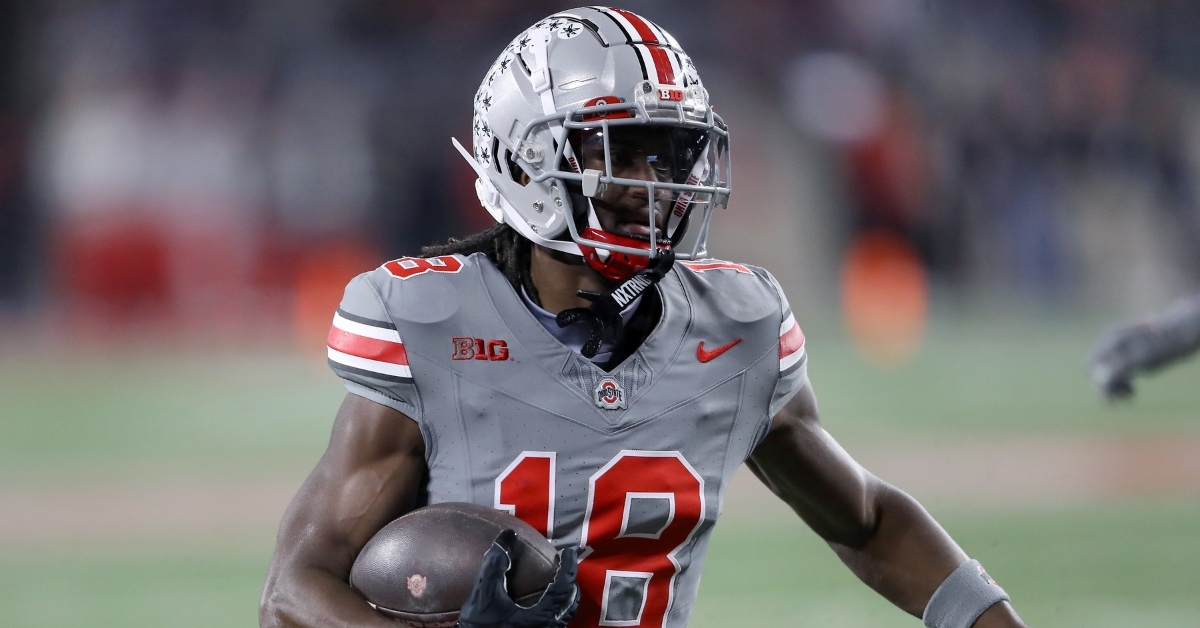 | | |
| --- | --- |
| Two future stars that should be on Bears radar for 2024 draft | |
---
Now that we are roughly 75% of the way done with another NFL season, it is almost time for the Bears to focus on another offseason. Barring a miracle or a complete debacle by several teams, the Bears will again be missing the playoffs and will turn their attention to the 2024 offseason following week 18.
With that comes one of the biggest offseasons in franchise history, even bigger than last year when they secured the No. 1 overall pick only to trade it away for DJ Moore and several assets. This offseason has a similar feel, but could be even more significant as the Bears will again have a ton of money to spend and will have not one, but two first-round picks. Both will be top 10 picks, with a great chance at both being top five selections.
As part of the Moore trade with the Panthers last season, the Bears picked up Carolina's first-round selection this season, and right now, they are picking first if the season ended today. Throw that in with the Bears, who are picking fourth, and the Bears will have two picks in the top five as they have an opportunity to draft two franchise-type players this season. Of course, you need to hit on those picks, but when you look at the draft class, there will be so many options for the Bears that it is hard to figure out what direction they will take.
Getting to the first pick for a minute should the Panthers continue to own the first pick, and there are so many directions this team can take. Caleb Williams and Drake Maye will always be in that conversation as they are arguably the two best QBs in the class, but it would leave the Bears with a tough choice to move on from Justin Fields. Unless a massive trade is made, which I don't see happening unless the Bears land another first-round pick, Fields will be the starter next season, which means the Bears will have to do what they need to do to keep building a team around him.
Drafting Marvin Harrison Jr No. 1 overall would undoubtedly help that, and it would pair him with Moore for the next several seasons to finally give the Bears an elite passing game. Harrison may not be a QB, but he is the best player in the country, regardless of position. He will be the lone non-QB in the Heisman running and has as good of a shot as anyone to win the award, although I think Michael Penix Jr, Bo Nix, or Jayden Daniels have a better shot.
Harrison is a game-changing WR, as his combination of size, speed, and strength make him a home run threat every time he touches the ball. He also knows how to go up and make a play, as he has one of the best-contested catch rates in the country. For a team looking to improve their passing attack and give Fields as many weapons as possible, adding Harrison Jr to the mix makes a ton of sense, as he would be a No.1 WR the moment he arrives.
What the Bears do after that first pick is a bigger mystery, as they could trade down to acquire more assets or hold tight and pick again. The safe bet would be to pick again, and OT Olu Fashanu is a real option for the Bears at No. 4. The anchor of the Penn State offensive line, Fashanu is the definition of a pass-blocking offensive lineman, which is something the Bears don't have.
He's one of the best tackle prospects in recent memory, with talent reminiscent of Laremy Tunsil. If not for several teams needing a QB early on, you could make the case that Fashanu would be the No. 2 overall pick, as he is that talented. This move allows Jones to drop into a swing tackle role and gives Chicago a pair of talented bookends at the tackle spots.
You could also see Chicago trade this pick to move down in the first round while acquiring other pieces to add to their roster. This could be an even bigger selection than the Panthers selection, depending on what the team does or what they can get should they trade this pick.