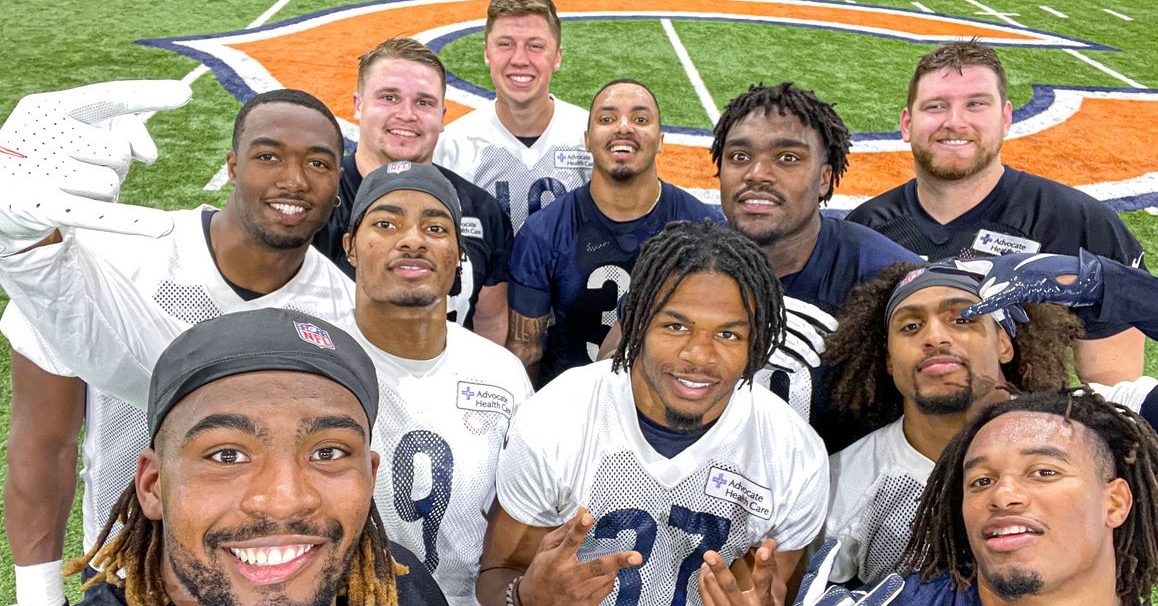 | | |
| --- | --- |
| What does positional battles look like for Bears defense? | |
---
| | | |
| --- | --- | --- |
| Thursday, August 25, 2022, 4:08 PM | | |
Yesterday, we focussed on where the 80-man roster stands on offense and what things could look like before September 1. Today we move over to the defense as that appears to be the one side of the ball with the most competition right now.
Week three of the preseason is essential in these battles, as the ones that play the best will most likely earn those spots to begin the season.
Defensive Line
Robert Quinn, Angelo Blackson, Justin Jones, Trevis Gipson, Mario Edwards JR, Dominique Robinson, Al-Quadin Muhammad, Trevon Coley, Micah Dew-Treadway, Sam Kamara, Mike Pennel Jr, Charles Snowden, and Khyiris Tonga: The defensive line is going to look much different this season as Akiem Hicks, Eddie Goldman, and Bilal Nichols are no longer anchoring the line.
That doesn't mean this unit lacks talent, as the Bears still have talented pieces up front. With the Bears moving to a 4-3 defense, look for Quinn, Blackson, Gipson, and Edwards Jr. to be the starters and anchor that unit. The next three or four spots should be up for grabs, with Pennel Jr, Tonga, Dew-Treadway, and Muhammad all names to watch as the final preseason game comes to a close.
Linebackers
Roquan Smith, Nicholas Morrow, Matthew Adams, Jack Sanborn, Joe Thomas, Caleb Johnson, and DeMarquis Gates: With just seven linebackers remaining in camp, it is not going to surprise me if the Bears were to keep all seven. That is not likely, but having five or six linebackers on this roster once camp breaks is a real possibility.
Smith and Morrow appear to be the only two locked in stone to start at this point, but the rest is up in the air. Out of this group, keep an eye on Sanborn, who not only has a chance to make this roster but could also find himself as a starter.
Cornerbacks
Jaylon Johnson, Kyler Gordon, Thomas Graham Jr, Tavon Young, Lamar Jackson, Duke Shelley, Kindle Vildor, Greg Stroman Jr, Jaylon Jones, and Davontae Harris: Much deeper than last year's room, the Bears are still sorting through 10 cornerbacks to field their roster.
In reality, look for five to be on this roster come week one, and the names shouldn't surprise anyone. Gordon and Johnson will be your starters on the outside, while Vildor should factor into the nickel position. You then have Shelley and Graham Jr as the favorites to land the remaining spots, but don't count anyone out.
Safeties
Eddie Jackson, Joaquin Brisker, DeAndre Houston-Carson, Dane Cruikshank, Elijah Hicks, AJ Thomas, and John Alexander: Down to seven safeties in camp, the Bears are going to cut at least two of them with the possibility of three. That means that at this point, everyone has a shot, and none has emerged over the other as of right now.
Jackson will be the starter once camp breaks and should be paired with Houston-Carson. That may come as a surprise, but remember, Brisker just had surgery and will be out a few weeks. Once he is healthy, he slides into that starting spot, making Houston-Carson the first reserve.
What happens after that is the next question, but I do like Cruikshank as the fourth safety. He may not be as skilled as the other three, but he is a special teams specialist, and that is what the Bears would be signing him too opposed to playing safety. He will be one of their special teams leaders, which is huge for any team.
Apart from that, any one of the remaining three would fit in well as a reserve player. Who stands out the most come the end of next week will be given that spot as the Roster will start taking its final shape.
Specialists
Cairo Santos, Trenton Gill, and Patrick Scales: The only position group that doesn't have a situation where someone will lose a player is the special team's room. They have their kicker in Santos, a new punter in Gill, and a great holder in scales.
The chemistry these guys have already developed is enormous, and it would be a travesty to break them up this late in camp. Maybe the Bears look into a different kick returner or two, but that would be the brunt of the Special teams moves for them to make.


Tags: Bears Football
,
Robert Quinn
,
Angelo Blackson
,
Trevis Gipson
,
Khyiris Tonga
,
Akiem Hicks
,
Eddie Goldman
,
Bilal Nichols
,
Roquan Smith
,
Caleb Johnson
,
Jaylon Johnson
,
Duke Shelley
,
Kindle Vildor
,
Eddie Jackson
,
DeAndre Houston-Carson
,
Cairo Santos
,
Patrick Scales