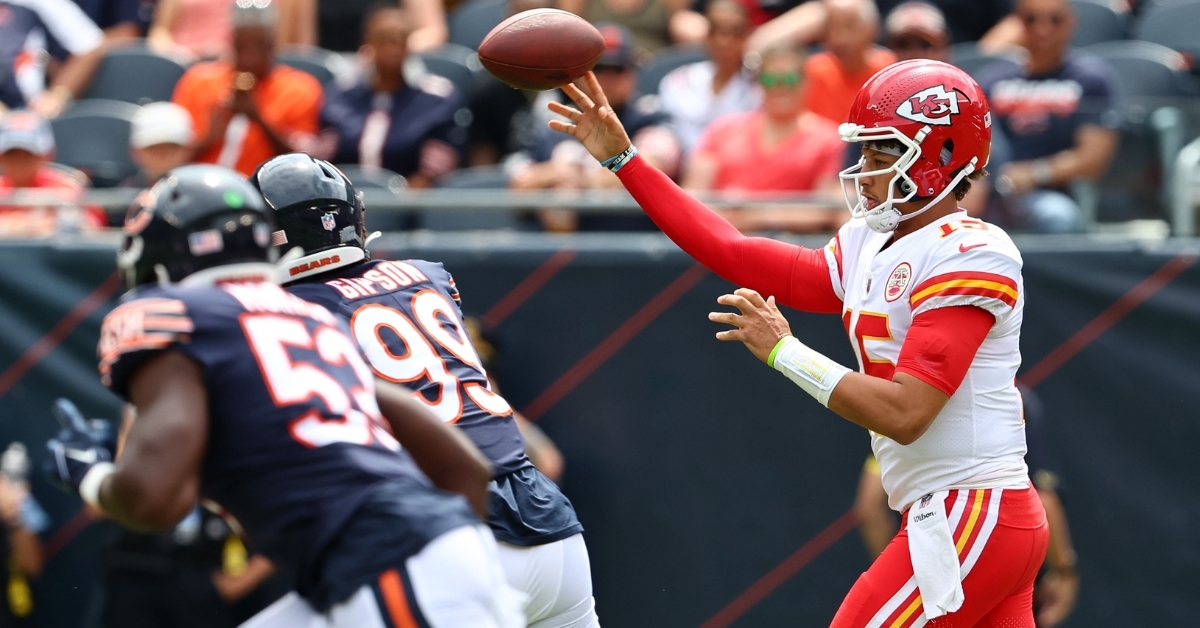 | | |
| --- | --- |
| What history tells us between Bears and Chiefs | |
---
To say this week has been turbulent for the Bears would be an understatement, and it may not be over yet. Sitting at 0-2 on the season and riding a 12-game losing streak dating back to last season, there is a ton of tension surrounding Halas Hall, and rightfully so. That tension has boiled over to the blame game, coaches resigning, and a complete mess of many bad situations.
Things may not get better in the short-term either, as the Bears not only hit the road this week but hit the road to take on the defending Superbowl Champion Kansas City Chiefs. This has the makings of a gruesome game, but if history tells us anything about these teams, there may be some optimism on the horizon.
These two are unfamiliar opponents to each other and have only met 13 times since the Chiefs entered the league, with the Bears holding the narrow 7-6 edge. That includes a three-game winning streak from 1977-1987 after the Chiefs won the first-ever meeting in 1973 by a score of 19-7. No box scores were reported for that game nationally, so you only have a good feel of how things went that day if you were there to witness it.
Following that loss, the Bears won their first-ever game against the Chiefs in 1977, holding them off by a score of 28-27. A 16-13 OT win followed that, then a 31-28 win, as these teams played in plenty of exciting matchups early on. The Chiefs went nearly 20 years before beating the Bears again, as they ended that streak in 1990 with a 21-10 win. Steve DeBerg completed 25-32 passes in that game for the Chiefs for 276 yards, while Bears QB Mike Tomczak endured a 5-23 passing game for just 85 yards.
Since that game in 1990, these teams have split practically every meeting, with the Bears winning in 1993 and 1999, with the Chiefs winning in 1996. Once the New Millenium turned in 2000, that trend continued as the Chiefs won 31-3 in 2003 before the Bears responded 20-10 in 2007. A 10-3 win by the Chiefs in 2011 was followed by an 18-17 Bears win in 2015 as the back-and-forth affair continued.
That brings us to where things stand now as the Bears and Chiefs last met in 2019, and it has been the only time they have met with Patrick Mahomes under center. In that game, Mahomes and Company made quick work of Chicago as they took care of business 26-3. Mahomes threw for 251 yards in that game with a pair of scores as Travis Kelce came down with one of those scores.
Granted, this may not be the same Chiefs team as they were back in 2019, but they are still one of the more explosive teams in this league, and they have Mahomes at QB. Anytime you have a guy like Mahomes under center, you are in a position to win every game, and with the Bear's defense as bad as it has been, this could be one of the rare blowouts we have seen between the two.
When you look back at the previous 13 meetings, more than half of them are one-score games, with very few being decided by more than 10 points. The ones that are decided by more tend to happen when one team is rebuilding and the other isn't. That is your situation here, as the Bears are in full rebuild mode while the Chiefs are a well-oiled machine that has yet to stop rolling in nine years.
If there is a silver lining for the Bears fans ahead of this week, it may be the pattern of games since the 1990s. Whenever one team wins a meeting, the other wins the next, and it has been going like that for 30 years. With the Chiefs winning in 2019, should this trend continue, the Bears would be winning this year, which would be a colossal upset.