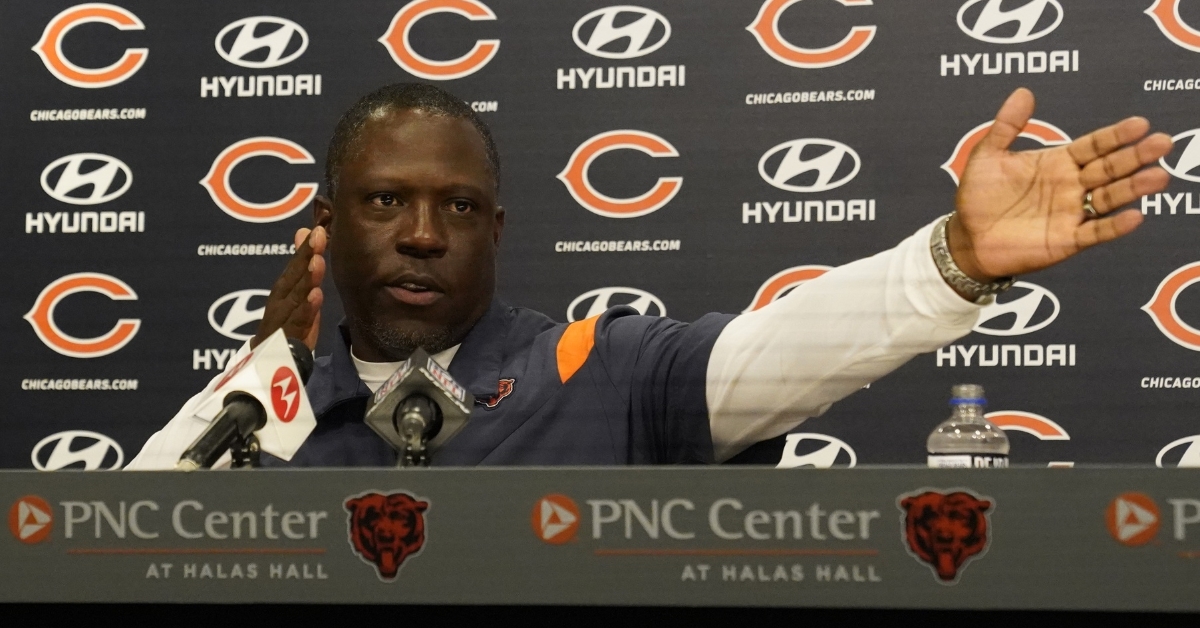 | | |
| --- | --- |
| What should Bears fans expect from defensive coordinator Alan Williams? | |
---
| | | |
| --- | --- | --- |
| Wednesday, August 3, 2022, 12:40 PM | | |
There have been a ton of changes surrounding the Bears roster this season. Not only did those changes start at the top with Ryan Poles taking over for Ryan Pace, but it then trickled down to the coaching staff before reaching the players.
With a new coaching staff comes a new scheme, and Matt Eberflus is taking what used to be a 3-4 defensive scheme and making it a more standard 4-3. The architect who will be leading the way on that side of the ball is first-year defensive coordinator Alan Williams who followed Eberflus over from Indianapolis.
Williams was the defensive backs coach while with the Colts, but he teamed up with Eberflus to create perhaps one of the most underrated defensive units in football the last three seasons. Now in Chicago, Williams is looking to bring this Bears defense back to respectability, and fans should be excited about the opportunity he has in front of him.
From a talent side of things, Williams has plenty of talent to work with, and Robert Quinn is one of those guys. Despite skipping the offseason workouts, Williams has gotten to know Quinn well the past few weeks and is excited to work with him once games start.
Coming off an 18.5 sack season, Quinn will be playing a new position in the Williams scheme, but that doesn't mean he will be less productive. He might have to get a bit more creative when making plays and look for Williams to help with that.
Being the former defensive backs coach of the Colts will come in handy this season as the Bears will once again have a young and inexperienced secondary. Kyler Gordon is one of those guys, but the rookie has benefitted from Williams already.
Expected to play on the outside along Jaylon Johnson a lot of the time, Gordon has also shown the ability to handle the Nickel corner position and other inside spots. That could be huge for Williams this season as he could use that to his advantage to be more versatile when picking certain players to carry out certain plays.
Perhaps the one thing Bears fans should pay attention to is what Williams wants his defense to be known for, which stems from his experience as a coach. It has been 11 years since he has been a defensive coordinator, with the last time coming in 2012 and 2013 as a member of the Minnesota Vikings.
Things didn't go well those two seasons, and Williams has had to bounce around filling different defensive coaching roles because of it. After taking a long look in the mirror, Williams acknowledges he is a much different coach than the last time he held a defensive coordinator gig, and that is not a bad thing.
When it comes to his defense this season, he wants them to be known for the HITS principle. For those unfamiliar with NFL lingo, HITS stands for Hustle, Intensity, Takeaways, and playing smart.
In other words, he wants his unit to play with intensity until that final whistle blows while always giving 100% effort on the field. In doing so, Williams also knows that mistakes will happen, but knows if you play smart to eliminate those mistakes, you have a great chance to win games.
The one thing that made the Bears defense so great under Vic Fangio was their ability to force turnovers. Chicago has not been very good at that the last few seasons, and Williams wants to get back to doing that this season.