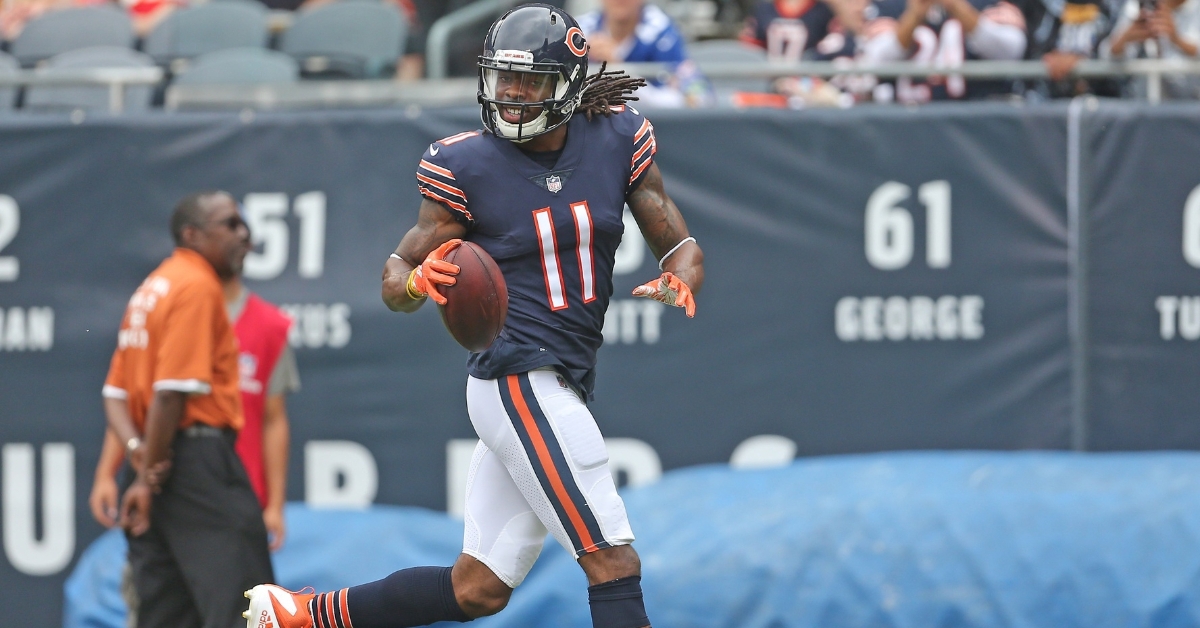 | | |
| --- | --- |
| Where are they now? Re-grading the 2015 Bears draft class | |
---
The Bears made some nice strides in terms of draft success in 2014 and were hoping to build on that in 2015. Coming off a terrible season, Chicago landed themselves a top 10 pick with hopes of finding a franchise star.
Round 1 Kevin White (WR West Virginia): Coming into the draft, no one doubted the ability of White as the only question is where he would fall too. Despite playing just two years at West Virginia, White put up an incredible final season, which earned him recognition as one of the best receivers in that class. That alone made him too good to pass up at No. 7 as the Bears needed offensive help.
From the moment White arrived in Chicago, you could feel the energy as the entire organization saw what he could do on the field. Unfortunately, no one else would ever get the chance to see that as White battled injuries his entire career playing fewer than 30 games throughout four seasons. For his career, White caught just 25 balls for 285 yards and zero scores before the Bears released before 2019. Hoping for one more shot in the league, White signed with the Cardinals practice squad that year but never played as he now finds himself out of the league.
Round 2 Eddie Goldman (DT Florida State): Perhaps the best-known name from this class for the Bears is second-round selection Goldman. The monster in the middle was signed for one reason, and that was to plug the running lanes and stop the run. Not only has he done that since he arrived, but he also continues to do that as he will be approaching his sixth season, all with the Bears.
Thus far, for his career, Goldman has seen significant action in a variety of roles, which has led to 150 career tackles and 12.5 sacks. Add in one pass deflection and two fumble recoveries, and you have a player that always appears to be around the ball. Although he is not a starter, he is precisely the type of role player you want on your team.
Round 3 Hroniss Grasu (C Oregon): I must be honest on this one, I had to go back and look who this player was because I have never heard of him before. That doesn't shock me in the slightest as Grasu lasted just three years in Chicago and five years total as he bounced around a ton upon leaving the Bears.
His career spanned five organizations during his brief five-year career, with three of those seasons coming in Chicago before being released. Following his release, Grasu spent some time in 2018 with both the Ravens and Dolphins before heading to Tennessee and back to Baltimore in 2019. He played in 18 career games making 13 starts as he never developed into a solid player.
Round 4 Jeremy Langford (RB Michigan State): Taken in the fourth round that year, Langford had a solid career with the Bears as a backup RB giving them a nice change of pace from their starters. Langford may have only lasted two years in Chicago, but he showed on countless occasions that the talent level was there to stick in a reserve role.
Langford's tenure was cut short in Chicago mainly because of the RB trio that came in during both 2016 and 2017. Upon his release, he joined the Ravens in 2017 and spent just one month or so there before being cut. Over the next couple of years, Langford bounced around on three different practice squads before leaving the league in 2018. He finished his NFL career with 762 yards rushing and ten scores to go with 421 yards receiving and one score.
Langford, however, is not done playing the game as he made a return for the 2020 season. Following the 2019 season unsigned, Langford, headed north of the border this year as he signed with the Saskatchewan Roughriders of the CFL. With their season in limbo for the entire league, Langford may not play yet again, but he is certainly not ready to hang it up quite yet.
Round 5 Adrian Amos (S Penn State): One of the best late-round selections the Bears have made this decade was that of Penn St. safety Adrian Amos. The decorated hard-hitting safety has had a solid six-year career who spent his first four seasons in Chicago before heading to Green Bay, where he is now.
Amos has always had a knack for finding the football and paired with Eddie Jackson in the back made for one of the best safety duos in all the league.
The results are evident in the stats as Amos has logged 358 career tackles, five interceptions, 27 pass deflections, three forced fumbles, and one touchdown. Since he departed for Green Bay, the Bears have been trying to find a new running mate for Jackson, but it has not come easy.
Round 6 Tayo Fabuluje (OT TCU): From a size standpoint, Fabuluje is everything you ask for and more in an offensive tackle coming in at 6-6 342 pounds. From a skill set, he was never going to be an impact player, which is why he spent just one season in the league and played zero NFL snaps during the regular season.
Immediately upon his selection, Fabuluje made headlines in Chicago, but not for the way you would like. He was busted for performance-enhancing drugs and was suspended four games that season. That was the beginning of the end for his NFL career as that was his only year in the league.
Following time away from football in 2016, Fabuluje joined the Baltimore Brigade of the AFL in 2017 and lasted just one season there also. Another year off, and he was back at it again for the AAF signing initially with San Antonio, before heading to the Memphis Express. That was the closest he came to making any roster as he reached the final level of cuts before an injury saw him lose his spot.
In hopes of making another attempt to stick with a roster in 2020, Fabuluje joined the XFL, where he was part of the Houston Roughnecks practice squad. That tenure was short and sweet as he was released just a month after being drafted and looks to be done, attempting a comeback at this point.
Draft Grade B: for the second draft in a row the Bears receive a solid B grade, but it could have been better if White stayed healthy. For that reason, I cannot penalize them as injuries are unpredictable, and any team would have taken White if he were around when the Bears picked. What really helped the Bears in this draft was landing both Goldman and Amos on defense, both of whom are and were vital parts of the core for several years. A solid mid-round pick up in Langford may not have lasted long, but it was the kind of move contending teams often do so the Bears did ok in this draft.