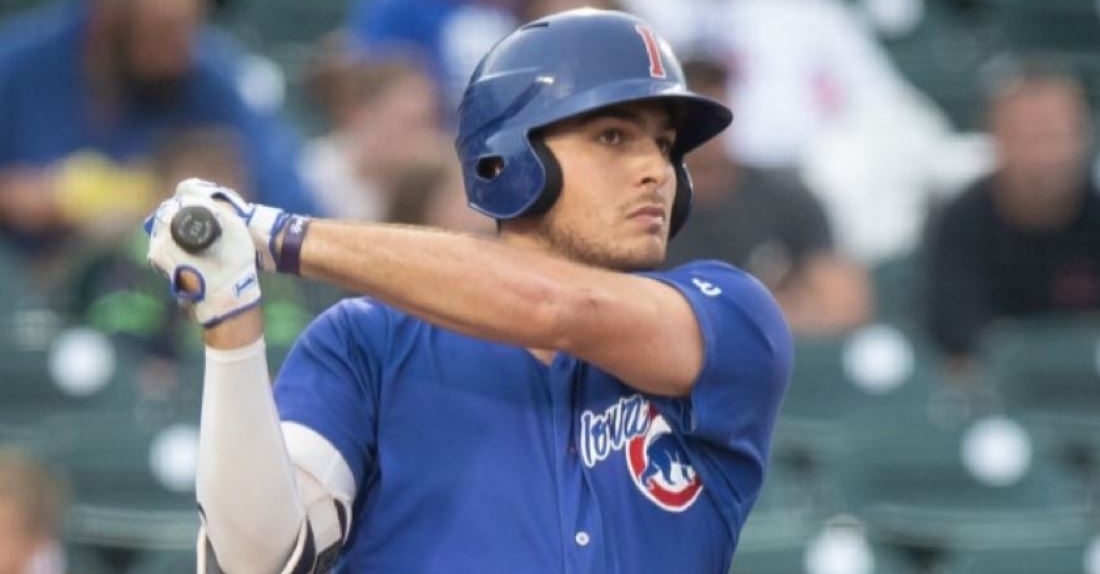 | | |
| --- | --- |
| Bears News: Matt Mervis just needs to keep on mashing | |
---
| | | |
| --- | --- | --- |
| Wednesday, January 18, 2023, 8:32 AM | | |
No Cubs player showed more signs of improvement than Matt Mervis during the up-and-down 2022 season. Mervis was an undrafted free agent during the shortened 2020 MLB draft out of Duke, but the Cubs had their eyes on him. Reports came out that the Cubs and the Yankees were the two teams left in the bidding for Mervis, and Mervis thought the road to the big leagues was better in Chicago and chose to sign with the Cubs.
The 24-year-old began his professional career in 2021 with low A Myrtle Beach Pelicans and finished the season in AAA with the Iowa Cubs — he hit .209 with 9 home runs and 44 RBI — not a bad first season but definitely nothing to call home about as a prospect. But then 2022 told a totally different story. Across A (South Bend Cubs), AA (Tennessee Smokies), and AAA (Iowa Cubs), Mervis destroyed the baseball. The left-handed hitter turned into a left-handed slugger — as he clubbed a minor league-leading 36 home runs with 119 RBI, he also hit .309 to win an organizational Triple Crown.
With such a strong season and the Cubs with no long-term answer at first base, it seemed destined that Mervis would get a chance at the starting job in 2023 — especially after the only first basemen on the roster was Patrick Wisdom, who is a platoon option at best at first since he is learning the position. Plus, the platoon would work with Mervis since he is a lefty and Wisdom bats righty. The other players who played some first base for the Cubs last season, like Frank Schwindel, Alfonso Rivas, and PJ Higgins, are all no longer with the organization — making it seem even more likely that it was Mervis' spot to take.
But the Cubs' unfortunately uncharacteristically (because it should be every year) aggressive offseason puts Mervis further down the depth chart than he would've liked to be. The Cubs signed veteran, and gold glove, first basemen Eric Hosmer to a deal — which, as a lefty, certainly hurts Mervis' chances on an everyday starter.
Then, of course, early in the offseason, the Cubs signed Cody Bellinger. While it is anticipated that Bellinger would play mostly center field, he is also a lefty with first-base major league experience.
The Cubs didn't have a lot of right-handed depth at first, aside from Patrick Wisdom, who looks to be more of a depth piece in 2023. So, the Cubs went out and signed first base/ designated hitter/outfielder Trey Mancini — the right-handed batting all-star who just won a World Series with the Houston Astros.
Many expected Mervis to also be in the mix for a designated hitter, but the tough part about all of these moves is that it leaves Patrick Wisdom, Christopher Morel, Nick Madrigal, Eric Hosmer, Trey Mancini, and potentially Mervis to fill three positions (third base, first base, and designated hitter). However you cut it, there is not a plethora of at-bats for Mervis to take, so if you're the Cubs, do you really want his service time to begin before he is even a starter on your team? The Cubs would not be able to give him ample at-bats to work through struggles and make adjustments at the big league level, so it may make more sense to begin Mervis in the minors.
However, Bellinger and Hosmer are only under contract through 2023 and Mancini through 2024 — so it appears Mervis may be in the Cubs' plans at first base; it just may not be right away in 2023.
But as Mervis learned last season, the one way to guarantee playing time at any level of professional baseball is to keep on Mashing.