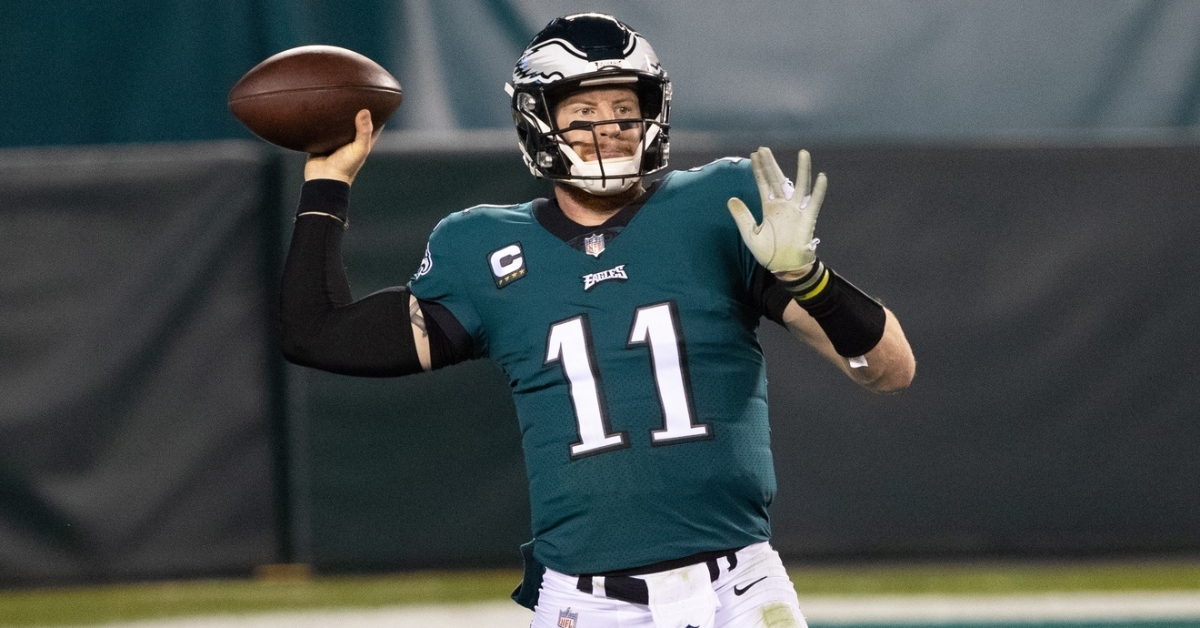 | | |
| --- | --- |
| Bears appear frontrunners for QB Carson Wentz | |
---
My how things change in a matter of days.
After most of the off-season focus was on Deshaun Watson and his future holds, the Rams and Lions shocked the world by swapping Matthew Stafford and Jared Goff. Following that move, attention shifted back over to Watson and what the Texans would do with him.
While most people expect Watson to be traded at some point this offseason, Houston is adamant they are not taking calls on him and are refusing to trade him. That has lasting implications on the Bears, who appeared to be one of the teams interested in bringing him aboard.
Now, it looks like the Bears may be shifting courses and could be on the verge of acquiring a different free-agent quarterback in the coming days. To everyone's surprise, the Chicago Bears have not only talked to the Philadelphia Eagles about Carson Wentz trade but now it appears they are the front runners to get him over Indianapolis.
Wentz being traded seemed evident this offseason, but after former Indianapolis Offensive Coordinator Nick Sirianni was brought over to be the new head coach, much of the league thought he would help his former team by dealing Wentz to Indianapolis. On paper, the trade makes a ton of sense as his former offensive coordinator Frank Reich is the head coach there. He helped bring out the best in Wentz, and that seemed like the perfect situation.
Well, now it looks like the Bears have upped the ante, and now they appear to be the front runners to land Wentz. Much like Reich, one of Wentz's former coaches is on the Bears staff in John DeFilippo. The quarterback coach during the Eagles championship run, DeFilippo, has seen the best out of both Wentz and Nick Foles. The latter of the two didn't pan out in Chicago last season, but maybe Wentz will.
I have seen conflicting reports about what package the Bears are putting together, but here is what we know right now. Should this trade happen, the Bears are not only receiving Wentz, but it looks like they will be getting either a second or third round pick in this year's draft. Adding a draft pick is extremely important for this team, as they don't have a ton to work with right now.
On the other hand, adding Wentz is a much bigger deal for this franchise as it will give the Bears a chance at having a franchise quarterback for the first time in a while. Granted, Wentz hasn't lived up to his MVP caliber 2017 season since that year, but he also hasn't been healthy over his tenure. When given protection and healthy, Wentz is a great QB. Maybe a change of scenery is exactly what he needs to regain his form.
Heading the Eagles way is where things get tricky as it depends on what report you see. We know that the Eagles will not only be receiving the Bears first-round pick this year but next year also. That isn't ideal for the Bears franchise, but when you are trying to get a franchise QB in the trade market, it comes with a cost.
Another thing we know is that Foles will be included in the package. If the season were to start today, the Bears would have Foles as their starting QB. That is not going to get the job done as he is better suited for a backup. Getting rid of Foles for Wentz immediately makes the team better at the QB position, and it will allow the Bears to shed Foles contract in the process.
The deal's final piece is where things are complicated as another player is said to be included. One report shows David Montgomery going to the Eagles, while another one shows Roquan Smith going to Philadelphia. Both players will be hard to replace if either of them leaves this team, but Smith, to me, is the most important player of these two.
He has been a centerpiece to the Bears defense the past two seasons. Smith also has been near the top of the league in tackles. Losing him on defense is certainly not going to make things easy on defense next year, and the Bears would need to replace him immediately.
Montgomery would be the one going the Eagles way as Chicago could adjust to his loss. Yes, I get he is coming off a great season in which he rushed for over 1000 yards, but Chicago has options outside of him. Tarik Cohen, who just signed a four-year extension last year, is more than capable of stepping in and filling Montgomery's role. Plus, Chicago could turn around and draft another RB this year or find one via free agency.
Nothing has been set in stone yet, but the media expects Wentz to be dealt with in the coming days. As things sit right now, Chicago is the frontrunner to get him (alongside the Colts), and the fit clearly makes sense. This is undoubtedly a story to keep following in the coming days.