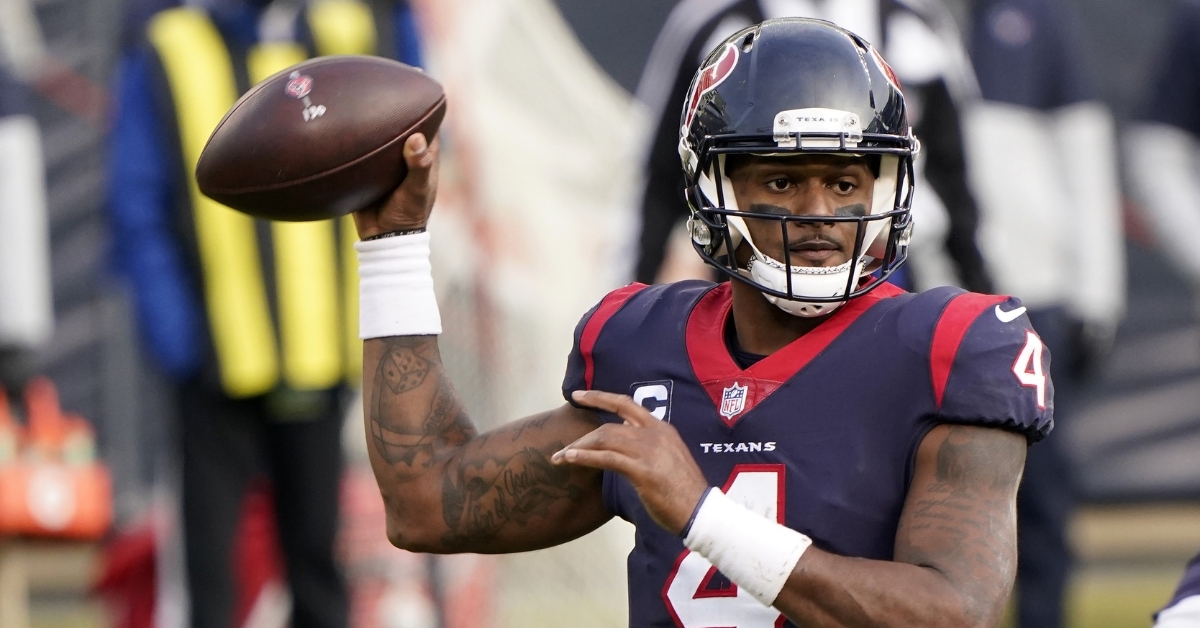 | | |
| --- | --- |
| Bears have several high-profile options for next QB | |
---
This week, we started a season in review series to break down the Bears positional grades for the year. It began with the quarterback position and will continue through the rest of the positions over the next couple of weeks. However, today I decided to take a break from doing that and look at the future's quarterback position.
It is no secret that Matt Nagy wants more from the quarterback position, and that does not appear to be happening from either Nick Foles or Trubisky. That leaves the team with a difficult decision this offseason as they need to figure out what to do. Ideally, I would love to see Trubisky back in the mix on a one-year deal, but it appears his time in Chicago has run its course.
Chicago has the opportunity to draft a signal-caller this season, but given where they pick, they may have to get one in the later rounds. That would essentially mean that pick would have to sit a year, forcing them to start Foles next year. Again, not an ideal situation, so what else does that leave the Bears with? Well, you have free agency, but we already know the Bears are tight on spending, so that may be out of the question.
The trade market remains a possibility, but do the Bears have enough assets or ammo to get something done? That is something no one knows at this point, but fans know the team is looking for a new quarterback to help next season and put this team in contention for years to come.
Here are some names that could be available one way or another this offseason.
Matt Ryan: Atlanta owns the fourth pick in the NFL draft this season, and with new coach Arthur Smith coming in, he may target a quarterback by the name of Zach Wilson. That leaves the future of 35-year-old and former first-rounder Ryan in the air. Ryan may not be getting younger, but there were some talks earlier this season that Chicago should target Ryan via a trade.
Ryan has always been a top 10 quarterback from a statistical side of things, but the wins have not always followed. A lot of that falls on the Falcons defense which, is not very good. Ryan has lived off having two outstanding receivers in Julio Jones and Calvin Ridley in recent years, but Roddy White and Mohammad Sanu also played with him. Ryan would not have those weapons in Chicago, but he would have a defense. I like this option as a bridge quarterback to perhaps mold the future.
Jimmy Garoppolo: My how times have changed in San Francisco in just a few years. Not long after the 49ers traded with New England to obtain Garoppolo, they rewarded him with a healthy extension despite not being on the field that much. Jimmy G rewarded them with a Superbowl appearance last season, but that is all he has done.
Not only has he struggled to remain healthy, but he is not overly impressive in terms of what he can do with the football. He thrives in a run-first offense but needs weapons on the outside. He is the least likely target, in my opinion, as his lousy contract would not sit well with this team.
Mac Jones (Alabama): As mentioned, the Bears will be able to draft a QB, but it depends on the round. After an impressive National Championship game season, which led him to finish second in the Heisman Vote, Jones has declared for the NFL draft. Unlike Wilson, Trevor Lawrence, Trey Lance, and Justin Fields, Jones may be the fifth rated quarterback on the list despite posting the best numbers.
There is a chance he is a first-round talent on draft weekend, but also, do not be surprised to see him fall to the second round. If Chicago can take him, do not be surprised to see him land in Chicago. The question would then become does he start right away like Trubisky, or do they sit him a year to mold him.
Trey Lance (North Dakota State): Once viewed as a top-two quarterback in this draft, Lance has seen his stock fall this season. He is now considered as the fourth or fifth-best option. That does not mean he is a bad choice. After the game Lance had this season in his lone appearance, he becomes the most interesting prospect in the class.
Teams did not have a chance to watch him play this season and only have the last season to go off. Granted that was an incredible year, I feel he needs more time to develop as a player. That could pay off for Chicago, given the Foles contract, and he could be the teacher Lance needs.
Zach Wilson (BYU): Another highly regarded college QB is Zach Wilson of BYU. As much as I would love to see Chicago snag him, he is the least likely on this list to this point. Not only is he the third-best QB, but he will most likely land in the top five or at the very worst top 10. Both those spots are out of reach for Chicago.
You want to talk about an impressive season, Wilson certainly put on a show for the Cougars in 2020. Not only did he throw for 3692 yards, but he set a school-record 33 touchdowns to go with just three interceptions. Wilson also uses his legs, picking up nearly 260 yards on the ground and adding 10 scores. He proved to be legit this season. Now we will see where he lands.
Justin Fields (OSU): About a month ago, I said the Bears had an excellent chance to land Fields given his poor stretch of play. That all changed after his two playoff performances this season, and he has cemented himself as a top-three pick in this year's draft.
Perhaps that is good news for Bears fans as OSU quarterbacks typically do not pan out. Despite his struggles this season, Fields has all the world's talent and will be a great leader given the right system or coach.
Dak Prescott: This has been a name floating around Bears camp for a while now, and it still will. The problem is, will he be out of their price range. Prescott has become a legitimate star in this league and deserves to get paid. However, a gruesome ankle injury leads me to question if he will ever be the same.
With potentially having 10 million dollars come off the table until he can prove himself once again, the Bears may take a run at Prescott. As things sit, the Bears and Colts appear to be the two teams poised to make a run at him should he hit the market. He minimizes mistakes and makes big plays; both are something this offense needs.
Deshaun Watson: Finally, we have come to Watson. It was a painful scene four years ago when the Bears passed on him for Trubisky. Now, four years later, Chicago has a chance to make things right and bring him to the Windy City.
Not only is Watson talented, but he has put together the best season of his career this past year. That came fresh off a new contract extension, so he is locked up for quite a while. Watson has expressed his frustrations with the Houston organization and may demand a trade soon. Chicago could be the first to get in line as players like Cordarrelle Patterson is already on the recruiting trail to lure him in.
Bringing in Watson will not come without giving up a lot, but it would be a move that could change this franchise. He wanted to be a Bear four years ago, and Chicago opted against it at that time. Now it is time to do right and make this man a Bear.
Guys like Sam Darnold, Carson Wentz, and Ryan Fitzpatrick have recently had their names linked with Chicago, so the Bears have a myriad of options.