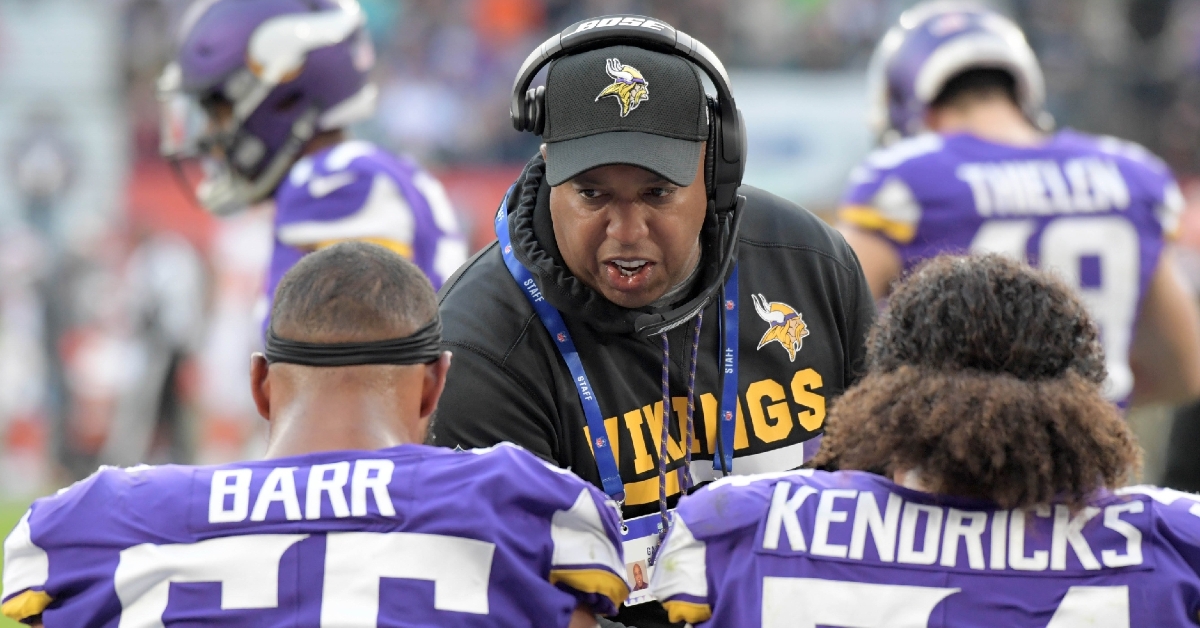 | | |
| --- | --- |
| Bears interview George Edwards for defensive coordinator role | |
---
| | | |
| --- | --- | --- |
| Thursday, January 21, 2021, 9:21 AM | | |
As the Bears continue their search for a new defensive coordinator, a few interesting names are popping up. For starters, former player and Hall of Fame Linebacker Mike Singeltary interviewed for the position a couple of days ago and is considered a legend in Chicago. He certainly would bring a lot of toughness to this group, but his scheme may not work.
The Bears were also interviewing some of their in-house candidates, including defensive line coach Jay Rodgers who looked like the favorite early on. That scenario can be completely thrown out the window as Rodgers is on his way to Los Angeles to join Brandon Staley with the Chargers and becomes their defensive coordinator. With Rodgers officially off the list, the Bears are continuing their search, and other successful and strong candidates are emerging.
George Edwards is one of the latest names surrounding the opening, and the Bears certainly want to look at him. The current Senior Defensive Assistant for the Dallas Cowboys has been around the league for a long time and has the most experienced candidates thus far. Edwards coaching career got started in the early 1990s as an assistant for Florida University. He then moved on to Appalachian St. in 1992 and stayed there through 95 as an assistant. He landed at Duke in 1996 and Georgia in 1997 before taking some time off from coaching.
Not only did he take some time off, but Edwards was out of coaching for five years before getting his first NFL as a defensive coordinator with Washington in 2002. After just two seasons, Edwards moved to Cleveland as the linebacker's coach before heading to Miami for the next five years to be their linebacker's coach.
Edwards put together some strong linebacker units with the Dolphins and earned another defensive coordinator job in 2010 with the Buffalo Bills lasting just three seasons. Upon his departure, Edwards went back to Miami to coach the Dolphins linebackers for another two years before getting the best position he could ask for.
In 2014, Edwards was plucked from the Miami staff once again and was ticketed to join the Minnesota Vikings staff as defensive coordinator. Working along side Mike Zimmer, Edwards was able to take the Vikings defense and turn them into a top 5 unit seemingly every season, including the No. 1 ranked defense in 2017. The Bears are all too familiar with Edwards as he wreaked havoc on that team for years.
Edwards name shouldn't come as a shocker to Bears fans as he interviewed for their vacant head coaching position in 2018. Not only was Edwards a finalist to get the job, but he must have made a strong impression for Ryan Pace to consider interviewing him for a defensive coordinator spot. Edwards could be the coach this team needs, especially when it comes to the defense.
After three years with Matt Nagy as head coach, fans still have no idea what the plan is for this offense or how he wants it too to look. That is why the Bears could use a head-coach type of person running the defense, and that is precisely what Edwards is. Nagy is the head coach, but he needs to focus on the offense and let someone else focus on the defense. After being considered for a head coaching position in the past, Edwards is certainly someone Nagy could trust to lead the defense.
Edwards spent time in the NFL this season but decided to take a year off from calling plays. That shouldn't affect him from getting another job as experience certainly is not lacking. The Bears opening is intriguing for Edwards, who will have an opportunity to get back at Zimmer and the Vikings. Their relationship was rocky at best from all accounts, and they didn't end on the best of terms.
The key to any great defense is a great pass rush and good coverage in the back. They both go hand and hand, and Edwards understands that. He understands the effectiveness an intense pass rush can have on the secondary and how important it is to keep a quarterback uncomfortable. Both are things the Bears struggled to do consistently this season. Edwards has the experience and understanding of running a successful defense and a system the Bears could thrive with.