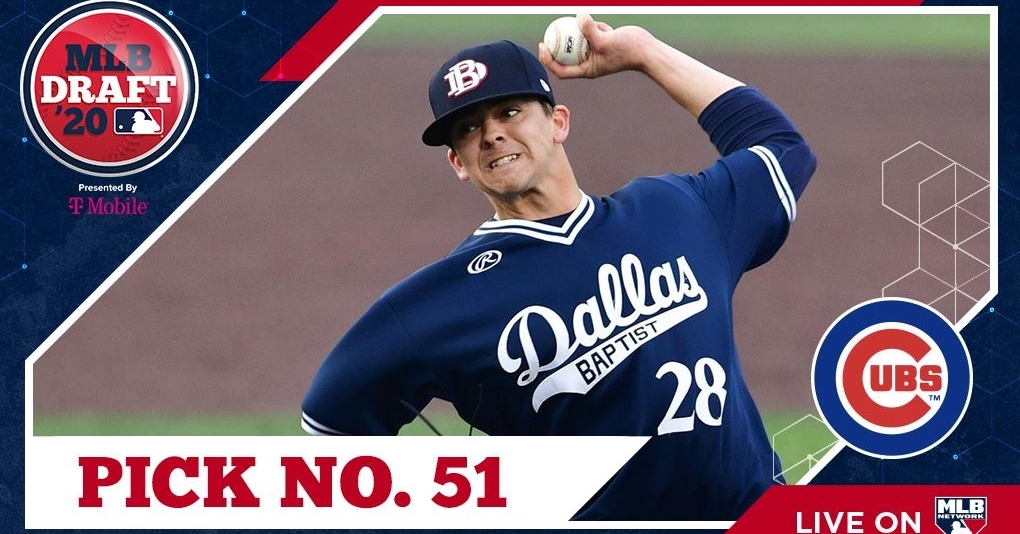 | | |
| --- | --- |
| Breakdown: Cubs 2020 Top 30 Prospects Part 5 | |
---
| | | |
| --- | --- | --- |
| Thursday, December 31, 2020, 8:07 AM | | |
After the recent shakeup with Yu Darvish going to the Padres, the Cubs top 30 prospect list will have a much different look soon. All four of the prospects they got back in return should land on this list somewhere. It becomes just a matter of where.
Until we cross that bridge, we will continue with our top prospect series heading into the new year as we have reached the top 10 portions of the list. This is the point of the list where you start to see potential franchise-altering players who could arrive anytime between this year and the next two seasons.
These are the players the Cubs are highly invested in and should almost certainly shy away from trading away to avoid another situation like the one they are currently in. This portion of the installment is loaded with arm talent as only one position player falls into this group of five.
Here is the prospect list (10-6):
10. Burl Carraway (LHP): The 2020 MLB was much different this season as everything was conducted virtually. Not to mention the draft was trimmed down to just five rounds, so teams needed to hit with every pick. For the Cubs, second-round pick Burl Carraway is the definition of a home run pick, and he could be in Chicago this season.
Despite being a late bloomer in high school, Carraway has turned into one of the more dominating relievers on the college circuit. His fastball has increased velocity from the mid-'80s to the mid-'90s. He averaged over 15 strikeouts per nine innings as a closer. Many scouts felt he was the most big-league ready arm in the draft last season, and had the minor leagues not canceled their season, and there was a chance he could have been called up last year.
Armed with a 93-98 mph heater, the southpaw generates tons of riding action with that pitch that plays well up in the zone. His best pitch happens to be his curve, which sits around 77. Not only does it have a high spin rate, but it dives to both sides of the plate, making it tough on hitters. Unlike most pitchers drafted out of college, Carraway is purely a reliever, and that is how the Cubs will use him. This pitcher could be a set-up man waiting if he can continue to redefine his command and throw strikes.
9. Chase Strumpf (2B): The lone position player in this group checks in at number nine in Chase Strumpf. A second baseman who was taken in the second round of the 2019 MLB draft, Strumpf is one of the fastest rising prospects in the system and put on a show during the Instructional League this fall. Strumpf has drawn offensive comparisons to Ian Kinsler and is known for hitting a home run during the 2019 NCAA playoffs moments after the Cubs selected him.
Across 39 games spanning from Rookie A ball to South Bend, Strumpf has shown some promise hitting a 244 thus far. His three homers and 17 RBI's were pleasant to see, as were the 23BB and 42K. Strumpf also played a huge role in South Bends title run that year.
Strumpf is a right-handed hitter who possesses 20 homer potential and a high contact hitter who likes to hit line drives across both gaps. He controls the strike zone very well, and his bat speed helps him catch up to elite velocity. His defense may not be spectacular at second, but it is good enough as his bat will make him an everyday player.
8. Ryan Jensen (RHP): Knowing the Cubs needed pitching in the system, they chose to use their 2019 first-round pick on Ryan Jensen from Fresno State. After compiling a near 6.00 ERA his first two seasons with the Bulldogs, Jensen broke out his junior season which led him to skyrocket up the draft boards.
No one will argue the type of stuff Jensen could possess, as his fastball was the best in that class averaging 96 MPH and consistently hitting 98-99. He also features an additional 2-seamer in the 94 MPH that comes with some run and more sink. The thing that has always held him back was his secondary pitches, and the lack of command with them.
Jensen loves to use his 85 MPH slider and is working on a changeup in the 88-89 MPH range. The Cubs hope they can work with him a bit more to improve his command; otherwise, he could turn into the next Dillon Maples. Across his six professional outings with Eugene in 2019, Jensen managed to pitch to a solid 2.25 ERA across 12 innings of work. His 19 strikeouts were not a surprise, but the 14 walks were a concern.
Ideally, the Cubs have visions of him becoming a future front of the rotation arm they can count on for years. That will only happen if his command improves. Should that be an issue, the Cubs may be forced to move him to the pen where they can hopefully use him as a late-inning arm. 2021 will be significant for his development.
7. Kohl Franklin (RHP): A name that not many people knew about heading into 2019 was 2018 sixth-round selection Kohl Franklin. Well, Franklin is now not only a household name but a name the Cubs organization is very high on as he has climbed into the top 10 prospect list. Set to pitch for South Bend this season, Franklin has been nothing short of impressive with the Cubs.
Across his first two seasons, Franklin has appeared in 16 games, 14 of which were starts. His record may only be 1-4, but his 3.02 ERA is all you need to know. So far, Franklin has walked 25 hitters than 60 strikeouts, but he did with Eugene in 2019 with scouts talking. Not only did he post a 2.36 ERA in 11 starts, but he walked 19 hitters and struck out 52 in 42 innings of work. Franklin will undoubtedly be a name to watch this season to see what he has in store next.
Franklin was the top prep prospect in Oklahoma in 2018 despite a fastball in the 87 MPH range. That fastball increased to 92 in 2018 before sitting in the 93-97 range in 2019. It will be interesting to see if more comes from his 6-4 frame. Franklin was never known for good breaking stuff, but after switching to a knuckle-curve in 2019, he now has one.
This addition of a secondary pitch led to better numbers overall, and now he has two solid pitches to play with. For Franklin to take that next step in development, he will need to figure out a reliable third pitch to keep hitters honest. Given the way he repeats his delivery, a changeup seems most likely.
6. Adbert Alzolay (RHP): Don't get used to seeing his name on the list much longer as he will no longer be considered a prospect with one more big-league appearance. Once viewed as the Cubs top prospect, Alzolay has fallen down the rankings a bit as injuries certainly have hampered his development as a player. Despite that, he still put together a relatively solid minor league career, going 33-27 with a 3.63 ERA.
Alzolay was set to make his major league debut in 2018, but a shoulder injury prevented that from happening until 2019. He made two starts and five total appearances in 2019, going 1-1 with a 7.30 ERA. 2020 however, was a different story. Alzolay not only made four starts but appeared in six games posting an impressive 2.95 ERA. What stood out was his improved command, where he walked 13 and struck out 29.
Perhaps the most significant turning point of his career may have come when he returned from South Bend. At that point, Alzolay was a three-pitch pitcher who used a 94 MPH heater, 86 MPH change, and 83 MPH curve. He then developed a slider in the 87-88 range, and it was lethal. Once he unleashed that pitch, Alzolay looked like a top prospect once again. He walked four and struck out 18 across his final three outings with that pitch. Look for him to contend for a middle of the rotation spot this season.
Upgrade Your Account
Unlock premium boards and exclusive features (e.g. ad-free) by upgrading your account today.
Upgrade Now