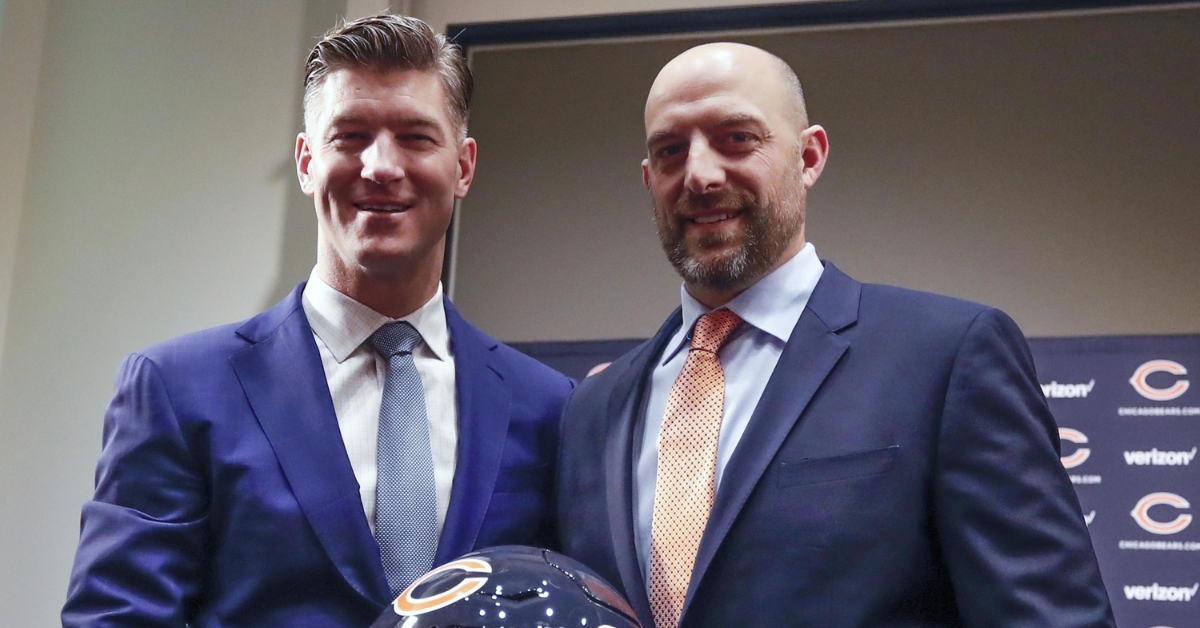 | | |
| --- | --- |
| Commentary: Be careful what you ask for with Bears | |
---
Now that the Bears season is over, it is time to focus on the offseason and what direction this team will be going.
First thing is first, the Bears need to find a new President as their current President is expected to step down/retire in the coming weeks.
Once that is taken care of, the new President can then evaluate the roster and the entire organization to put a firm plan in place for the future. From a roster side of things, the Bears will have to get creative this offseason as they don't have much wiggle room in terms of cap space. There were able to clear out some extra funds, but with the potential of having the salary cap decrease, things won't be easy this offseason.
Mitch Trubisky was not tendered his fifth-year option, so the Bears have a decision to make at the quarterback position. It appears that Allen Robinson will also not be resigning as he has been the team's most trusted receiver the past three seasons.
Much like the Cubs, this offseason could be a season of transition for the overall long-term future of this franchise.
From @GMFB: After a first-round playoff loss, #Bears QB Mitch Trubisky's future is uncertain in Chicago. pic.twitter.com/AbQ672JRXX

— Ian Rapoport (@RapSheet) January 11, 2021
With the roster having their spots to fill, what about the GM and Head Coach. Many fans have been calling for not only Ryan Pace to get fired, but for Matt Nagy and Chuck Pagano to follow. Keep in mind, Nagy won the coach of the year back in 2018 and, despite an 8-8 season this year, led his team to the postseason for the second time in three seasons. That is something that hasn't been done since Lovie Smith was leading the way.
I understand the frustration with fans regarding this team, especially when you look at how the offense has produced, but Nagy has done something that hasn't been done in a long time. Should the Bears decide to let either Pace or Nagy go, I want to urge fans to be careful what they wish for, as it may not come as easy as you would think.
Chicago Bears twitter if Mitchell Trubisky or Matt Nagy are brought back in 2021: pic.twitter.com/sPGA5vuQOH

— Bears Nation (@BearsNationCHI) January 12, 2021
Not only would you need to find a GM capable of building this team, but the team would need to find a head coach that understands what winning is in Chicago. As things sit right now, it looks like Nagy is safer than Pace, but there are still scenarios out there where both will be returning. That may not be a popular opinion among fans, but if George McCaskey feels that Pace and Nagy are a package deal, it would cost the team a lot to start over.
With every team facing revenue losses this season, releasing a coach who has gone 28-20 across three seasons may not be the smartest idea. Estimated figures show that it would cost the Bears upwards of 20 million dollars to get rid of both Pace and Nagy and completely reboot things. That is something the Bears can't afford to do right now, especially financially.
To sum things out, releasing Pace and Nagy would come with a price, and then hiring their replacements comes at another cost, which is where that 20 million figure comes in. When you look at Pace's overall record since he has been here coupled with the performance under Nagy the last two years and you can see why cleaning house and starting over is under consideration. I don't feel this is the right time, given what could be happening to this roster.
If this is something the Bears want to do or are considering, and they need to decide sooner rather than later and act on it. Houston already moved quickly to find a new GM, while Detroit, Atlanta, Jacksonville, Denver, Carolina, and Washington have a head start on Chicago as their GM positions have been open for months. Three of the teams looking for GM's are also looking for head coaches, and with the Bears making the playoffs, they are a week behind. Fans want to change, and that is clear, but Chicago is in a tough spot. They just made the playoffs once again and are a week behind teams in similar positions regarding a GM and Head Coaching search.
The Bears need to act now if they want to make these decisions. I don't find that likely at this point. Without a concrete answer as to whether a new president is coming in, the team needs to focus on that first. In other words, Pace and Nagy should be safe one more season with both on the Hot seat from the get-go next year.