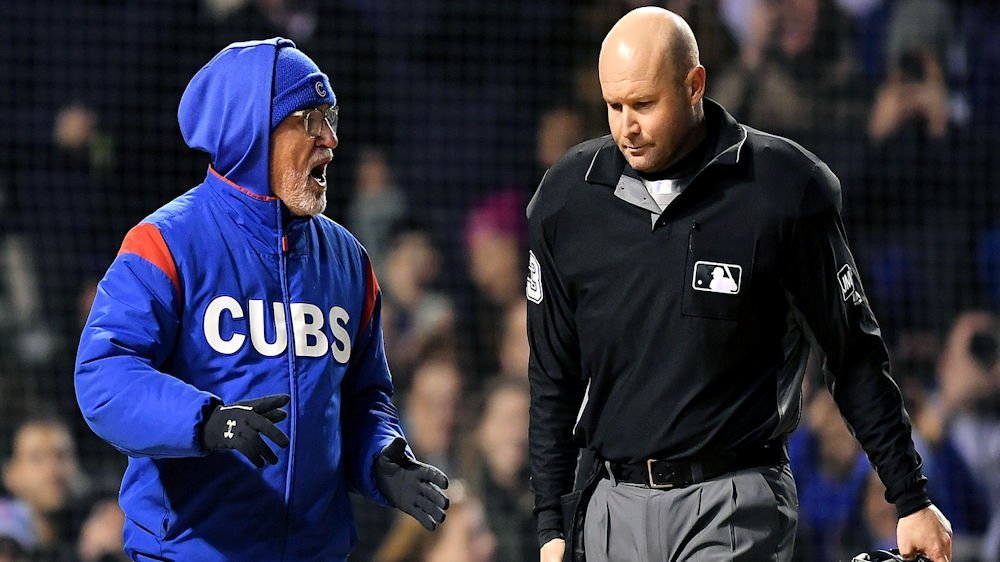 | | |
| --- | --- |
| CubsHQ Mailbag: Umpire accountability, the electronic strike zone, setup-man options | |
---
Thomas Hegland asks: "Who holds the umpires accountable? Do they believe in the strike zone box on TV?"
The umpires are governed by MLB and are subject to disciplinary action for egregious actions, although it rarely happens- especially concerning calling balls and strikes, as "they call 'em as they see 'em."
Back in 2012, MLB suspended umpire, Bob Davidson, for one game, based on his actions during an argument with Phillies' manager, Charlie Manuel (who also received a one-game suspension). A statement by MLB said Davidson's suspension came "repeated violations of the Office of the Commissioner's standards for situation handling."
In 2017, Joe West bought himself a three-game suspension for making comments about a player, but again, that was handed down based on professional conduct standards. Unfortunately, there's little MLB can do about balls and strikes, as they're judgment calls.
The umps can't see the StatCast (or pitch-cast) box on the TV screen, but it would sure be nice if they could. I read an article recently that said MLB claims that 97% of all balls and strikes were called correctly, but a study showed t was more like 88%- big difference there, and far from an acceptable error rate. Another research shows that when pitches are close, that rate jumps to 1 out of every three wrong, which is horrific.
Fortunately (or unfortunately), I have absolute proof that the umps cost both pitchers and their teams to suffer higher ERAs, blown saves, losses, team losses, and so on.
I follow Anthony Bass's games with the Mariners pretty closely, as we've become friends over the last six months. On June 6th, I watched him pitch against the Astros, as he took the mound in the top of the 9th, with the Mariners trailing 6-5. Bass got through that inning, then Seattle tied it 6-6 in the bottom of the ninth.
Bass started the 10th inning by issuing a walk to Chirinos and then faced Tyler White. Bass got a swinging strike on the first pitch, the second pitch (pictured below) was erroneously called a ball, then White took the third pitch which should have been strike three. Instead, White ended up singling on the eighth pitch to give Houston runners on first and second with nobody out, as opposed to having a runner on first with one away.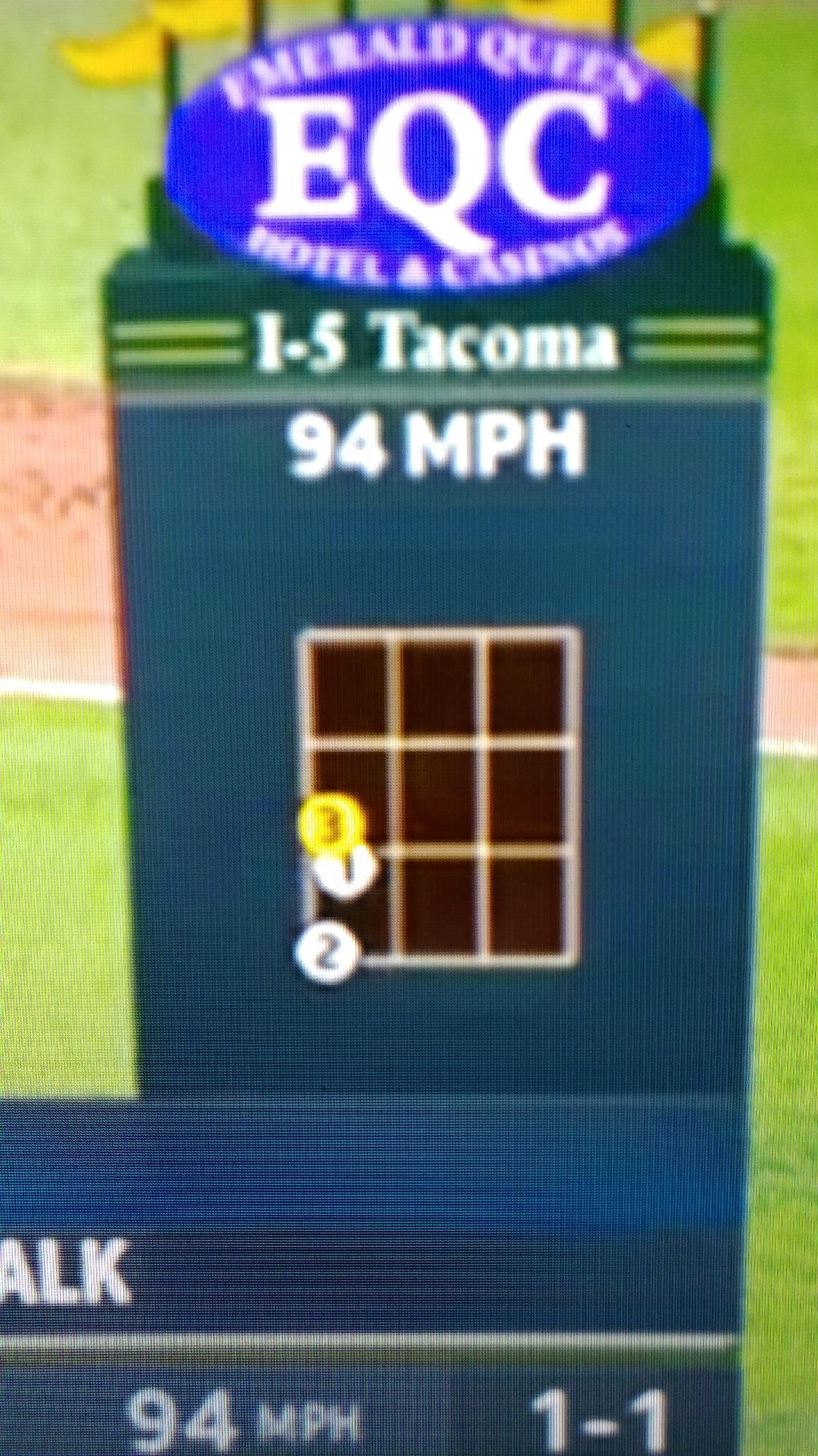 Jake Marisnick laid down a sac-bunt, moving the runners to second and third, but had the home-plate ump not blown the call; the Astros would have had a man on second with one out. Seattle next elected to intentionally walk Kemp to load the bases, a move that they wouldn't have made with one down and a runner on second. Next, Josh Reddick hit a sac-fly to center, which scored Chirinos from third, putting the Astros up 7-6. Bass then retired Derek Fisher on a strikeout to end the inning.
In the bottom of the tenth, the Mariners scored a run to tie it at 7-7, which should have constituted the winning run, but that blown call on White made it so that this wasn't the case. The teams would keep it deadlocked until the 14th inning when Houston finally scored what would be the winning run (Final- 8-7 in favor of Houston).
I spoke to Anthony shortly after the game, and he too agreed that Gerry Davis (home-plate ump) cost Seattle the game and caused him to be credited with the loss (he never mentioned his ERA going up, but that happened as well). Despite knowing that an electronic strike zone may also cost him some "generous" strike calls, he says he's ready for it to be implemented, and at this point, I couldn't agree more. The problem reaches far beyond just this Mariners game, but it just so happened that I was able to document this incident.
I've always gnashed my teeth as technology continues to get inserted into baseball (starting with replay reviews), as I feel it's causing the purity and sanctity of the game to be changed. I was livid when they first started touting the electronic zone, as "human error" was always the wildcard factor in baseball, but some of these calls are getting crazy. Maybe the StatCast has brought awareness to just how bad some of the calls are, but now that they've been exposed, I think it's time to change the way balls and strikes are called.
Dave Kowalewski asks: Any thoughts on who's going to be the set-up man?
Based on the way Chicago's bullpen has functioned this year, few names strike me as valid set-up men for the Cubs, which is crazy, as the All-Star break is already looming, and the Cubs still have roster issues. Obviously, with Craig Kimbrel closing, the paradigm for the Cubs has shifted from "who can close" to "who can set up Kimbrel." I think it will ultimately become "set up by committee," just as it was "closer by committee" until now.
I think (or maybe "pray" is a better word) that Theo Epstein will dispose of Brad Brach and Kyle Ryan soon, via trade, DFA, or in Ryan's case, a minor league option (although that would carry some implications). The Cubs will undoubtedly sign (or trade for) a left-hander, and that person will play a huge role in the late innings as well.
So, who remains?
Chicago fans have never taken to Brandon Kintzler, which is a shame, as he's much improved this year (2.25 ERA), and he's a pretty good guy, overall. I speak with people very close to Kintzler and I know a little more about him than a lot of fans do. Kintzler is very dedicated to this team and certainly can effectively hold down the seventh (and/or eighth) innings for the Cubs, giving Kimbrel a chance to do his thing.
Steve Cishek will undoubtedly come into play, as he should. Cishek's had some spotty appearances this year, but overall, he's performed well, especially in the closer role, where he's accumulated seven saves. The biggest issue with Shrek this year has been his control, as he's now plunked two and delivered three wild-pitches in 31.1 innings.
Pedro Strop has been awful this year, but will undoubtedly come into play, as he's too good to bench for extended periods, but as of now, it's hard to trust him, as he's already blown a few saves. Since Kimbrel's arrival last week, Strop has looked more comfortable on the mound, maybe due to being back in a role that he's accustomed to being in; setup man.
Nobody was harsher on Chatwood last year than I was, but like it or not, he's improved tremendously this year. Pay no attention to his WHIP (1.487), as it makes no difference how many men he puts on base unless runners score, and his ERA is currently only 3.69 (16 ER in 39 innings). Not terrific, but now less than Jon Lester's, Yu Darvish's, Jose Quintana's and third only to Cishek's and Kintzler's in the pen. Chatwood has a tremendous ability to get himself out of jams, and he's second to none in inducing groundball outs.
Brandon Morrow's return is highly unlikely, making him perhaps an even bigger bust than Yu Darvish (though Darvish has dramatically improved while staying healthy). To date, Morrow's pitched in just 35 games (30.2 innings) over 1-1/2 years of a two-year, $21M deal, and has racked up 22 saves. Morrow could serve as a spot-closer for Kimbrel and would factor in nicely as a setup man, but I don't see him coming back this year, and the Cubs certainly won't re-sign him.
Maddon has a ton of choices, but nobody has ever accused him of managing the bullpen properly. One can only hope that the Cubs shed some dead weight and sign a couple of guys who can perform well consistently.
Thanks for the questions. I look forward to being able to try and answer more of them in the future. If you have one you'd like me to answer, you can message me on Facebook (Ken Allison CubsHQ), Twitter (@KenAllison18) or by email (ken@cubshq.com).
I look forward to hearing from you.
Upgrade Your Account
Unlock premium boards and exclusive features (e.g. ad-free) by upgrading your account today.
Upgrade Now