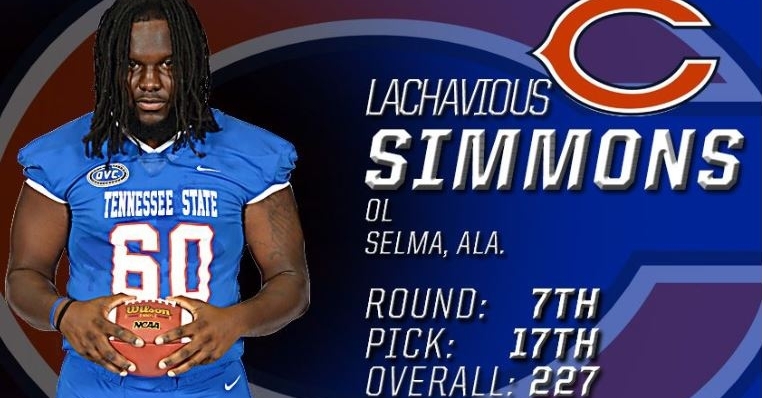 | | |
| --- | --- |
| Bears News: Getting to know: OL Lachavious Simmons | |
---
| | | |
| --- | --- | --- |
| Tuesday, May 5, 2020, 9:15 AM | | |
Knowing that they needed offensive line depth/help in this year's draft, many thought the Bears would focus on that, especially early on during the draft weekend. After five rounds passed and still no offensive lineman taken fans began to question some of Ryan Pace's decisions over the weekend wondering where the offensive line help would come from.
It took seven rounds, and 226 picks for the Bears to make their first offensive line selection, but one pick later the Bears were on the clock again and went offensive line yet again at 227. This time it was Tennessee State offensive tackle Lachavious Simmons who is exactly the size you look for in a tackle. At 6-5 315 lbs, Simmons is big enough to stay at the tackle position and is athletic enough to contribute in a reserve role.
Simmons was one of those prospects who some thought could go as high as the sixth round, but also as far down as undrafted status. For the Bears to take him in the seventh round at 227, it seems about right given where some of his stock was going. A non-FBS level player, Simmons was a key player for FCS Tennessee State, so much so that he contributed for all four seasons. He was such a key part that he moved all over the offensive line playing every position but center. Tackle is where he appears the best fit for the NFL game.
While most overlooked him during the pre-draft process, playing for Rex Ryan at the Gridiron Showcase and Hula Bow certainly got him much more recognition and allowed teams to see what he can do on the field. The Bears felt confident with making him their 227th selection and hope he can at least contribute from a depth standpoint.
IS THIS PIG?! IS PIG READY TO BE A BEAR? HEY! CAN A PIG BE A BEAR?!

Nagy's call to @TrenchMob60 wins the day. ??@MillerLite | #BearsDraft pic.twitter.com/R3Ug2DKfIK

— Chicago Bears (@ChicagoBears) April 25, 2020
Not only does Simmons possess good size, but he is a beast in the run game, which is something the Bears will be focusing much more on this season. His long arms along him to finish blocks to the whistle, often driving players to the ground before it is all said and done. Simmons has experience on both the interior and exterior parts of the line, but the tackle position is where he seems to be the most confident at this point. Looking at the limited film we have seen of him, Simmons appears to play with a chip on his shoulder, which is useful for getting the most out of a player.
The Bears want to be a run-first team, which has been evident over the last year, and that is certainly a strength of Simmons, but he does need to improve a lot in his pass protection as that is nowhere near as good as his run blocking skills to this point. Given his versatility on the line, Simmons will be competing for playing time at multiple spots, but the jump in competition could be a huge learning curve for him, especially his first season. Look for him to need more seasoning on the practice squad early in the year to adjust to the speed of the NFL game.
Player Comparison: From a size standpoint, Simmons best compares to former Chicago Bear lineman Frank Omiyale before he retired from the game in 2012. Athletically, Simmons is much more versatile, so that comparison only goes so far. His size and length of his arms certainly stand out, and that is precisely what Luis Castillo is looking for in his offensive line.
Not only does Simmon's body type fit into what Castillo likes to do, but his work ethic gives him that much more upside as he will not be afraid to challenge himself. While the Bears do expect him to play tackle, there is a belief that he can slide to guard if need be, which is exactly the type of versatility, they are looking for out of their lineman.
Coming soon to our O-line... Ham & Pig. ??

???? | #BearsDraft pic.twitter.com/BO2VC4hrOn

— Chicago Bears (@ChicagoBears) April 26, 2020
Hula Bowl player Lachavious Simmons @TrenchMob60 NFL Draft 227th Pick in Round 7 signed with the @chicagobears . . Congratulations!!! We wish you all the best in your NFL Career!!!#hulabowl #NFL #NFLDraft2020 #Draftpick pic.twitter.com/Yega3PmihL

— Hula Bowl (@Hula_Bowl) May 1, 2020
Upgrade Your Account
Unlock premium boards and exclusive features (e.g. ad-free) by upgrading your account today.
Upgrade Now