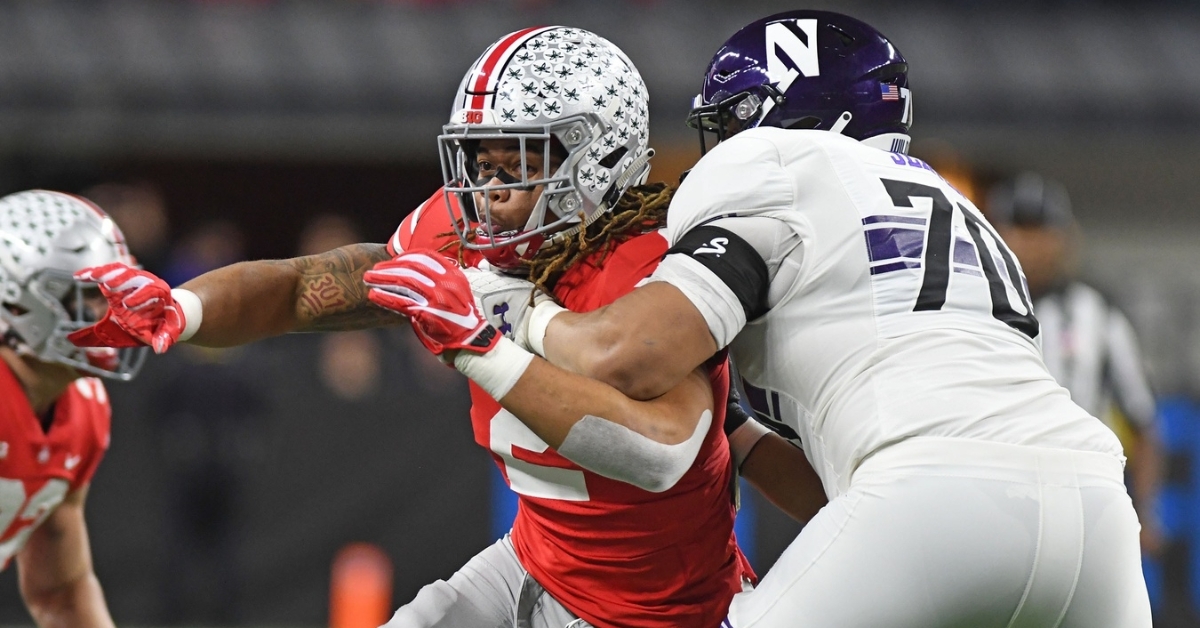 | | |
| --- | --- |
| Hot Prospect: OL Rashawn Slater could be solid fit for Bears | |
---
| | | |
| --- | --- | --- |
| Monday, March 1, 2021, 10:07 AM | | |
As we are getting closer to the NFL draft, two months or so at this point, you will start to see more mock drafts out and about as to what teams need.
Free agency will be in full frenzy soon, but this is the time when college scouts do the most work as they are diving deep into the film that may have lacked in 2020.
As the Bears continue to ponder what they will do at various positions this offseason, one position of need should be the focus come draft day, which is the offensive line. For the Bears to be competitive long-term, they need to build up that offensive line, and it needs to happen through the draft. One name that has been linked to the Bears in the past is Rashawn Slater.
The 6-3 305-pound Slater is very familiar with the Chicago area as he played his college ball at Northwestern. Slater has always been one of the more reliable and underrated tackles in the game but has now seen his stock rise dramatically, especially after his play in 2020. Not only that, but his stock has also risen so rapidly that he has become one of the hottest prospects of this year's class, and some think he could be the first tackle selected off the board.
Slater may not be as big as some tackles in this year's class, but his success stands alone. Every time he suited up to take the field, one thing was for certain. Slater would dominate his individual battles, which is excellent for a team to build an offensive line around. A guard coming out of high school, Slater made a move to tackle in 2019, which seemed to elevate his stock.
During his first season at tackle, Slater saw a total of 787 snaps. During that time, he allowed zero sacks, and just one quarterback hit. Whoever the Bears quarterback is next season is undoubtedly a stat that they would love to bring over? Slater elected not to play the 2020 season after the BIG 10 initially canceled the season but going off his 2019 season, his stock only continues to rise.
The biggest thing that allows him to win his battles upfront is his ability to explode out of his stance. This allows him to get on his man quickly, and he can get in to pass sets much faster than most linemen in this draft. He is viewed as one of the better pass blockers in this year's class, but he is even better at the run blocking side of things. His great athleticism helps him pave the way up front, and he often drives his man to the second level.
Another thing Slater does well is that he is technically sound. That means that his hand and foot placement are nearly flawless and always seem to be where they need to be. He has good balance and gets his hands on the inside instead of the outside. With that outstanding balance comes great strength as there aren't too many times where he ends up on the ground or even knocked back, for that matter.
Along with the strength, skill, and athleticism side of things, Slater is also very good at play recognition as his intelligence and awareness on the field are second to none. He cannot only recognize a play, but his awareness allows him to come off one man to try and take on an unmarked rusher. His work ethic is incredible, and he will only work harder to get better.
When you read all the positives above, you may think he is the perfect prospect for this team. However, every prospect has some flaws, and Slater certainly has some. One of those flaws isn't his fault as he is smaller than most tackles but much shorter. I don't know how much of an issue would be, but it is something scouts do notice.
Another flaw is something that many players must deal with, and it is the lack of film. After choosing to sit out the 2020 season, scouts have no film on him from this year. That means they will have to use 2019 and hopefully project his upside from there. His Pro Day will be huge for Slater as it will give scouts a great idea of where he is at right now.