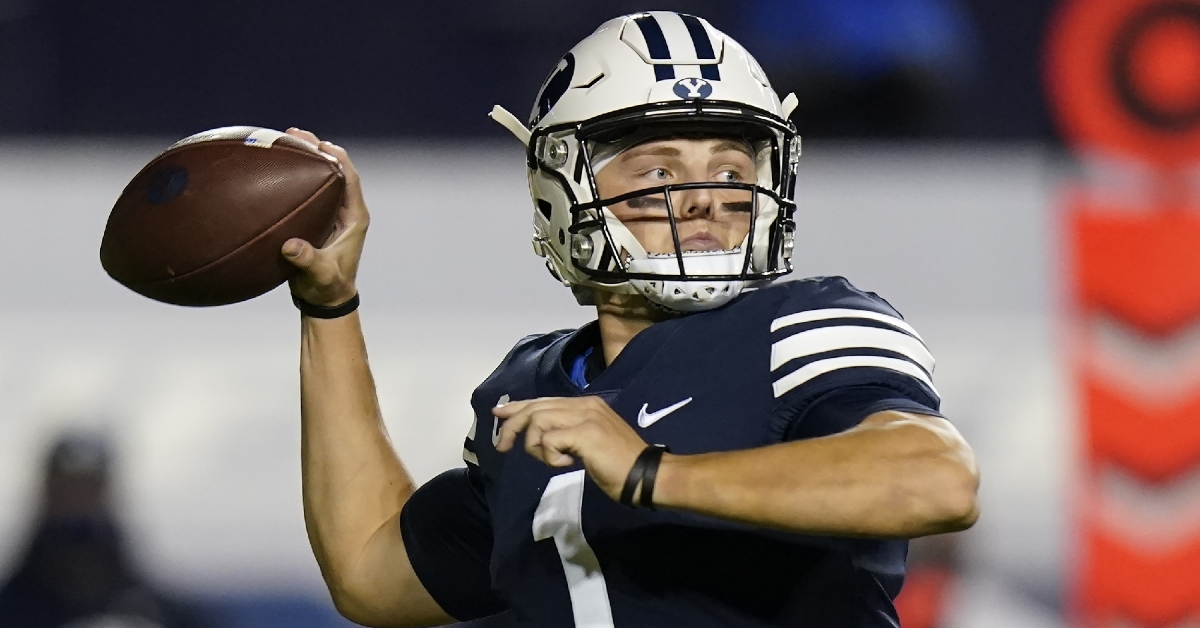 | | |
| --- | --- |
| Quarterback, OL options for Bears in 2021 NFL draft | |
---
| | | |
| --- | --- | --- |
| Tuesday, December 8, 2020, 9:13 AM | | |
I understand there is a month of Football left, and the Bears still have a chance to make the postseason. However, after what fans have seen the past month do, they think this team can suddenly turn it on and win their final five games of the season or, at worst, four of five.
At this point, the Bears need to come into each week with a win or go home attitude as their playoff hopes are dwindling. Chicago does have a favorable schedule for the most part but has Minnesota and Green Bay both lingering, which could ultimately seal their fate. Keep in mind, the better the Bears do, the lower they fall in next year's draft, so, at some point when the Bears fate is sealed, they will need to determine what to do next.
Ryan Pace has already come out and said that should he be around for next year's draft, he will entertain the idea of drafting a quarterback in the first round. That sounds like a great idea, but after what happened to Mitch Trubisky, would anyone ever trust him to do that again. As bad as the Bears need a quarterback, other pressing needs on this team need to be addressed first for the Bears to get back to being Superbowl contenders.
As things stand right now, the Bears would be picking 13th in the NFL draft. This may be a better spot than they were in before their loss, but it still most likely puts them out of reach when it comes to the top three quarterbacks on the board. Chicago would still have plenty of options in Zach Wilson, Trey Lance, Mac Jones, and potentially Kyle Trask, as second-round options depending on how things fall, but this team needs help in many places. The most significant need is offense in general, where they rank 29th in yards and 31st in points.
A big reason for their offensive struggles is the offensive line or lack of an offensive line. That entire unit has been underwhelming this season and is a big reason why quarterback play has struggled, and the run game has been non-existent. The best way to fix that problem would be going in that direction in the first round. One name to watch is Northwestern offensive tackle, Rashawn Slater.
This would be a controversial decision for some fans who are preaching for a quarterback, but without a line to protect that quarterback, the offensive results will be the same. Quarterbacks love to be protected and given time to throw, and whoever is the Bears quarterback next season would love a pick like Slater to stand and protect him.
Slater may not be a household name outside of his conference but is a legitimate prospect. All you need to do is turn on the film from the Ohio State matchup last season and watch how he handled Chase Young. If Chicago were to get a performance like that from him every game, it would drastically improve the offensive line unit altogether.
Another offensive lineman that should be available around the Bears pick is Penei Sewell from Oregon. Sewell is graded as the second-best lineman behind Slater right now and is just as good. Chicago will give their next quarterback ultimate protection long-term, and for that to happen, they need to solidify the offensive line in any way possible.
When you look at the mock draft, most people have Trevor Lawrence going first overall with quarterback Zach Wilson stock rising up the first-round board. Justin Fields is currently projected to go in the top five, leaving Trask and Lance as possible options outside the top 10. I get the Bears' desire to find their franchise quarterback, and should Trask or Lance be available at No. 13, it would be tough to pass up. Alabama quarterback Mac Jones would also be an option around that selection.
On the flip side, even if the Bears get one of those quarterbacks, how good can they be without a decent line in front of them? You look at all the great quarterbacks in this league, and they all have one thing in common. That thing is a great offensive line that stands up and protects them. Chicago knows the needs they will need to fill this offseason. It will become more of how they plan to fill those holes.
Upgrade Your Account
Unlock premium boards and exclusive features (e.g. ad-free) by upgrading your account today.
Upgrade Now