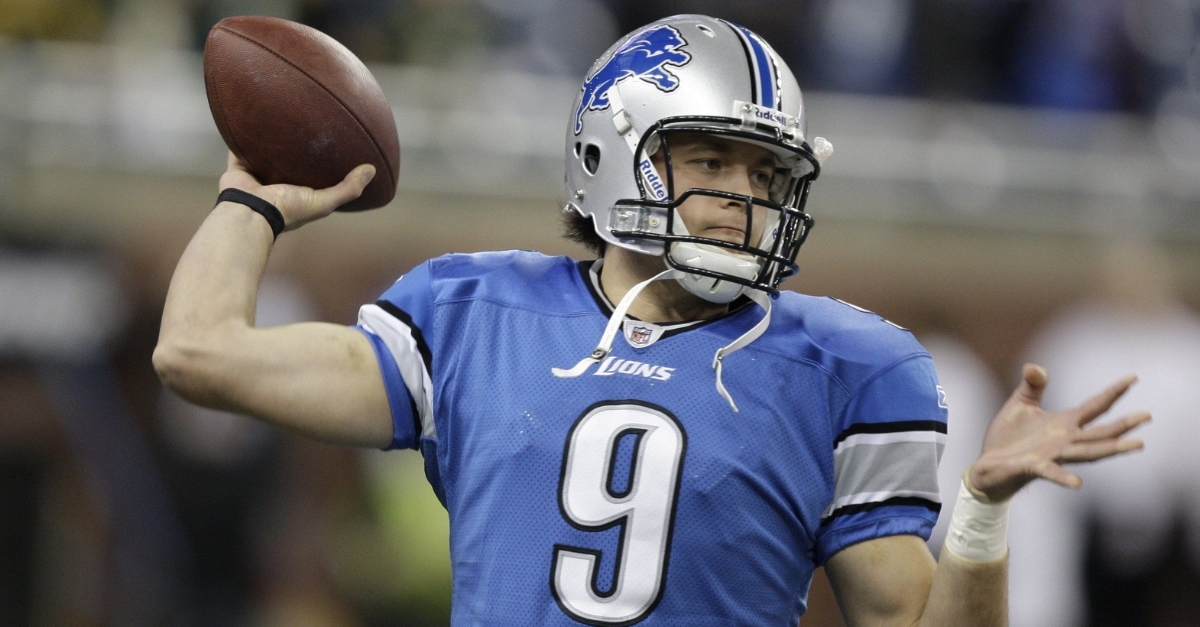 | | |
| --- | --- |
| Trade talk: Should Bears go after Matthew Stafford? | |
---
| | | |
| --- | --- | --- |
| Wednesday, January 27, 2021, 8:37 AM | | |
The NFL offseason doesn't officially start until after the Superbowl, but that hasn't stopped teams from preparing for the future. Teams like Chicago and anyone else, for that matter, who has been eliminated from the playoffs can now figure things out as to what direction they want to go next year. With the draft back to normal, teams should get back to a regular offseason, at least as normal as possible.
It seems more and more likely that the Bears will be upgrading the quarterback position next season with every passing day. The big question is how they plan on doing that. With Nick Foles tied to a big contract and an already tight salary cap, Chicago doesn't have much room for leverage, especially in the free-agent market.
That means a trade is the most likely outcome but does Chicago have enough ammo to get things done over other teams. While there are so many intriguing free-agent options this season, the Bears have been linked to Deshaun Watson as a potential suitor should he get traded. As much as Bears fans would love to see that happen, I find it very unlikely to consider the asking price.
However, a new name has been added to the trade block, and he is someone Chicago could show interest in depending on the asking price. I am talking about Detroit Lions starting quarterback Matthew Stafford as the team has agreed to part ways with him. Despite being 32 years old and having an injury history, Stafford is miles better than what the Bears have and has put together an excellent career when on the field.
Teams already are reaching out to the Detroit Lions to initiate trade talks and figure out what it would take to acquire QB Matthew Stafford, per sources.

— Adam Schefter (@AdamSchefter) January 26, 2021
The former No. 1 overall pick in the 2009 NFL draft has been putting up impressive numbers since he stepped on the field, but playing in Detroit hasn't resulted in much success. To this day, Stafford has made the playoffs just twice in his 11 years and has yet to win a playoff game. Injuries have been a big reason why the Lions haven't done much on the field. However, the talent around Stafford also hasn't been the best for much of his career.
Through 11 seasons, Stafford has racked up 45109 yards passing, 282 touchdowns, and 144 interceptions. The touchdown to interception ratio isn't something you want to see, but that has improved over the past five seasons. Stafford's best season came in 2011 when the Lions went 10-6 for his first of two playoff berths. He threw for a career-high 5038 yards, with a career-high 41 touchdowns and 16 interceptions.
He averaged more than 16 interceptions a season across his first four years but since then has not thrown more than 13 in a season. Despite another rough 5-11 showing for Detroit this season, Stafford was on top of his game once again. The signal-caller surpassed 4000 yards passing yet again while throwing for 26 touchdowns and 10 interceptions. That tied for his fewest number of interceptions over a 16-game season, so that is promising.
As good of a trade as this would be for Chicago to make, I don't see the Lions trading him within the same division. It wouldn't make much sense for them to do that at this point, would it? Given his age, Stafford isn't going to command the same return that a guy like Watson would. However, if Stafford is dealt within the division, you can bet the asking price would be more than if he just went somewhere else.
Reports from Glazer and every reporter associated with #DaBears

"The Chicago Bears are going to be big players this off-season for a quarterback" #BrawlNetwork

Me: pic.twitter.com/7jSqwBVUNQ

— Daniel Goodwin III (@DanGoodwinIII) January 26, 2021
Chicago has the pieces to be a solid team over the next few seasons, but they need better play out of the quarterback position. Fans thought Mitch Trubisky was the answer, but rookies don't always pan out. The Bears would love to draft a rookie this April and plug him into the starting QB spot next fall. That doesn't always work, and the Bears could put themselves in a worse position if they lose some of the weapons they have.
That is why trading for an experienced veteran could be their best option at this point.
Stafford is aging, and his injury history is always a concern, but the numbers don't lie. He is a great quarterback and needs a good surrounding cast. He has never had a legitimate defense, which is something the Bears will bring to the table every week. If Stafford stays healthy and puts up close to the numbers he put up in Detroit, this defense will be good enough to get in the postseason every year with Stafford at the helm.