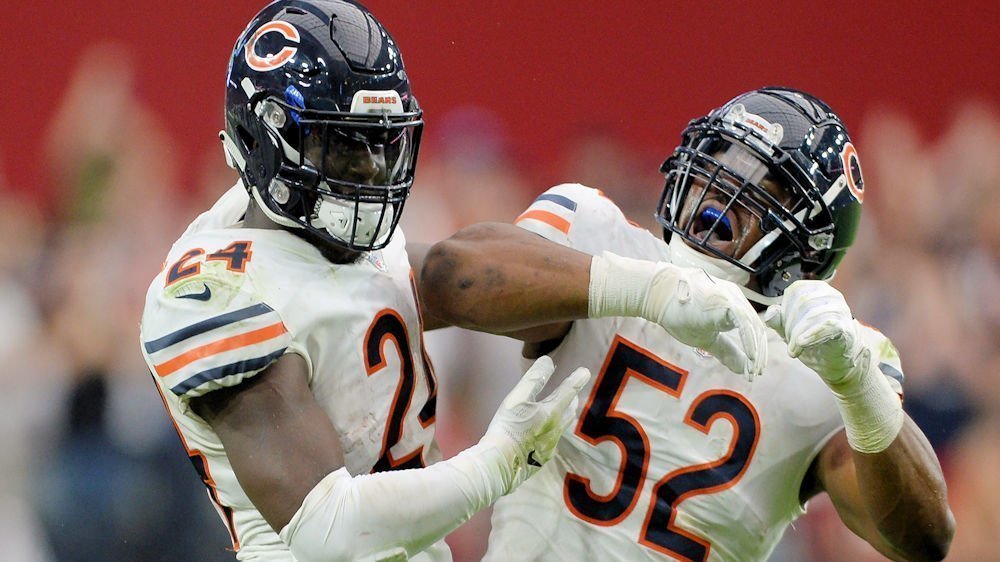 | | |
| --- | --- |
| What should the Bears do the rest of the season? | |
---
| | | |
| --- | --- | --- |
| Thursday, December 19, 2019, 9:00 AM | | |
Well, we now know the Bears are eliminated from playoff contention as they fell to the Packers 21-13 this past Sunday. With nothing else to play for other than pride that leaves me to the question of what direction should the Bears focus on the final two weeks of the season?
With games against Kansas City and at Minnesota, wins won't be easy to come by during the final two weeks of the season. Ideally, as fans, we want our teams to show up and compete week in and week out as we pay good money to watch the 53- man roster the Bears throw out there weekly. I would love to see Chicago finish the season strong and go 9-7 while potentially playing spoiler to Minnesota if they managed to knock them out of the playoffs depending on what the Rams do. That would make this trying season so much sweeter in the end.
A lot of what the Bears do the next week will hinder on what happens against Kansas City this weekend. If the Bears win, you can bet they will throw their best team on the field in week 17 and look to take it to the Vikings. Now, let's say they lose this weekend, and so the Vikings with the Rams also winning. That would mean Minnesota would need to win in week 17 to make postseason play.
Given the rivalry the Bears and Vikings both have, Chicago will not lay down and let Minnesota walk right into the postseason. They would make the Vikings earn that final spot and could even send the band home for the winter despite a solid 10-6 record if it came down to it. Let's say both teams win this week. That would mean Minnesota is in the playoffs ahead of that came, so there is a good chance some of their starters only see one half of action to rest up for the wildcard round.
The biggest scenario I see the Bears dealing with would be with a Vikings win over Green Bay on Monday coupled with a Bears loss on Sunday. If that indeed happens, I don't expect to see Mitch Trubisky start week 17 as I would think Chase Daniel would get the call with several others playing the final game of the season. Whether it will be by design or a game-time decision is something up in the air, but at that point, Chicago would be throwing in the towel on what was a frustrating season.
Generally, when teams sit their best players with nothing to play for, fans tend to get angry at times as they look at it as a sign of quitting on the season. While that technically may be the case, it is also a decision the organization makes to build for the future. The better the record, the lower draft pick a team gets, and with the Bears, first-round pick going to Oakland in the Khalil Mack trade, winning out is better for Chicago as it gives the Raiders a worse draft pick in the first round.
Had the Bears had a first-round pick, I would want them to lose the rest of their games to secure a pick somewhere in the 13-16 range. Winning out would be great because not only would it give Chicago some confidence heading into next season, but it would give the Raiders a pick somewhere around 20, which is ultimately a 5-7 pick swing.
Chicago knows they missed opportunities this season and will be kicking themselves all offseason long, thinking about it. The best part about that is that there is no need to panic with this team, and we shouldn't have to worry about a tear down with this roster. Do they have some tough decisions and holes to fill before next year? They do, but so does every team.
The fact that Bears are on the verge of another winning season or finishing around .500 is telling because that is something the Bears haven't been able to do consistently for quite some time. Yes, Chicago fell into the trap of banking on last season's success and hoping it carries through to this season, but they didn't fall off as much as they have in past seasons. I think the Bears have a plan in place for what direction they want to take this team in the future. Now we will see if they plan to rest some starters the next two games to see if the reserves fit in their long-term plans or if they plan to make things difficult for a pair of playoff-contending teams.
Upgrade Your Account
Unlock premium boards and exclusive features (e.g. ad-free) by upgrading your account today.
Upgrade Now