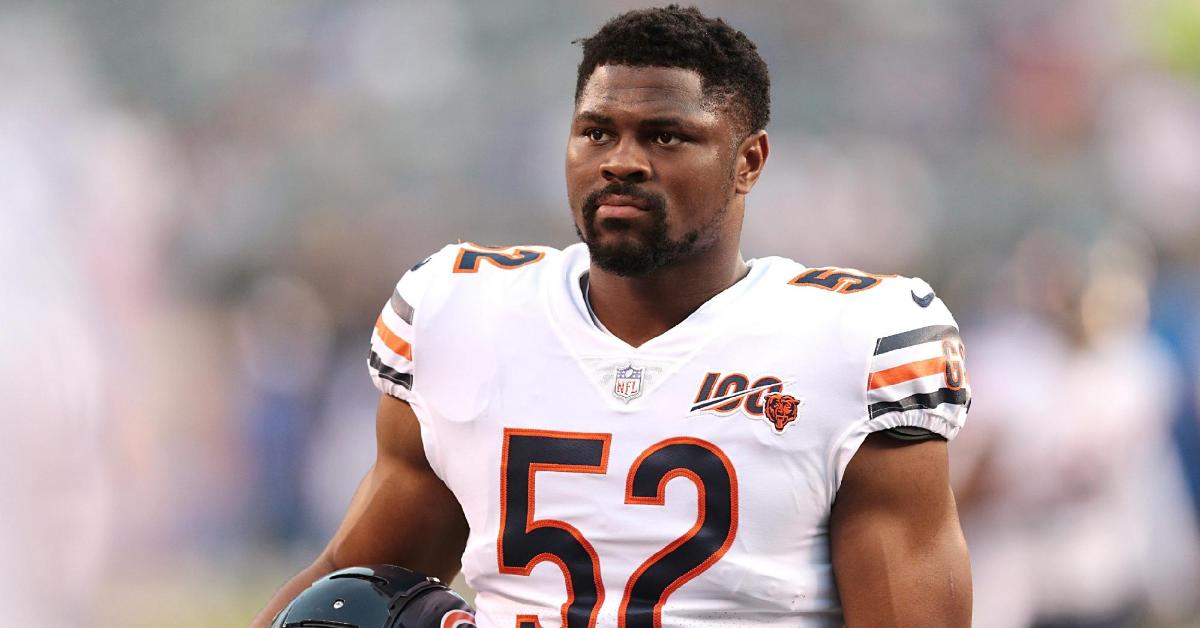 | | |
| --- | --- |
| Would the Chicago Bears really move Khalil Mack? | |
---
| | | |
| --- | --- | --- |
| Monday, February 10, 2020, 7:25 PM | | |
No, football wasn't my focus this past weekend. Still, I read a few headlines that grabbed my attention. It all started with a radio host making comments about the Chicago Bears being one of the teams talking to Cincinnati about a trade for the Bengals number one over pick.
I was shocked at this simply because the Bears don't have a first-round pick to offer in the upcoming draft. Why would the Bengals be interested in trading the top pick of the draft for an additional second-round pick, at best?
A few hours later, that question was answered. According to the reporter, Khalil Mack would be a significant part of what the Bears had to offer. If you follow breaking NFL news, regardless of the team, you know the goal is to have the news before anyone else. Because of that, my mind didn't run to check for other sources making the same claim. I wanted to check out the credibility of this radio talk host.
Dan Sileo is a former NFL player, and he's been known to have more than just a few inside sources. He's been the person to drop breaking news before. Once I learned this man's statements could be taken seriously, I was interested to learn just what the Bears were asking for one of, if not the NFL's best pass rusher?
According to Sileo, in return for Mack, Chicago is asking for two first-round picks, two second-round picks, or a scenario of the same number of picks over three rounds for the next two years. In other words, it's going to require a lot.
I'll be honest. I was kind of hoping the talk would simply go away. However, the chatter was made even louder on Sunday when Sileo reported Chicago had also reached out to the Washington Redskins with the same offer for their second overall pick of the upcoming draft. After reading the credibility of the sources the chatter is coming from, as a life-long Chicago Bears fan, I had to give an opinion.
Who would Chicago pick with the first or second pick
If you follow the Chicago Bears, you don't exactly have to wonder what the Bears would do with such a high draft pick. I'm not willing to put all the blame on Mitch Trubisky for the way things ended last season. That being said, love him or hate him, he definitely needs to make some improvements.
Matt Naggy has at least appeared to support Trubisky, but you have to wonder when it's also being reported he made sure some of his close friends back in Kansas City knew Mitch was a "project" that was running out of time. On top of that, it's been reported that one of the higher up officials within Chicago's front office are also ready to move on from the current quarterback.
If something crazy happened to where Khalil Mack ended up in Cincinnati and the Bears ended up with the number one pick, they would undoubtedly draft Joe Burrow from LSU. If a trade happens though, I think it's a lot more realistic of Chicago making an agreement with the Redskins.
Washington is already set at quarterback and will be using their pick to address needs on the defensive side of the ball, specifically drafting Chase Young out of Ohio State. While the trade would mean the Redskins wouldn't get Young, picking up Khalil Mack would go a long way in addressing their lack of a pass rush.
It's being reported that if the Bears end up with the number two pick, Burrow will already be off the board. Chicago's interest would then be with Tua Tagovailoa, depending on the results of medical checkups and any scouting combine he might be a part of. Again, this isn't my opinion or what I think the Bears should do. It's what is being reported by someone with inside information on the matter. If Tua is Chicago's pick, I hope the deal doesn't go down. That's just my thoughts, though.
Why a trade simply doesn't make sense
Yes, I'm all for replacing Trubisky. I'm not saying it's Chicago's only hope. I'm merely saying it wouldn't bother me. That being said, there are too many options at quarterback for the Bears to be moving Mack. Yes, he's currently the highest-paid defensive player in the NFL, but he's been worth every penny. His numbers weren't as high last season compared to the year before, but Chicago had a new defensive coordinator, and a few defensive players were injured at one time or another during last season.
Regardless if it's Trubisky, Burrow, Tua, or an NFL veteran such as Cam Newton or Derek Carr, whoever ends up under center for Chicago needs Mack to be the focal point of the defense. Yes, they have a defense that "should" be stacked from top to bottom, when healthy. Still, it's Khalil Mack. Every defense in the NFL is better with him on it, especially Chicago's.
Upgrade Your Account
Unlock premium boards and exclusive features (e.g. ad-free) by upgrading your account today.
Upgrade Now