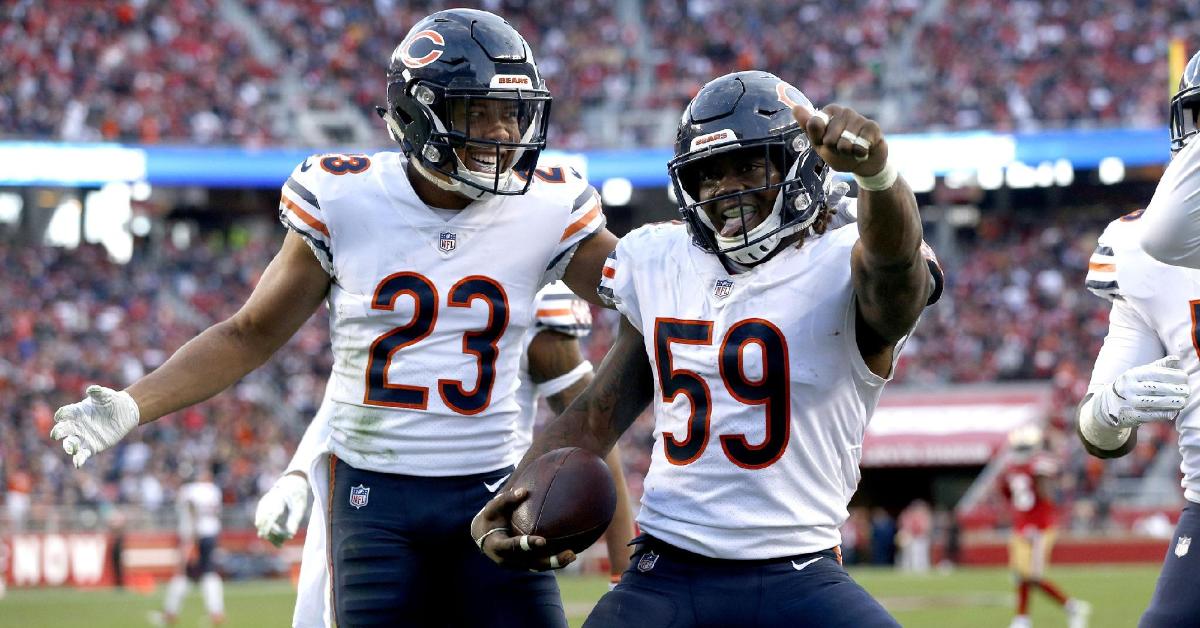 | | |
| --- | --- |
| Chicago Bears: 2019 Inside Linebacker Projections | |
---
| | | |
| --- | --- | --- |
| Sunday, August 4, 2019, 1:10 PM | | |
We continue to dive into the season projections as we work our way to the linebackers. This will be a two-part breakdown as we focus on inside first followed by the outside group. The best way to describe the difference when talking to non-football fans is inside linebackers contain the run and tend to drop in coverage. Outside linebackers, although they do the same thing, are allowed a bit more freedom and tend to rush the passer more frequently. Here is how I see the inside linebacker group shaping up this season.
INSIDE LB
DANNY TREVATHAN: Originally a sixth-round pick by the Denver Broncos in 2012, Trevathan has turned into one of the best inside linebackers in the game and the Bears benefitted by nagging him in free agency before the 2016 season. Since then he has accumulated nearly 250 tackles, five sacks and three interceptions since putting on a Bears uniform. Those are some good numbers when you look at where he plays and who he plays next to.
With Trevathan nearing the end of his current contract, he knows now more than ever that if goes out and balls he will land a nice payday one last time. Coming off a season in which he ranked 21st among all active ILB it is safe to say that Trevathan is far from finished playing at an elite level. At 6 1 240 lbs. Trevathan has the size to make plays happen but lacks some speed in the open field, which is why he focusses more on stopping the run.
PROJECTION: Starter, 97 tackles, two sacks 1INT. I expect Trevathan to be fully engaged on the defensive side of the ball as he looks to make things happen. With his veteran leadership and presence now one of the key factors to bringing the young guys along, Trevathan knows that he is at a spot in his career where his role is defined. That should allow him to go out there and play his game while letting everything else take care of itself. Expect big things from him in 2019.
ROQUON SMITH: Last years first-round pick out of Georgia, Smith burst onto the scene with a huge rookie season proving that he will be a force to reckon with for the near future. After logging 122 tackles, five sacks and 1 INT, it comes as no surprise that he was in the running for defensive rookie of the year all season long.
That leads us to year two and what his encore can be. Well for starters, Smith will no longer be a mystery on the field as teams will have his number circled on the game plan. He has proven in just one season that not only is he a key to the bear's defense but could be one of the top five ILB in the NFL and he is just getting started.
Projection: Starter, 134 tackles five sacks 2 INT. Yes, I see Smith building on last years numbers and only continuing to get better. He not only benefits from playing next to Trevathan but also has Khalil Mack to look at and know what a great work ethic is about. Smith has not only made himself a focal point of their current defense but will be a starter long into the future.
JAMEER THURMAN: Thurman is a mystery this season as this will be not only his first season with the Bears but first NFL season. After spending two seasons with the Calgary Stampede, Thurman has decided to come to the NFL and join the Bears with hopes of cracking the NFL Roster. For Calgary, Thurman logged 163 tackles and three sacks.
Projection Practice Squad. This seems like a various obvious choice for two reasons. The first reason is the talent the Bears have at that position. Unless a mass of injuries occur, Thurman would never see the field which is pointless for his development. The second reason is his size. Standing at 6 1 195 lbs, Thurman is tiny for a linebacker and fits the build of a wideout. I have no idea if a position change is in the works, but should he stay at LB, he needs to beef up.
KEVIN PIERRE-LOUIS: The NFL journeyman linebacker is taking a crack with the Bears this season with hopes of sticking around. After playing his first three seasons in Seattle, Lewis has now played for three different teams in three years with the Bears as his latest destination.
With 91 tackles, and one career sack, although limited in playing time the potential is there to make an impact when on the field. The only question is, will he have a chance to make those impacts. He will have two of the best to learn from in this system, which is something he hasn't had since his Seahawks days.
Projection Reserve LB: Given the experience, he has in this league and the fact that he has worked behind a great linebacker unit before, Lewis is perfect for a backup spot on the Bears. He knows he will not start on this team but also understands that an organization needs great depth to succeed. Coming to Chicago gives him a chance to play for some of the world's best fans while learning from great defensive minds also.
NICK KWIATKOWSKI: Another under the radar ILB is Kwiatkoski who will now enter his fourth season with the Bears. Initially taken in the fourth round of the 2016 draft, Kwiatkoski has logged 108 tackles with three sacks during his NFL career thus far. That also includes a two-point conversion catch from Mitchell Trubiski to eliminate the Vikings from playoff contention last year.
Projection: Reserve: This role is not new for Kwiatkoski as he has been in the reserve position for four seasons now. That doesn't seem to bother him as he will be in the final year of his contract. Not only does he love the city of Chicago, but the fans, players, and coaches that he has played with since being drafted. He is the perfect teammate for any team to have.
JOEL IYIEGBUNIWE: One name to watch this year is last year's fourth-round pick Iyiegbuniwe. Despite collecting just nine tackles a season ago, Iyiegbuniwe is primed to break out in a more prominent role this season as he now understands the NFL game. Whatever that role remains to be seen, but you can believe the Bears will be happy what they can get out of him.
Projection backup LB: 35 Tackles 1 Sack: I do expect him to see a significant increase in playing time as the season goes as he will be trusted with the second unit early and often. With more playing time comes more production, which will lead to more expectations. Don't expect the bar to be set too high for this season, but watch it rise as his career continues. The dude can play and has excellent potential long term.
Josh Woods is another name to look for during the preseason as he looks to avoid the practice squad.