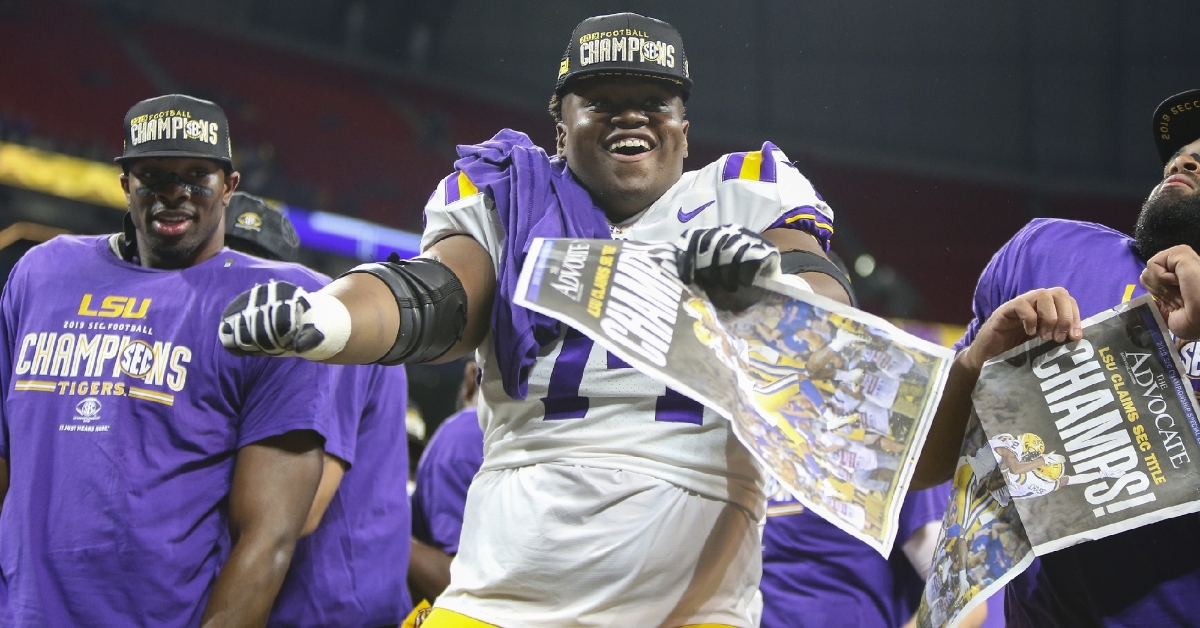 | | |
| --- | --- |
| Bears News: Getting to know: OL Badara Traore | |
---
The Bears continued to scour the free-agent waiver wire in hopes of adding more depth to their offensive line, and they did so by adding a huge man to their roster. With their final offensive player via undrafted free-agent process, the Bears agreed to terms with LSU offensive tackle Badara Traore ahead of this season.
Unlike most of the Bears offensive line signings through the draft, Traore is a massive human as he stands 6-8 315 pounds. He looks even bigger in person as he will give the Bears some nice added size at the tackle position should he find a way to make this club. A four-star prospect coming out of High School, Traore was a highly regarded lineman heading into his freshman season, but never fully lived up to that potential with the loaded LSU squad. With that being said, he still played a valuable role in their national championship team and did enough to open the eyes of some scouts during the pre-draft process.
Before signing with LSU, Traore was in the JUCO college ranks, where he checked in as the 16th best overall prospect before coming to the FBS level. As expected, given his size, that is undoubtedly one of Traore's strengths as he can use that size to his advantage, especially against smaller defensive pass rushers trying to blitz from the outside.
Not only is his size a significant strength, but so is his reach as he has ideal arm length when it comes to an offensive line player. That allows him to get a firm blocking base while using his arms to push defenders around to control their movements. Traore also displays excellent strength in both his upper and lower body when blocking, and if he gets locked on a defender during a play, it is next to impossible to shake him thoroughly.
While Traore doesn't display the initial power you would expect from a guy his size, he makes up for that by getting his hands inside pass rushers, which allows him to control their movements and stay in front of them during the play. Traore demonstrates good balance in all his blocks and is a better pass blocker than run blocker at this point in his career. That is certainly important for the Bears who look to improve their passing game, but for him to contribute fully, they need him to continue to work on his run blocking abilities.
A weakness of his is his height at times. Being such a tall player, Traore has had trouble playing at pad levels, and he needs to be more consistent with that to generate the most power possible off the snap. His hands are excellent, as we mentioned, but sometimes they are too active as he tends to change positions several times on a block.
With his size often engulfing defenders, Traore doesn't always give you 100% on every play as his overall motor could be improved as he just does enough at times instead of more. These are all coachable things that will most likely land Traore on the practice squad this season, but a big body like this doesn't come around often, so look for the Bears to find a spot for him down the road.
The bottom line with Traore is that he is a big tackle that can continue to redefine his technique to become a better player and reach his maximum potential. He has all the physical tools that you look for in a tackle and will compete with others day one if his motor is where it should be. I love this depth signing for the Bears, and I am curious to see where his career takes him in the Windy City.
Upgrade Your Account
Unlock premium boards and exclusive features (e.g. ad-free) by upgrading your account today.
Upgrade Now