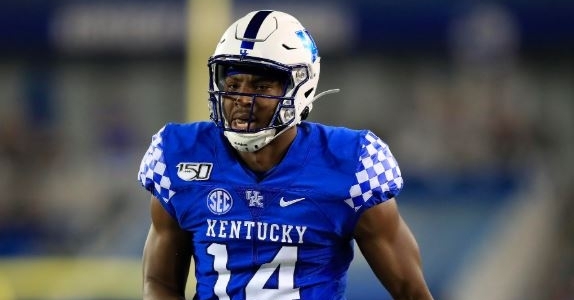 | | |
| --- | --- |
| Bears News: Getting to know: WR Ahmad Wagner | |
---
While the Bears didn't add too much skill position players to their roster during the draft, they did just that by adding three undrafted skill positions players to their team post-draft. With the first two being RBs, the Bears signed their final skill player in receiver Ahmad Wagner out of Kentucky.
What makes things so interesting with Wagner is his size as he could play either WR or even the TE position. At 6-5 234, he would be a big WR, but a small TE, so Chicago needs to figure out what his ideal fit is. However, given that he could play two positions, it gives the Bears something to work with as he provides them with a matchup problem depending on where he lines up.
The problem I have with Wagner might be the same problem a lot of us have as we simply don't know much about him or what he can bring to the table. Unlike most college players, Wagner doesn't have a ton of college experience. What I mean by that is that he has played one season of college ball for the Wildcats and only eight games for that matter. Despite that, Wagner found ways to produce hauling in 15 receptions for 254 yards and two scores showing that he does have some potential in him.
While those numbers certainly are not going to impress anyone, keep in mind Wagner dealt with some difficult measures during his time with the wildcats. For starters, he never saw the field his junior season and then spent time mostly used as a flex TE blocking in a nonexistent passing scheme. That completely took away from his abilities and didn't allow teams to see what he could do on the field.
Even though most of us may not be too familiar with his name on the gridiron, his name may sound familiar if you paid attention to the hardwood as he spent three years playing basketball for the University of Iowa. That means not only does he have the body of a basketball player, but he has that kind of athletic ability that could come in handy for certain plays.
The one thing I love about his game is how he attacks the football in the air, much like it is a rebound situation. At 6-5, he would give the Bears an excellent red-zone target that could go up and get it with the best of them. His strong hands make it difficult for defenders to knock the ball away from him if given a chance to grab it while he has also shown general knowledge of the WR/TE positions, which has allowed his game to translate quicker than some expected.
Naturally, a raw prospect given his just one year of football experience, there are lots to work on in terms of his game, but most are easily coachable. For starters, Wagner needs to do a much better job with his route running, but that is to be expected with limited experience. Already a taller prospect for his position, Wagner has not only shown great promise with his route running but is starting to figure out how to keep his pad level down in his routes while he still needs work on that.
Another thing he needs to work on is versatility, which will come with more experience. Not only because of his height but also because he has seen a total of eight college games, Wagner has been limited to working on the outside as the Bears may want to move him inside to utilize his presence in the red zone better. He has been the ability to get by based on pure athletic ability to this point, but now it is time to fine-tune it for the long haul.
NFLPlayer comparison: I haven't seen too many players that I would compare him to, especially since with only eight games under his belt, it has been hard to pick apart his game thoroughly. I see a lot of Mercedes Lewis similarities when talking about his size, and then some of Jimmy Graham in him when talking about basketball background and how he attacks the ball in the air. He also reminds me of Brent Celik at times if he is given a chance to get out in space as his 4.64 40 time is speedy for a TE, but slow for a WR. Regardless of who any of us see with Wagner, he will be a project that the Bears have an opportunity to make work.
Upgrade Your Account
Unlock premium boards and exclusive features (e.g. ad-free) by upgrading your account today.
Upgrade Now