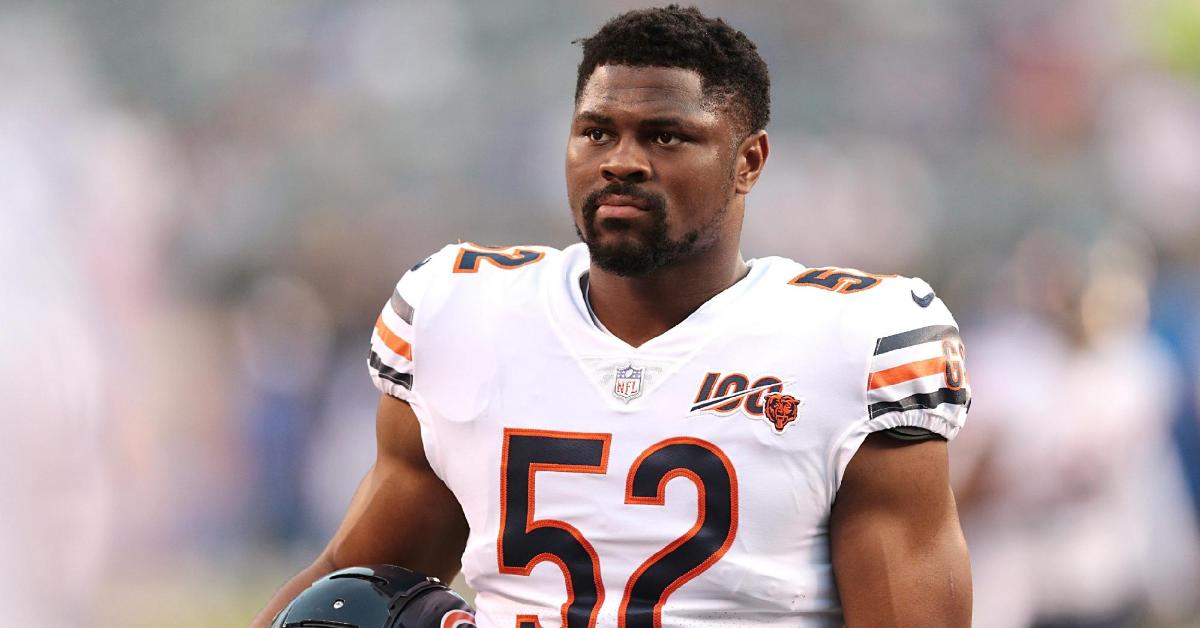 | | |
| --- | --- |
| Bears News: Khalil Mack ready to show Raiders what could have been | |
---
| | | |
| --- | --- | --- |
| Friday, October 4, 2019, 8:08 AM | | |
A member of the Bears defense was already treated to a homecoming two weeks ago as Ha-Ha Clinton Dix returned to Washington. This weekend, it is a homecoming of a different proportion as Khalil Mack takes the field against the Oakland Raiders for the first time since being traded last offseason.
Drafted by the Raiders in 2014 with the fifth overall pick, Mack was always known as a dominant pass rusher ever since his days in college. That continued into the NFL without the same results with the Raiders until Mack untapped his full potential with the Bears just a season ago.
Even though this game will be played across the bond in London, this is still a homecoming of sorts for Mack as many of the players on the Raiders' current roster played with him for four seasons upon being dealt last year.
"It's another game, man," Mack said Tuesday at Halas Hall. "It's going to be a fun one because I know a few of the guys out there. But it's going to be a good one. Can't wait."
Mack was part of the same draft class that brought in current Raiders quarterback Derek Carr, who was selected in the second round and 36th overall. While playing for the Raiders, the not only formed a close bond as teammates but remain close friends off the field despite being on separate teams for just their second season apart.
"That's my brother," Mack said. "I love him, but it's going to be fun to compete against him this week. When we were there trying to change the culture, just going through that process together, it was really special."
While with the Raiders, Mack proved how dynamic of a player he could be as he totaled 40.5 sacks in 64 games during his tenure. He also forced nine fumbles and was named to three pro bowls along with 2015 defensive player of the year after notching 15 sacks that season. Once being dealt to Chicago, Mack continued to terrorize defensive fronts picking up 12.5 sacks, six fumbles, and a pro bowl nomination in his first season.
Fast forward to this season and the 6-3 269-pound monster has picked up right where he left off compiling 4.5 sacks and four fumbles through the Bears first four games. Should he keep this pace up, he will have a career-high in nearly every major defensive category.
After getting drafted by the Raiders, Mack was excited, and at that time, he couldn't envision himself in another jersey. Mack does know, however, that this is a business and understands trades do happen as part of the business side of things. Now that he has been in Chicago for over a year, Mack is eager to get on the field against his former mates to show them exactly what they are missing by letting him go.
"You can't play this game with too much emotion," Mack said. "Ultimately, I try to stay focused on the task at hand and understanding the situation and understanding what they're going to be thinking that I feel. But ultimately, I'm going to go out there and do what I do, and that's playing football and love the game that I play."
"There are feelings you suppress. But also, it's no big deal to me. I'm here. I love the Bears, and I'm going to go out and try to get this win."
Those are some strong words coming from a man that already gives offenses problems in terms of preparation. Adding a little bit more fire to light his engine is not an ideal scenario for anyone looking to stop him and the Bears defense.