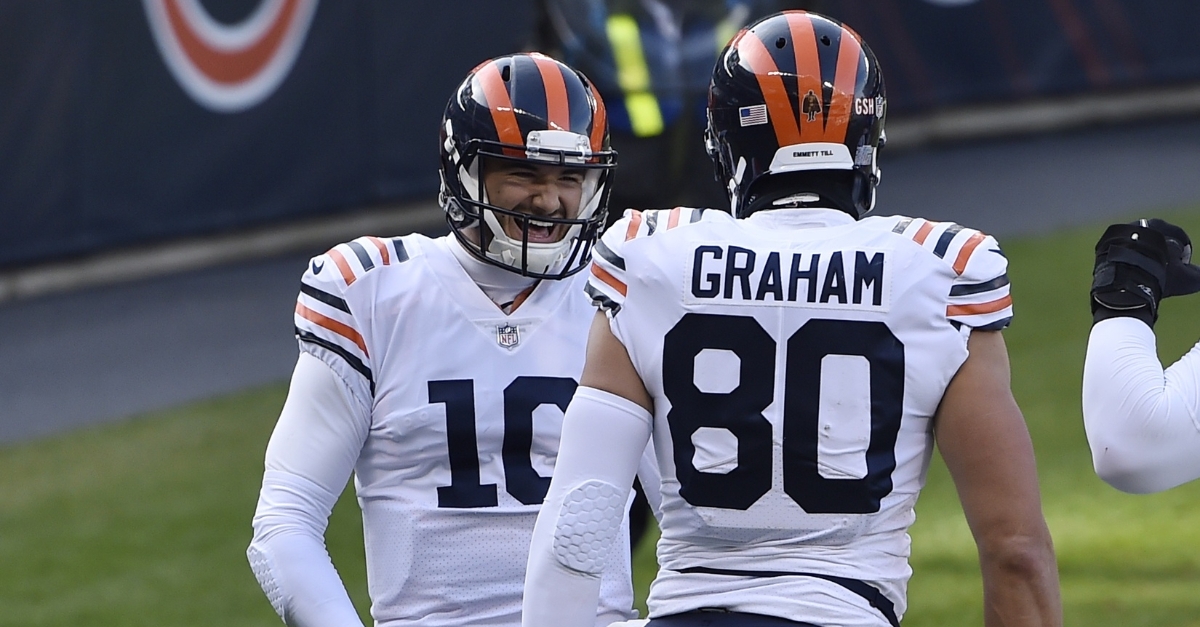 | | |
| --- | --- |
| Bears News: Mitch Trubisky coming into his own as playcalling improves | |
---
| | | |
| --- | --- | --- |
| Friday, December 18, 2020, 2:30 PM | | |
After a 2-0 start to the season, the Chicago Bears got manhandled by the Atlanta Falcons through two-plus quarters. That prompted Head Coach Matt Nagy to bench Mitch Trubisky in favor of Nick Foles, who led the Bears to the comeback win to move to 3-0. Following that, Foles was named the starting quarterback and helped the Bears get off to a 5-1 start before things went south.
Not only did the Bears endure a six-game losing streak after their great start, but it was the way they were losing. Add in the fact that Foles left the Minnesota Vikings game with an undisclosed back injury, and things went from bad to worse. After that Vikings game, then play-caller Nagy opted to give up his play-calling duties for offensive coordinator Bill Lazor. Granted, the team has gone 1-2 since that happened; the offense has looked much better under Lazor, including Trubisky, who is back under center.
Trubisky has gone through a lot as a pro, but nothing has been like the experience he has gone through this season. From starting to hitting the bench to back to starting, 2020 has been mentally draining for the fourth-year quarterback. Add in that the one play he saw in week eight, he left with an injury, so nothing can faze this kid at the moment.
Perhaps the turning point for his season, if not for his career, has been what we have seen from him the last three games since returning to a starting role. After posting a 58.3% completion percentage to start the season, Trubisky is suddenly completing 70% across his last three starts. A big reason for that is his approach to the game as he is taking what the defense has given him. For someone who has struggled to read defenses, this is a pleasant sign.
Despite losing to Green Bay 41-25 in his first game back, there were many positive signs to take away from that start. Then you look at his performance against Detroit and Houston, and you and you can see how well he is playing. His three turnovers against the Lions don't help anything, but his three touchdowns were promising.
The two interceptions he threw were in double coverage, which is a learning experience for him, but for the most part, his overall play has steadily improved. Perhaps having Lazor call plays makes more of a difference than people realize, as Trubisky seems as comfortable as ever.
One thing that is often overlooked when watching quarterbacks play is short passes. While those types of passes may not get fans excited, they are good to get a quarterback in rhythm. Trubisky uses short completions to build momentum and help the offense stay out of third and long situations. Those are the same situations that have seemed to pop way too often in the past few seasons.
You notice that Lazor is using him more out of the pocket. Trubisky is at his best when he can roll out and make things happen on the move. Lazor is undoubtedly doing that a lot more and is starting to design play calls revolved around Trubisky's strengths. Those same types of play calls are helping other players get more involved, like rookie Cole Kmet, who has nearly as many catches in the past two weeks as he has had all season.
After struggling to score points for nearly two months, the sudden changes have made this offense much more dynamic, and the Bears are a better team. The offense is starting to score points, taking pressure off the defense, and it looks as if Trubisky is taking ownership of this offense. Both are essential when it comes to being a franchise quarterback, and maybe Trubisky is starting to show he is one.
Being a Trubisky stan has changed my life forever. But it was a good change. I love seeing him happy. ???????? pic.twitter.com/kNv1xu1des

— Holly (@Trubiskystan10) December 18, 2020
While the future of Trubisky remains unclear after the team declined his fifth-year option, he is certainly doing everything in his power to return. Should his recent play continue the remainder of the season, the Bears may not have a choice but to bring him back for at least one more year. Maybe an entire offseason with Lazor as the play-caller can help unleash the Trubisky Pace thought he was getting when he drafted him.