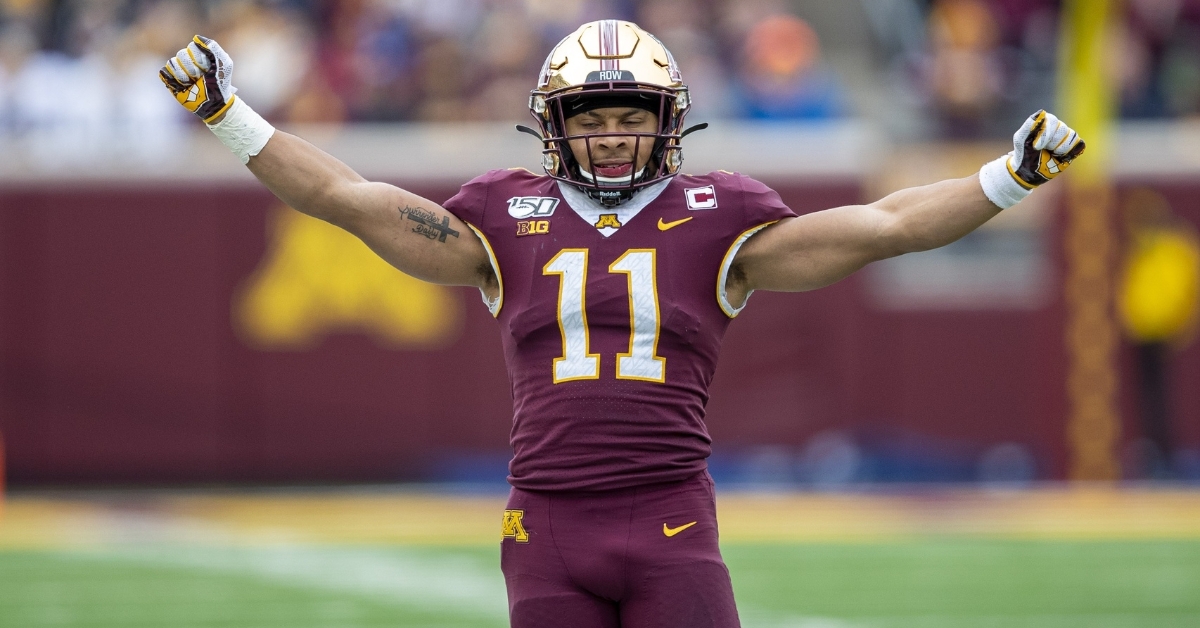 | | |
| --- | --- |
| NFL prospect profile: Antoine Winfield Jr. | |
---
As teams continue to adjust to the new norm of the pre-draft meeting process as to how they go about their business. The Bears are no different as they are now getting involved in the Skype world to conduct prospect interviews ahead of this month's draft. If we have noticed one thing early on, it would be that the Bears look to be targeting secondary help, in particular, the safety position.
Yesterday, we wrote about a Jeremy Chinn and his desire to play with Chicago. Today, we look at another safety whom the Bears interviewed, and it should be a name everyone is familiar with. That player is University of Minnesota safety Antoine Winfield Jr. as he is the son of former Bills and Vikings cornerback Antoine Winfield, who gave the Bears fits for seven years in the division.
Looking to add help alongside Eddie Jackson at the safety position, Winfield is an intriguing prospect being graded as one of the top safeties in this year's draft. Depending on what mock draft you look at, people have Winfield going as high as late first round and as low as early third, so it all depends on the fit at this point.
The Bears can use up to 30 visits from now until draft night, and so far, two of those 30 visits have been held with some of the top safeties in the draft showing that might be the Bears focal point for their first pick. He is looking to carve out his path after his dad was a first-round pick, eventually playing 14 years in the NFL. Winfield Jr. has teams talking as his Big Ten pedigree certainly makes him a prospect worth noting.
Just like his father, Winfield Jr. was a ball hawk for the Golden Gophers defense as he was a stud player for his career. He had 62 tackles, two forced fumbles, and seven interceptions last season.
Not only did he earn first-team unanimous All-American selections, but first-team Big Ten honors also to go with the conferences defensive back of the year award.
To go along with those awards, Winfield Jr. also tested very well at the combine, posting a 4.45 40-yard dash time with a 36 inch vertical.
Those numbers bode very well for his draft stock, but circling where he may fall is quite the challenge. If you look at the eye test and his combine performance, he has first-round talent written all over him. However, his small 5'9 frame and injury history of mainly hamstring and foot injuries could see him fall further down the list, which could come in handy for the Bears. Even so, Winfield Jr. shouldn't fall outside of the second round, and even Todd McShay has him going in the first round to the Oakland Raiders, which ironically was the Bears pick until the Khalil Mack trade.
Despite his smaller size and injury history being what it has been, Winfield JR is one of the most intriguing secondary prospects in this year's draft, especially at the safety position. Not only does he have the former bloodline DNA from his father being in the league, but his experience in the BIG 10 also bodes well to have him NFL ready.
Winfield Jr. has always shown the knack for making big plays, whether through tackles or going up to grab an interception. He has impressive ball skills and has the ability and willingness to make tackles in the open field to prevent big plays from happening. Considering the Bears would love to find someone with all those traits to pair with Jackson, Winfield Jr. should continue to be a prospect of interest as we move closer to the NFL draft.