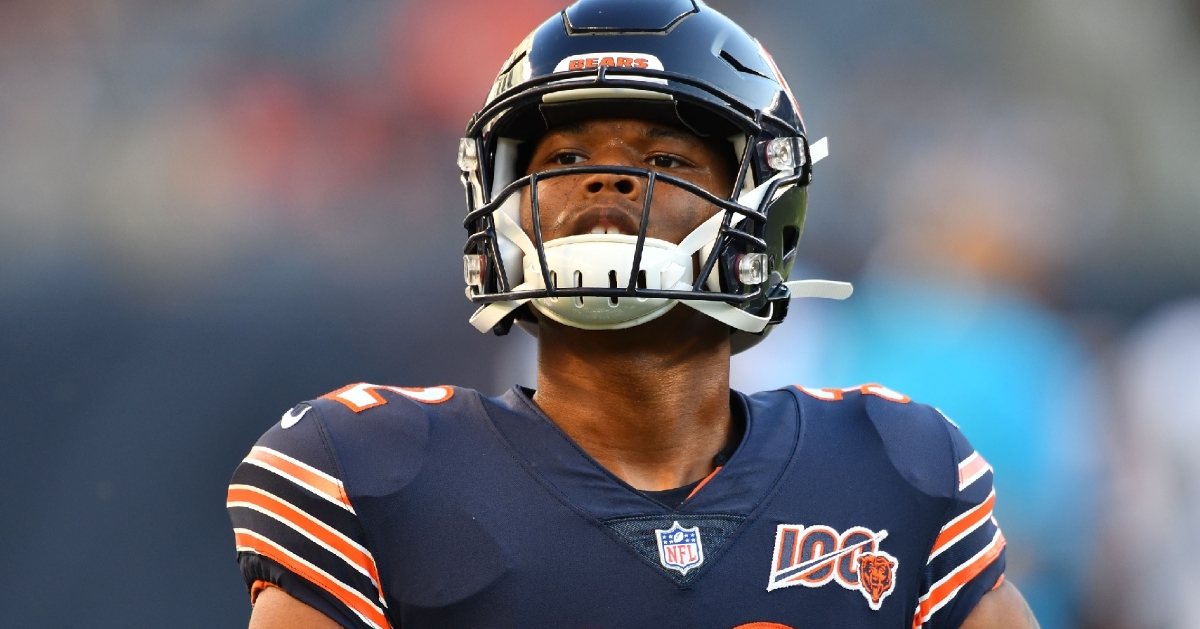 | | |
| --- | --- |
| Bears News: Options at running back after Montgomery injury | |
---
Chicago Bears fans received devastating news as their primary offensive weapons was carted off with an apparent leg injury on Wednesday. To make matters worse, the dreaded phrase non-contact injury was added into the equation, something you never want to hear.
Second-year running back David Montgomery was carted off the field yesterday with an apparent non-contact injury. 99% of the time, when the phrase "non-contact" is mentioned, it ends up being a torn ACL or season-ending injury, so immediately Bears fans were preparing for the worst. Thankfully, Montgomery dodged a bullet as he suffered a strained groin, but even then, he will be sidelined for a while.
With the injury diagnosis now in play, what should the Bears plan be moving forward now that Montgomery is out? For starters, look for Tarik Cohen to move back into the feature back role for the time being. Cohen is a huge part of the Bears offense but hasn't been as effective when utilized as a primary back. Hopefully, this injury isn't too long, so Cohen can get back to doing what he does best.
Should Chicago want to go with more of a complementary backfield, along with Cohen, you have undrafted rookie RB Artavis Pierce as an excellent option and Cordarrelle Patterson, who continues to work with the running back group. Pierce was one of those players I felt the Bears got a steal on as he should have been a mid-round pick.
On the other hand, Patterson is listed as a receiver, but he often does much more than that. He spends just as much time in the running back room as the receiver room, so this would be an excellent fallback option. Patterson has always had success running the ball and is a nightmare in the open field. The bears need a reason to get him the ball more, and this could be their plan.
Should the injury to Montgomery last longer than a month, depending on the healing process, you can bet the Bears will be open to looking at the free-agent market to find a solution. That wouldn't be a bad idea, depending on what their plan is. If Montgomery ends up in a situation where he will be lost for a long time, the one obvious choice for the Bears to inquire about is Devonta Freeman.
The former Atlanta running back is looking for a new home after dealing with injuries of his own the last few seasons. Freeman is fast and has been known to have great seasons in the backfield. He also is a tremendous pass-catching threat that would fit in nicely with what the Bears love to do on offense. Given that he is still out there to be had, Chicago should get him on a decent one-year deal. The only way that happens would be if Montgomery landed on the season-ending IL or doesn't get to 100% this season.
While Freeman is the best-case/worst-case scenario, what about players who could temporarily fill in the void while Montgomery is on the mend? These are the players who have had minimal success as starters but may do better as a complementary back in the proper system. Some of those names are Chris Thompson, Isaiah Crowell, C.J. Prosise, and Alfred Blue.
When you look at these names, they may sound familiar, but not all are a fit for this offense. Thompson and Blue are better suited for past first offenses, so they may not be the best choice. That leaves both Crowell and Prosise as the two choices. Looking at Crowell first.
Up until Le'Veon Bell arrived in New York, Crowell was the feature back for the Jets after putting together strong Cleveland seasons. Not known as a back that is going to wow you, Crowell did rush for nearly 1000 yards during a few seasons while adding an excellent option in the passing game for young inexperienced quarterbacks. While both Bears quarterbacks have the experience, they depend on the short passing game a lot, so Crowell is an excellent fit.
Prosise, on the other hand, would be my choice, given the role he played in Seattle. With Russell Wilson as the starter, Seattle has been a run-first team for years using a three-headed monster to get the job done. While Chris Carson was the feature back, Prosise was one of those complimentary backs and did a phenomenal job at that role.
Not only did he thrive with limited touches, but he also showed he could be counted on to shoulder a more significant load if needed. With the Bears tight on cash, Prosise would be the cheapest of the running back options listed to bring in for a workout. Just because he would come cheap doesn't mean he would play bad. We should expect to know more about the severity of the groin injury to Montgomery soon enough, which in return, will show us the Bears plans.