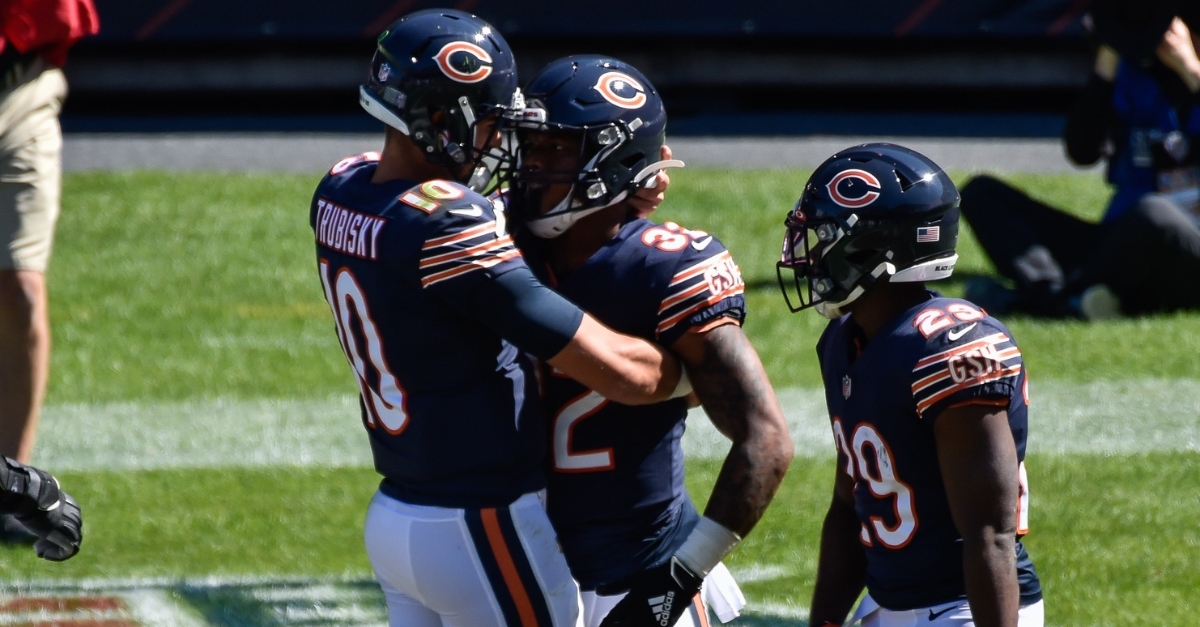 | | |
| --- | --- |
| Report Card: Handing out more grades after Bears win | |
---
It wasn't pretty, but the Bears did enough on Sunday to beat the New York Giants at Soldier Field. The Bears jumped out to a healthy 17-0 lead but were not able to tack on. Fortunately, the defense did its part in holding off the G-men and the Bears improve to 2-0. It wasn't exactly pretty, but the Bears got the job done.
Let's take a look and give out some grades based on the performances by position after the win against the Giants.
Quarterback C+
If you looked at just the first half, Mitchell Trubisky's grade would be an A without a doubt — but when you encompass the entire game, I could not be as generous. The offense put up a total of 17 points, but all 17 of those were in the first half. Trubisky was sharp and accurate early, throwing two touchdown passes and being efficient with the football.
A couple of interceptions kept the Giants in the game, and Trubisky finished with just 190 yards. But, a win is a win, and the fourth-year quarterback who is trying to keep his job will take it.
Running backs B+
David Montgomery led the backfield with both 16 carries and 82 yards. Cordarelle Patterson had seven carries for 25 yards, and Tarik Cohen had five carries for 12 yards after signing an extension. On the receiving side, these backs accounted for six catches, including a 28-yard touchdown grab by Montgomery. All and all, a solid performance from the running backs helped the Bears, and Chicago would like to build on it.
Wide Receivers C-
The Bears did not really unleash any receiver aside from rookie Darnell Mooney who caught three passes for 36 yards and a touchdown. Allen Robinson, who is usually constant and fantastic, had just 33 yards. Anthony Miller, who appeared to have solidified himself as a legit number two receiver, did not even catch a pass. Most of this can be blamed on the quarterback, but the wide receivers should be involved much more in the future.
Tight Ends D
The tight ends, and there are many on the Bears roster, were disappointing. First-round pick Cole Kmet and big-money free agent Jimmy Graham caught just one pass. For a team with this many tight ends, utilizing them is a key for Matt Nagy to zero in on.
Offensive Line D+
The offensive line was not all that good. They were able to open holes for the running game fairly consistently, but left Mitchell Trubisky under duress for most of the game — including four sacks. The offensive line needs to step it up against better defenses, or the Bears could be in for some long games.
Defensive Line B
The Bears did a great job at stopping the run on Sunday, holding Saquon Barkley to just 28 yards before his injury. The line was also responsible for forcing four sacks and disrupting the Giants' pass attack.
Linebackers B
Any unit that boasts Khalil Mack deserves some props for his play. Mack did not light it up on the stat sheet, but he did have a significant impact on the game, including a sack. Roquan Smith and Danny Trevathan were okay, and Robert Quinn added a sack. For the Bears defense to be as strong as they want to be, this unit needs to carry them.
Secondary A-
A pick for Eddie Jackson, multiple pass defenses from rookie Jaylon Johnson and no long plays, which was a very successful game for the secondary was. Deon Bush added a pick as well. Fuller and Johnson look like a solid 1-2 combo on the edge for the defense, and you can't forget the duo of Eddie Jackson and Tashaun Gipson ball-hawking and laying hits.
Special Teams B
Kicker Cairo Santos delivered one made field goal on two tries, the punt unit was solid and did not give up any big plays, and Cordarelle Patterson had a lengthy return on three tries. Solid day from this unit.
Playcalling C
Sure they won the game, but I would have liked to see some more from Nagy, and this is what I mean: Let Mitch out of his cage and out of the pocket earlier, take some shots, and let him run. Establish the run game as soon as you can, it makes Mitch's job so much easier. You spent a lot of money on a free agent tight end and then drafted one in the second round, USE THEM. Allen Robinson…extend him and get the man the ball.
The Bears are back in action this Sunday against the Falcons.

Tags: Bears Football
,
Mitchell Trubisky
,
David Montgomery
,
Tarik Cohen
,
Allen Robinson
,
Anthony Miller
,
Khalil Mack
,
Roquan Smith
,
Danny Trevathan
,
Eddie Jackson
,
Deon Bush