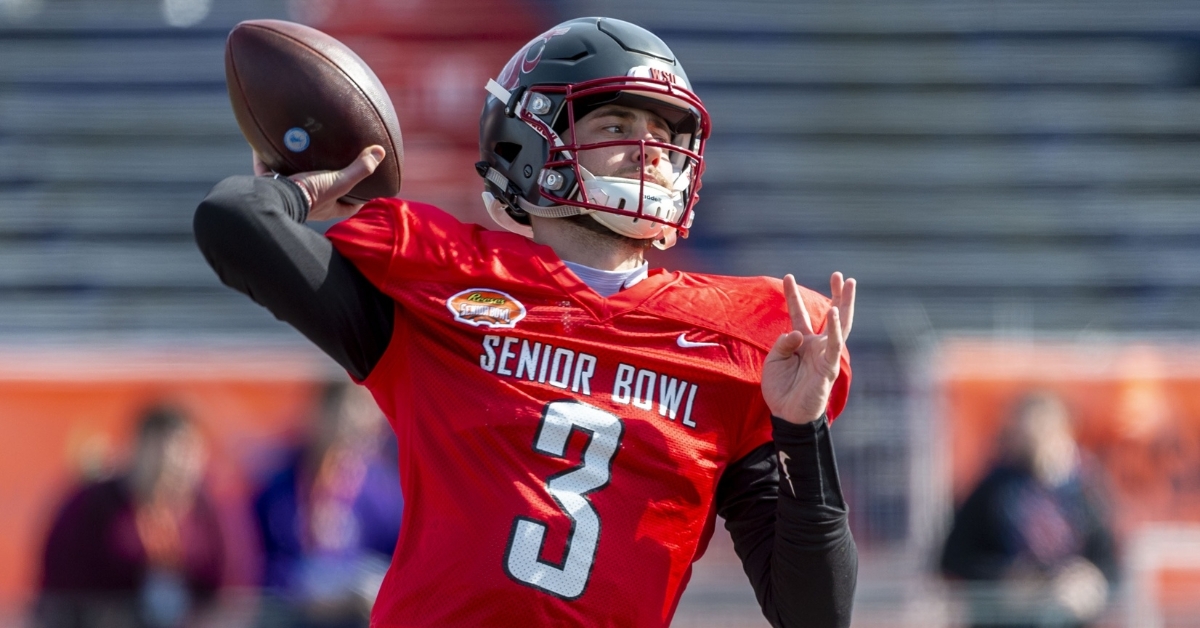 | | |
| --- | --- |
| Should the Bears look to draft Anthony Gordon? | |
---
Even though the Bears have Mitch Trubisky under contract and as their starting quarterback for 2020, that doesn't mean they are not considering all options regarding that position long term. With plenty of names popping up in free agency as potential targets for the Bears, I found myself watching the Senior Bowl for the first time in a while to see if anyone stood out to me.
I know I couldn't have been the only one. Could I? With Jalen Hurts, Tua, and Joe Burrow as the primary QB targets that everyone has been talking about, the senior bowl allows everyone to get a glimpse of some less than familiar names that could make an impact in the NFL. One player that stood out to steal the show was Washington State QB Anthony Gordon, who the Bears would be wise to investigate on draft weekend.
With Justin Hebert, the most known QB in the Pac 12, Gordon flew under the radar this season playing for a Cougars team that wasn't all that impressive. That may have worked in his favor, however, as he put on a show during the Senior bowl. Not only did he look like one of the best QB's out there, but his stock will continue to rise in the coming weeks. Gordon finished the day going 8-12 for 69 yards but threw two touchdowns with no interceptions.
Those numbers certainly are not eye-popping, but given the names at the senior bowl, it was other things in his game that stood out to me more than the results themselves. For starters, Gordon played well within the confines of the offense. Given that he wasn't making throws off his normal playbook, Gordon was able to adapt to a new offense quickly and looked the part of a great QB in the process.
He showed excellent pocket awareness, made the quick and decisive throws you need to make, and showed off his baseball background by demonstrated his many different angles he can throw the ball from. He put that on display on one of his touchdown passes as he moved right out of the pocket, was off-balance, and used a weird arm angle to fire it into the endzone for six. Gordon also hooked up with Bryce Hopkins (Purdue) earlier in the game who has also been linked to the Bears come draft weekend. Wouldn't it be nice to hear that combo long term?
The thing about Gordon that works in the Bears favor is that he won't be a first day or maybe not even a second-day talent, which could benefit the Bears. Gordon is not going to be drafted to start right away, but could still be a steal depending on how far he falls. Gordon must prove he can make better decisions with the ball consistently, which is also something that Trubisky needs to prove.
With Trubisky still under contract for at least another year, drafting Gordon and having him sit behind Trubisky may not be the worst thing in the world. Gordon is that type of player that, with the proper coaching, you can get the most out of him, and he could develop adequately instead of being rushed to start. Knowing the Bears have their man for 2020, at least for now, they could do a lot worse than drafting Gordon as an understudy for the future. It is not like they have a shortage of QB gurus on this roster.
Another under the radar QB that drew some attention was Utah State QB Jordan Love. Although his numbers were not the greatest going 4-6 for 26 yards, Love did uncork some impressive throws on the afternoon as his best throw of the day fell incomplete when his receiver couldn't track down the ball. To me, that is a bummer because I wish Love had more chances to showcase his skills with people other than what he had at Utah State. I guess that is why you have the scouting combine and pro days so you can leave a lasting impression.
The one QB that has now cemented himself as a first-round pick has to Hebert (Oregon). After watching him play, I hope he lands in the AFC somewhere, which there is certainly a great shot that does happen. Hebert won the MVP for the Senior Bowl, though his lone touchdown came on a screen pass. If you want to see what Hebert all is about, turn on the Rose Bowl game against Wisconsin and watch what he can do with both his arm and legs.
Given the Bears don't have a first-round pick, players like Burrow, Hebert, Tua, and possibly Jalen Hurts will not be around on day two of draft weekend. Even if the Bears did have a first-round pick, they wouldn't have been in a position to draft any of those players except for maybe Hurts. With two second-round picks and a handful of day three selections, this could be the year that Ryan Pace takes a second shot at drafting a QB. It is not like he will be out of options after day one.
Let's say that he does indeed want a QB in this year's draft. I still like Gordon as the one I would pick, but don't rule out Chicago trading up once again. If that is the case, it better be for Hebert, or someone not named Tua or Hurts. If they don't give up the future of the franchise for that move, I am all for it. Let's see what plays out as the Bears will have plenty of options moving forward.
Upgrade Your Account
Unlock premium boards and exclusive features (e.g. ad-free) by upgrading your account today.
Upgrade Now