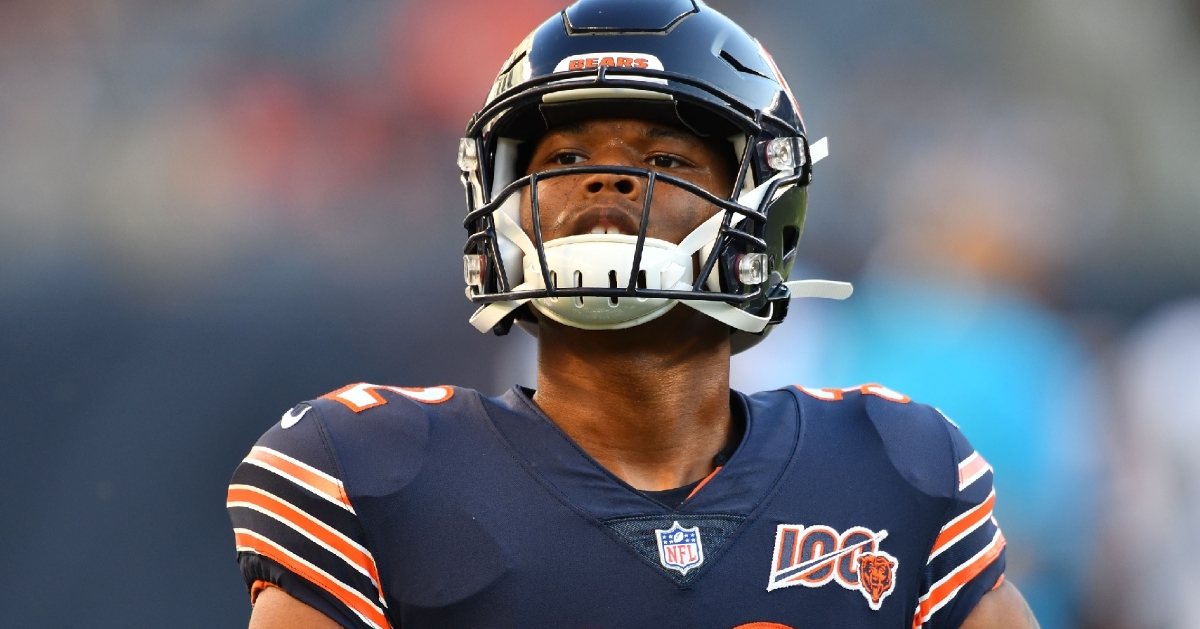 | | |
| --- | --- |
| Bears News: Spotlight: David Montgomery provides spark for offense | |
---
With the Bears trading up to get David Montgomery in the third round of this year's draft, many thought it might go down as the steal of the weekend. The Rookie out of Iowa State was primarily regarded as one of the top RB talents in this year's class and was looked at as a guy who could compete for the starting job this season.
With Tarik Cohen earing the job out of the preseason, Montgomery had to work to earn his time on the field, and now it appears he may be more of the feature back in Chicago. Despite that, Montgomery has struggled to find his consistent rhythm as the Bears rushing attack has been weak. Sunday, he finally did what every expected him to do as this could be a sign of things to come from him moving forward.
Even though the Bears suffered another heartbreaking set back on Sunday, Montgomery allowed them to take away a silver lining as finally, the rushing attack got going. It was that type of production that had Head Coach Matt Nagy praising him on since the very beginning of the preseason. After vowing to get the running game going following their loss to the Saints the week before, I think it is safe to say the message was delivered as Monty put up his best game as a pro.
This past Sunday allowed Montgomery to finally show Bears nation why he was regarded as such an excited RB prospect in this year draft, perhaps even unlocking the secret to why the running game has struggled thus far.
"The game was just going the way of rushing today," Montgomery said after the game to the media. "We were just able to rush the ball. That was the flavor of the day today, and it was working."
Even with the locker room left with a sour taste yet again, Nagy wanted to offer some words of encouragement to a fan base seeking a better effort in their team this season.
"I have no idea what the numbers were," Nagy said immediately after the game, "We felt like our guys were going pretty good. They started out playing certain personnel to what we did, and our guys blocked well, and 32 (Montgomery), you guys saw, he ran hard."
For the afternoon, the numbers were as follows for Montgomery, as he finished the day with 135 yards on 27 carries while scoring the Bears lone touchdown in the loss. Despite a lack of touchdowns, the Bears offense did spend most of the afternoon sustaining long drives, which is something they have struggled to do all season. Even though field goals in the red zone proved to be costly inevitably, the balance that Montgomery provided for the offense proved what could be the blueprint moving forward for the Offense.
"It was nice," said tackle Bobby Massie, speaking of the Bears' running attack. "Coach stuck with it, kept calling it. We kept executing, so we'll see moving forward."
Not only was Sunday Montgomery's breakout performance, but it was also his first 100-yard effort as a pro and the team's first 100-yard effort this season. It was also the end of a trend that saw Montgomery go from 21 carries to just two carries over three weeks.
One of the big things that stood out on Sunday was his ability to gain yards after contact. If you go back to his Iowa State days, Montgomery had a knack for gaining most of his yards after contact, helping him gain the most in every run. His ability to break tackles pairs well with a reinvigorated line that helped pave the way for his 55- yard burst in the second quarter. Even though Montgomery did some of the work on that play, he was quick to give credit to boys up front for springing a huge hole.
"My o-line blocked their ass off," said Montgomery. "It just didn't go our way. We just came up short."
On the season, Montgomery has rushed for 366 yards averaging 3.7 yards per carry. Sunday also saw the Bears put up 388 total yards, surpassing their previous season high 298 against Washington. Whether this week blueprint is the way to go moving forward remains to be seen, but Montgomery knows that they can adjust week to week if needed.
"The formula was what the formula was," said Montgomery. "We were just going with the game. Some games are run. Some games are pass. You just go with what works. The play calling was awesome today. Everybody did their part."
Upgrade Your Account
Unlock premium boards and exclusive features (e.g. ad-free) by upgrading your account today.
Upgrade Now