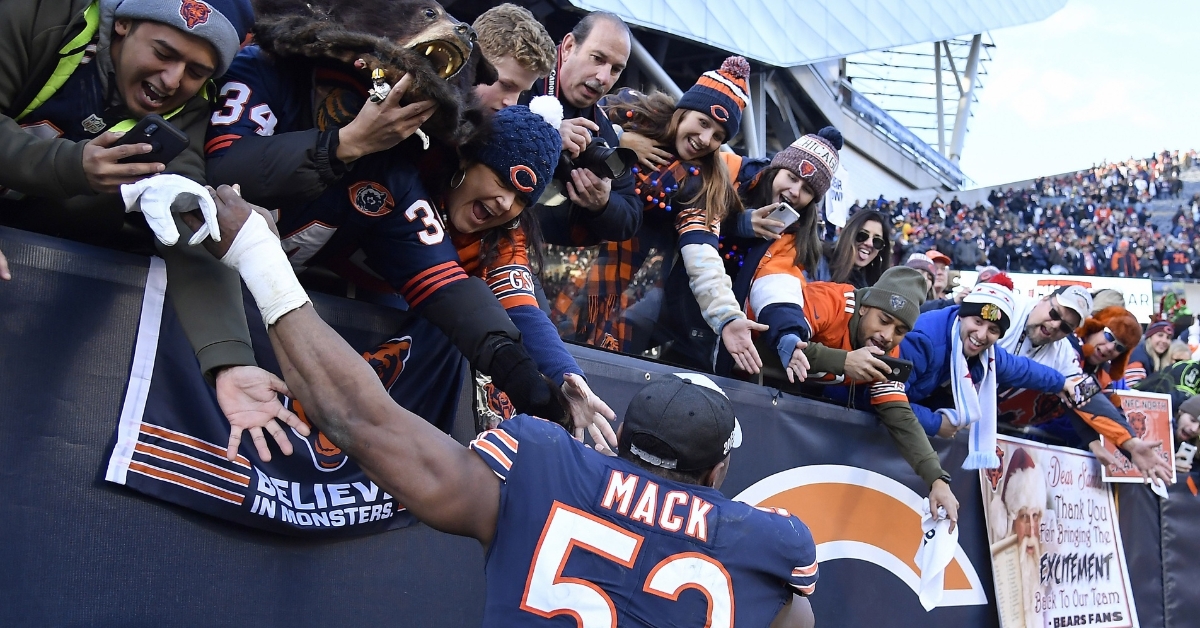 | | |
| --- | --- |
| Three Things to watch during Bears-Packers | |
---
| | | |
| --- | --- | --- |
| Wednesday, September 4, 2019, 12:12 PM | | |
We are a little over 24 hours away from the 2019 NFL kickoff. However, instead of focusing the defending Superbowl champions on Thursday as the tradition has been for the last eight years, the NFL has decided to open the 100th NFL season with the oldest rivalry in the game with the Green Bay Packers traveling to Soldier Field to take on the Bears.
These two franchises are not only storied NFL teams but have also been the two most successful franchises in NFL history combining for more than 20 NFL championships, and five total super bowl wins in seven appearances. Known as the big brother for most of this rivalry especially since both Brett Favre and Aaron Rodgers arrived the Packers have been slipping against Chicago as of late including getting swept by the NFC North Champions a season ago.
That was last season, however, and this is an entirely new season with a lot of new changes to both teams. For starters, long-time head coach Mike McCarthy is out the door with most of his staff following. Mike Pettine stayed the course to this season. Green Bay welcomes not only a new head coach but first-time head coach Matt Lefleur to town in hopes of revitalizing a team that has now missed the playoffs in consecutive seasons for the first time under Rodgers.
On the Bears side of things, Defensive Coordinator Vic Fangio has left for the Denver Broncos head coaching job leaving a huge hole to fill. In comes former Colts Head Coach Chuck Pagano looking to showcase his defensive tactics ability yet again. Ha-Ha Clinton Dix and Adrian Amos have also switched sides going from the Packers to the Bears and vice versa. A lot may be changing internally, but the culture, hatred, and rivalry remains the same as another new season is about to kick off. Here is what I am looking for ahead of the week one tilt.
1. Same personnel different tactics: Both Chicago and Green Bay return a ton of last seasons roster but will have different looks in 2019. After going with a McCarthy offense for 13 years, the Packers must adjust to more of a run-oriented approach from Lefleur which something is Rodgers is not used to. The Bears must also adapt to a new scheme as Pagano takes over for Fangio.
I am looking to see what team not only prepares the most, but what team appears to be better suited to succeed with their new system. Yes, the Packers may have had the same offensive system for 13 years compared what Fangio brought to the Bears, but it will still be an adjustment period for both teams no matter who the personnel is on the field. Players are only as talented as the coaches and systems put in place around them are so if the adjustment process is not very fluid expect growing pains from both teams.
Looking at the Preseason, neither the Bears nor Packers had much success, but both coaches also didn't expose too much in terms of game plans. This is the week the gloves come off, and we finally get to see what these new schemes will look like in-game action. Regardless of the changes in play-calling and whatnot, the players are mostly the same as these teams are still familiar with each other and may be able to cheat in on some plays.
2. Will Chicago suffer a playoff hangover? Unlike most sports, football may be the easiest to go from worst to first or first to last from one season to the next. After not having much success for nearly a decade, the Bears broke through with an impressive 12-4 record last year earning the NFC North title and first playoff appearance in eight years. That promising season ended abruptly when Cody Parkey missed a game-winning field goal that would have sent the Bears to Los Angeles for a Divisional round matchup.
With that miss still in the back of Bear fans minds, Chicago parted ways with Parkey as their kicker and held an open competition in which Eddy Pinero emerged victorious in. I am curious to see if last seasons playoff loss will still linger in the back of the Chicago minds, especially considering how this game is being played on the same field in which that loss occurred. Not to mention the way things went in week one last year and the Packers may feel they are in the head of Chicago going into tomorrow.
The Bears will most definitely be excited for this game as they should be. Not only are they the defending champions but they are facing their biggest rivals at home to kick off the 100th NFL season. I just hope emotions are not too high for this contest. Rodgers will continue to be Rodgers and make plays that not many QB's can make. Chicago, however, does have the defense that can keep things close and may put thing in the hands of the special teams in the end.
3. Was last season a fluke for both teams? This is the biggest storyline I am going to look at from this game moving forward. In 2017, the Packers failed to make the playoffs primarily due to Rodgers missing eight games with an injury. Although Rodgers played in every game last season, he was battling an early-season knee injury, and the team just didn't get going from there.
Chicago came out of nowhere a season ago to not only shock the division but the entire NFL world. For the first time since going to their last Superbowl, the pressure on Chicago to repeat that success will be at an all-time high as Matt Nagy, and his staff must adjust to becoming the hunted instead of the hunter.
Although I don't expect the Bears to be as good record-wise as they were a season ago, mainly because the division itself has gotten better I also don't think last season was a fluke for them. They have a young and deep offensive core mixed with a defense that will keep them in every game this season. The offense will always win games, but defense is what wins championships, and the Bears have a championship-caliber defense that should keep them among the NFC's best for years to come.
The Packers, on the other hand, are a mystery to me as I do not know what they are this season. With a healthy Rodgers this season, most would expect them to win 11 plus games and roll into the playoffs as they have done nine times in his 12 years as a starter. However, he was healthy a good chunk of last season too, and the wins still didn't translate.
With a new head coach in place, will a new voice and system be precisely what the Packers need to return to glory? It very easily could be but keep in mind no first-year coach in Packers history has led the team to the playoffs in their first season as coach. That includes Vince Lombardi, Mike Holmgren, Mike Sherman, and McCarthy. I do however think last season was a fluke year for Green Bay because of the hostile relationship Rodgers had with his head coach at the time.
Statistically, Rodgers had another fantastic season, but it just didn't seem that amazing considering the wins didn't follow. This year I do expect the old Rodgers to show up as he has a chip on his shoulder again. Green Bay should have no trouble getting to the 10-win mark this season but could find themselves in a wild card battle with teams like the Vikings, Cowboys, Seahawks, Falcons and more. It will come down to who they beat during the season as to who gets in and who is out.
My prediction for this game is simple. It will come down to who has the ball last or who wants it more in the trenches. I look for the Bears to pressure Rodgers early and often to try and disrupt the passing game. Green Bay also has a much-improved defense so look for them to force a few Mitch Trubisky interceptions with pressure coming from the edges. Neither team will be able to run away with this one as I could see this game coming down to the legs of either Mason Crosby or Pinero. I think the Bears find a way to scratch out a hard-fought 23-20 win to move to 1-0 on the season.