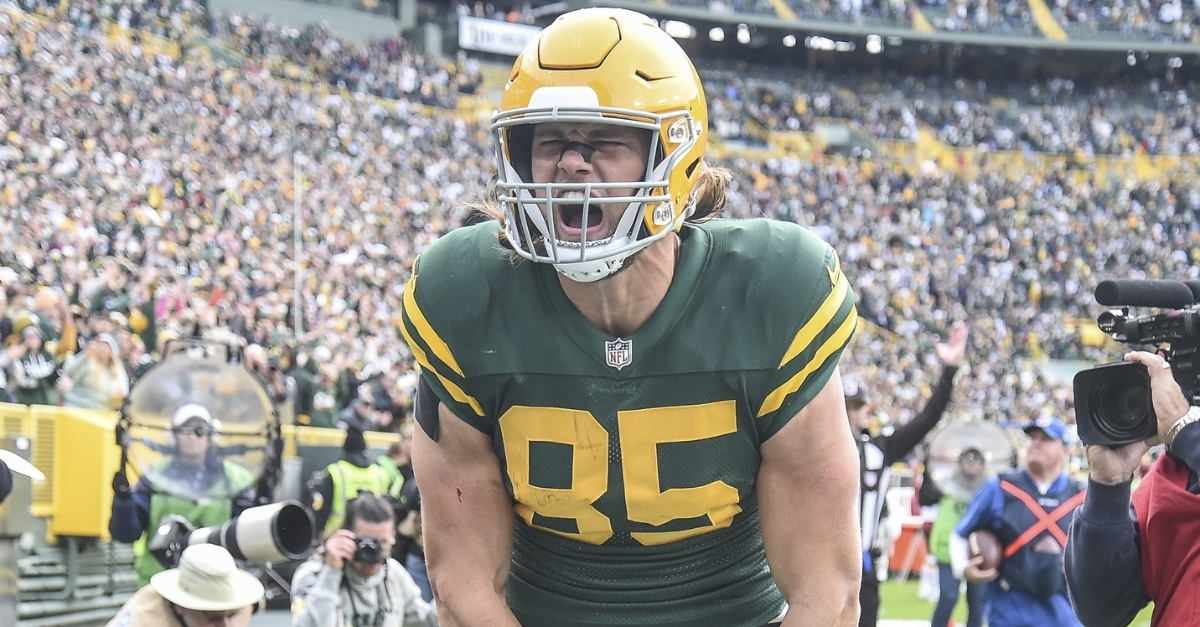 | | |
| --- | --- |
| Bears News: 2022 Free Agent Target: TE Robert Tonyan | |
---
| | | |
| --- | --- | --- |
| 2022-03-01 17:00:57.0 | | |
We all know how important it is for the Bears to address their offensive woes this season. That all starts with the offensive line and trickles down to the rest of the roster. One of the most important positions of this team for the better part of three years has been the TE room, as that continues to produce at a productive level.
2020 second-round pick Cole Kmet emerged as the team's top TE last season, and although he didn't have a single touchdown, he finished second on the team in yardage behind Darnell Mooney. 2020 free-agent pickup Jimmy Graham was brought to Chicago as a red zone threat, and after a massive 2020 campaign, he did next to nothing in 2021, leaving his future up in the air.
Should the Bears move on from Graham and make Kmet the lone TE, the Bears will need to address that position to get more help and depth in the organization. Ironically, there is an under-the-radar TE who plays three hours north of Chicago as Robert Tonyan is now available for the taking.
The former Indiana St. University product may not be the most gifted TE in the league, but he has produced at an elite level across the past few seasons. Take last season away in which he tore his ACL, and Tonyan had an incredible 2020 that saw him lead all TEs in touchdown receptions putting him on the map as a true playmaker.
Outside of the production, there are other reasons why the Bears should make a run at him. Tonyan had 52 receptions for 586 yards and 11 scores in that season. Add in the fact that he was on pace for having another solid 2021 before that injury, and you can see why the Bears have some interest in him and why he would fit well with this roster.
That all starts with new offensive coordinator Luke Getsy, a coach in Green Bay during Tonyan's time. Not only would those two work well together, but Getsy is familiar with Tonyan and knows what he does well and what he doesn't do well. You also have to look at it from Tonyan's side of things as he should have a good grasp on what Getsy likes to do and how he would be incorporated into a new offense.
Had it not been for his torn ACL last year, Tonyan would be one of the top TE targets, if not the top one on the market. Coming off that injury and not knowing if he will be ready to go in week one, you have seen his stock drop a little bit which could play into the hands of the Chicago Bears. Right now, most NFL executives expect Tonyan to land a one-year prove it deal around five million dollars.
If the Bears wanted to take a chance on someone working on a prove-it deal, Tonyan would be a great option. He would not only fit the need to give the Bears another TE, but he would also offer them the production they have been searching for over the last few seasons. He may not be a game-breaking TE, but he is someone who will rack up the TD receptions, which is always a good thing.
Not only is Tonyan a threat in the passing game, but he is a much better blocker than anyone gives him credit for. When it comes to the Bears offense that likes to run the ball and feed off of play-action, having a TE who can block is always a plus, and that is something Chicago would love about him.
It is always hard to picture your rivals wearing your team colors during a season, but why not try to take the talent from an organization filled with it. Tonyan is an overlooked, but talented player, and the Bears, or anyone for that matter, would benefit from having his services on the field.
https://www.youtube.com/watch?v=Cc_KvJZMnp4