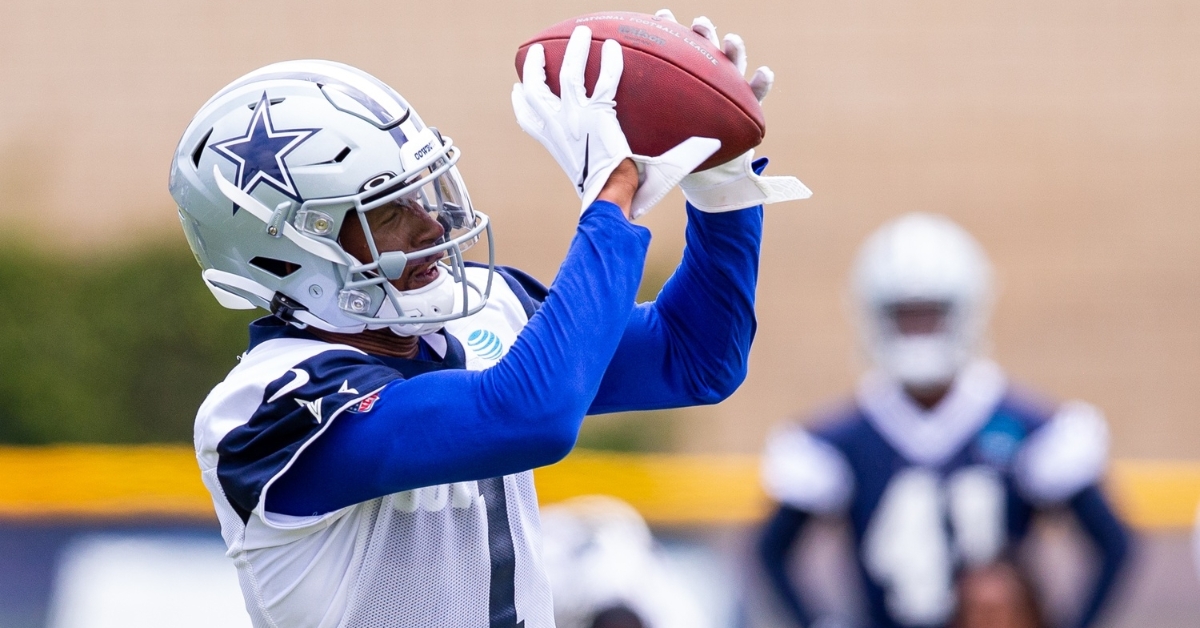 | | |
| --- | --- |
| Bears News: 2022 Free Agent Target: Cedrick Wilson | |
---
| | | |
| --- | --- | --- |
| Monday, February 28, 2022, 10:30 AM | | |
While everyone feels the offensive line is the most important position to fill on the Bears roster, they need to address other positions of need. One of those positions is on the offensive side of the ball, where they need to get Justin Fields as many weapons as possible to maximize his talent.
With RB, TE, and a couple of other WRs in place, the Bears are looking to solidify their offense by adding more WR weapons to the room. Whether that be a true No. 1 or a couple of complementary pieces remains to be seen, but there are some intriguing options and fits out there.
An intriguing name worth talking about has to be former Dallas Cowboys receiver Cedrick Wilson, who is hitting the free-agent market for the first
time. Most fans may not be familiar with Wilson, considering how he sits fourth on the depth chart. However, it is hard to make the impact you would like to make when you are behind Amari Cooper, Ceedee Lamb, and Michael Gallup.
That being said, Wilson is an excellent cost-effective WR who could easily slide into the No.2 spot alongside Mooney and produce at a high level. Given that the Bears don't have a ton of financial flexibility, Wilson is the type of player who would fit into their price point, allowing Chicago to add other pieces to fill significant holes.
The soon to be 27 year old Wilson is a bit of a mystery right now, but he is coming off a breakout season with the Cowboys last year, bringing optimism for what he can do in a more defined role. Despite dealing with some injuries and coming down with COVID, Wilson was very productive for the Cowboys and emerged as one of Dak Prescott'sPrescott's most trusted targets throughout the season.
Wilson hauled in 45 passes for 602 and six touchdowns for the season. Those numbers would have ranked No.2 with the Bears apart from yards, where Kmet would have beaten him out by fewer than 40 yards. That may not seem like the season you would expect to pay a receiver big money in free agency, but after not being used much the previous two seasons, you have to like what you saw in 2021.
During his first three seasons with the Cowboys, Wilson was used sparingly, but he was often the fifth option and forgotten on the field. He tallied 22 receptions for just 235 yards and two touchdowns over his first three seasons before breaking out last year. Whether his breakout had to do with others getting hurt or the fact that he is starting to come into his remains to be seen, but he is certainly worth a look when you look at the season he is coming off of.
Dallas appears to have made it clear that Gallup, who is also a free agent, is their top priority to retain. If that is the case, the former sixth-rounder out of Boise State is almost sure to hit the open market, where he should have plenty of suitors looking for a young receiver who could turn into a solid No. 2. Unlike a lot of the free-agent receivers who are big-play specialists, the 6-2 200 pound Wilson is not in that same mold.
Yes, he has the big-play capability, but he prides himself on the short passing game and does what he needs to do in order to move the sticks. With a young QB in Fields trying to figure things out at the NFL level, having a reliable possession receiver is crucial, and Wilson brings that to the table with him. One thing the Bears got away from last season that Wilson did a great job with was in the screen game. Chicago wants to be a run-first team, but part of that comes with opening up the run game. Screenplays tend to do that, and Wilson might help open things up for David Montgomery in the short passing game.
Not known as a burner, Wilson can still run around a 4.4 40, which is considered good speed at the NFL level. Wilson will also not command 10 plus million per season as you are looking at a guy who should fall in the 5-7 million range and upwards of three or four years. That is the perfect financial piece for the Bears and something they would be happy to take on.