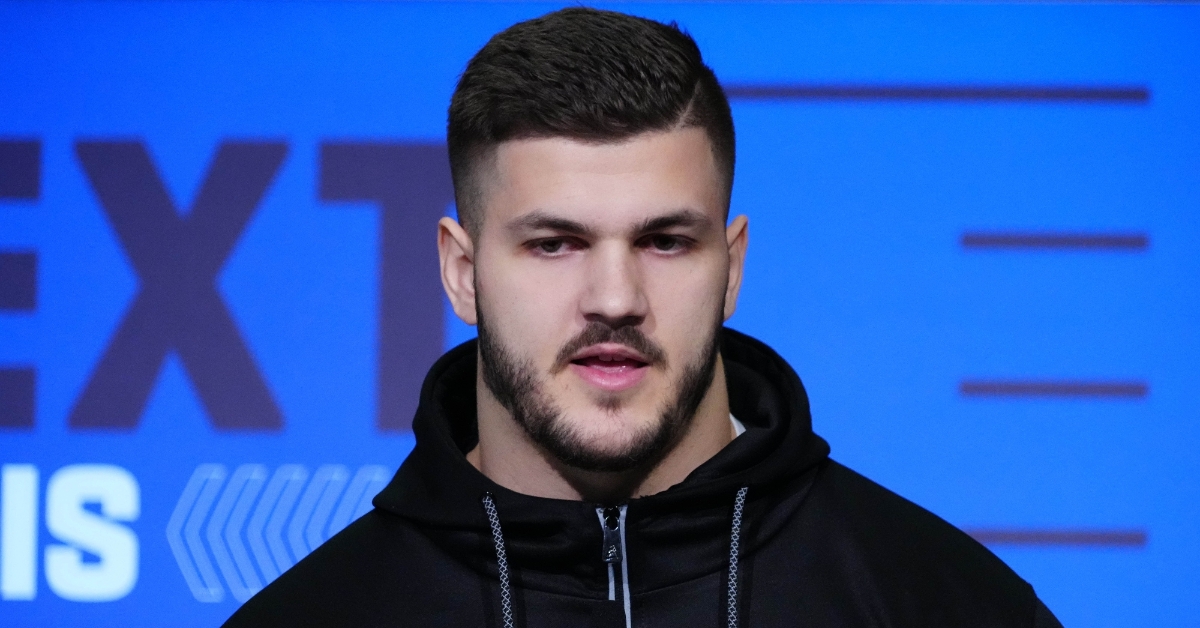 | | |
| --- | --- |
| A Justin Fields favorite could be a mid-round option for Bears | |
---
Over the past several seasons, the NFL has seen an ongoing trend unlike any other. That trend has been drafting a franchise QB and then pairing him with his favorite target from College. We see it with Joe Burrow and Ja'Mar Chase. You see it with Tua and Jaylen Waddle, and you see it with Jaylen Hurts and Davonte Smith. All three of these combos have had success at the NCAA level, but they are proving that chemistry is just as important as skill.
With Justin Fields as the Bears QB of the future, Chicago is looking to give him more weapons to maximize his talent fully. We saw him form a great connection with Darnell Mooney last season, and unless something changes this year, look for that to continue. However, Fields was at his best at OSU when he had guys like Chris Olave and Garrett Wilson to throw to.
Both those names are some of the better names in this year's class, and both are expected to be top 20 picks this year. As nice as it would be to see Fields reunited with one of these men unless the Bears make a trade, it doesn't seem like this trend will continue. However, unlike the rest of the combos mentioned above, Fields also had a great TE target to throw to, and he could be an option for Chicago on day two or three.
Jeremy Ruckert is his name, and as things sit, he is ranked the third-best TE in this class. With Cole Kmet already on the roster and expected to take significant leaps this season, drafting a TE may have been an afterthought up until now. However, when you look at the connection Fields, and Ruckert had at OSU, you at least have to entertain the idea.
While I don't expect the Bears to target a TE in round two, round three is possible, as is round four or five. When you look at the production Fields had at OSU, a lot of that predicated on the success of Olave and Wilson. However, Ruckert was right up there with them, especially in the red zone, which is often overlooked.
Ruckert was part of the high octane offense that Ryan Day built and an offense that the Bears would love to have if it makes Fields the best he can be. Ruckert doesn't get enough credit, and it is time he gets the credit he deserves. However, Bears fans may not want him to get that credit because it may allow him to fly under the radar long enough for the Bears to swoop in.
Unlike Travis Kelce, Darren Waller, George Kittle, or Kyle Pitts, Ruckert is not a game-changing caliber TE. However, he is a multi-threat guy on offense who stands at 6-5 250 pounds. Ruckert is a good route runner with great hands, but he is also one of the better blocking TEs in the draft. That is something the Bears need, which makes him the perfect combo for Kmet.
While he didn't have the most significant numbers with Fields, Ruckert still had 300 yards receiving across those two seasons to go with nine TDs. There is a reason why Fields loved going his way so much in the red zone, and it was because he could make plays.
Ruckert posted a career-high 309 receiving yards in his first year without Fields, but only three scores. This may not be a name many Bears fans were expecting to hear, but someone worth looking at. Any help for a young QB is a must in this league, but adding help with a familiar face does not come around too often.