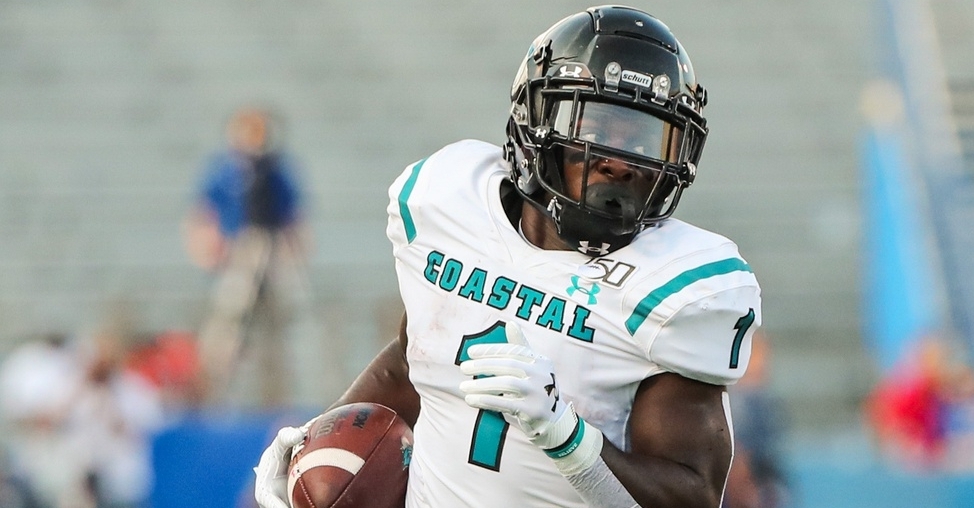 | | |
| --- | --- |
| Bears add trio of undrafted skill position players | |
---
| | | |
| --- | --- | --- |
| Tuesday, May 11, 2021, 9:34 AM | | |
Long after the 2021 NFL Draft was over, all 32 teams continued to add to their rosters as the undrafted free agency period was underway. This is a chance for teams to not only round out their roster for training camp but to possibly find a diamond in the rough that could turn into a star.
For the Bears, they will be adding 12 more players to training camp via the undrafted free agent waiver wire, and three of them will fall under the skill positions on the offensive side of the ball. That was a focus for the Bears this draft, and they made sure to target that focus early and often.
Over the next several days, we will look at all the undrafted players the Bears are bringing aboard and what their potential is with this team. Today it is all about the offensive skill positions as this is who will be testing their worth at training camp.
C.J. MARABLE (RB Coastal Carolina): The former Chancellor RB, Marable, was looked at as a possible day three pick but ended up getting undrafted. When that happened, he became a priority pick for a lot of teams and ultimately signed with the Chicago Bears. An Arkansas State commit in high school, Marable ended up enrolling at Presbyterian College before transferring to Coastal Carolina.
Upon arriving in Myrtle Beach, Marable earned the team's offensive player of the year award, racking up 719 yards on just 118 carries or 6.1 yards per carry to go with six scores. The following season saw Marable rush for 1085 yards and 11 scores. He capped off his collegiate career by helping put his team on the national map this season, rushing for 887 yards in 12 games to go with 12 scores.
He may be a smaller running back in terms of size but is very versatile, scoring 29 touchdowns on the ground, 12 on the receiving side of things, and adding one in the return game. He has excellent ball skills with the ball in his hand but was often limited given his team's offensive attack. In addition, Marable needs to lay off the contact he endures as his lack of elite speed and agility forces him to take more hits than he would like.
KHALIL MCCLAIN (WR Troy): Of all the undrafted positions, historically, the WR position has seen the most luck, and the Bears are hoping McClain falls into that category. The former Troy Trojan is a big receiver standing at 6-4 and 222 pounds. Someone who was viewed as around seven talent, many people are comparing him to Allen Lazard, who has emerged as a solid receiving threat in Green Bay.
The former quarterback who threw for just 11 yards made the move to wide receiver at Hutchinson Community College and immediately turned heads with 27 receptions for 452 yards and five scores. That led him to be ranked the fifth-best JUCO prospect for his position, and Troy made sure they would grab him before 2019.
In his first season with Troy, not only did he lead the team with seven receiving touchdowns, but he hauled in 45 passes for 562 yards. He then added 383 yards and six scores this season, continuing to produce at a reasonable level. He may not be a burner on the field, but he is a possession receiver who can not only be a red zone threat but has good hands.
Although his short-area testing was a concern for scouts, his large frame is a tough matchup for any undersized cornerback, and he uses that to his advantage. In addition, his strong hands allow him to high point the football and hang onto the ball in traffic. McClain also is an excellent downfield blocker who averaged one touchdown for every six catches in school.
He will have to prove in camp that his lack of speed doesn't affect him from getting off press coverage. He also tends not to scramble and extend the route for his QB, which prevents him from making route adjustments. Nevertheless, McClain is a great camp body to have who has the potential to turn heads.
SCOOTER HARRINGTON (TE Stanford): Last season, the Bears entered training camp with nine tight ends before letting a handful of them go. This season, Jimmy Graham and Cole Kmet are the only NFL-ready guys and several others vying for playing time. Harrington may not be one of those guys right now, but he will be another camp body looking to prove himself.
At 6-5 250 pounds, Harrington is the ideal size for a tight end and has used that size to his advantage. A 5.19 40 time is less than ideal for a pass catcher, but Harrington will never be a big-time threat. In four years at Stanford, Harrington hauled in just 17 receptions for 103 yards and two scores. It will be interesting to see how he turns out in camp.
TE, Scooter Harrington, out of Stanford University at the 2021 @CGSAllStar. @NetworkBrawl #CGS2021@scootalilcloser @StanfordFball #NFL #NFLDraft pic.twitter.com/JwlVI9JWb8

— Josh Cavalcante (@jcav_8) January 23, 2021