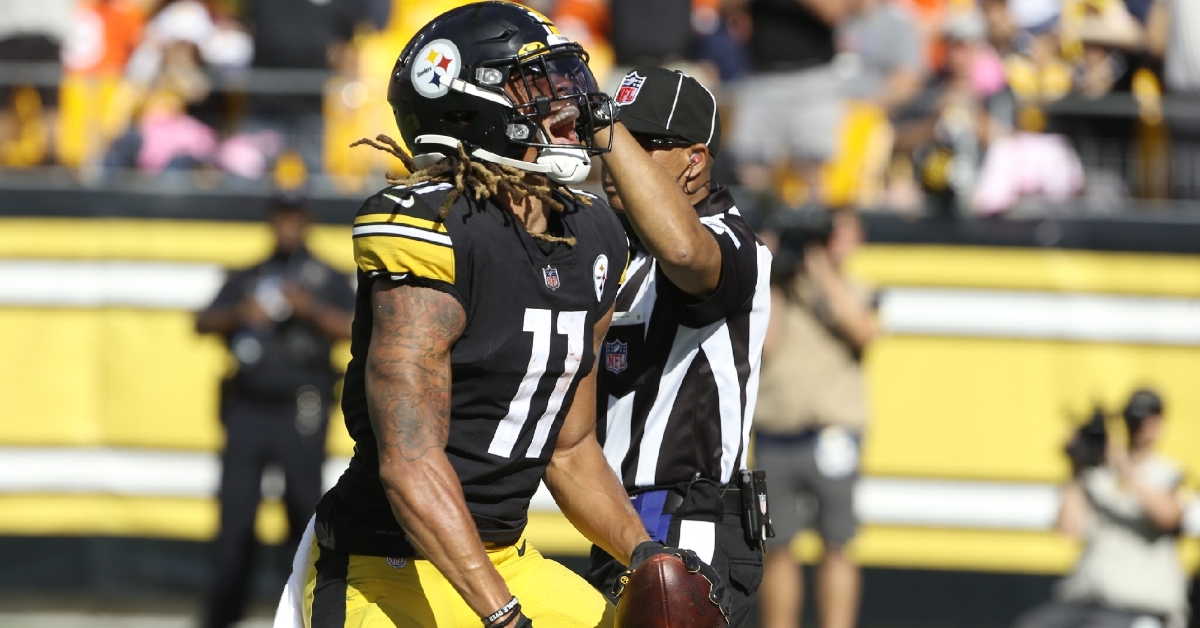 | | |
| --- | --- |
| Bears build for future with addition of Chase Claypool | |
---
| | | |
| --- | --- | --- |
| Wednesday, November 2, 2022, 8:02 AM | | |
The 2022 NFL trade deadline may be one of the most exciting and surprising in NFL history. You had several big-name players change teams, with Bradley Chubb going to Miami, Calvin Ridley (Jacksonville), TJ Hockenson (Minnesota), Roquan Smith (Baltimore), and Robert Quinn (Philadelphia). That is just a short list of the names on the move, as the NFL landscape will look different in the coming weeks.
Despite sitting at 3-5 and four games behind the division-leading Minnesota Vikings, the Bears have been very active on the trade front as they continue to build for the future. This time it wasn't them giving players away as they did with Quinn and Smith, but instead, they acquired another weapon for Justin Fields as the Bears traded for Chase Claypool in exchange for a second-round pick.
Adding a guy like Claypool is significant for many reasons, as he is not only under contract this season, but will also be under contract next year. That will give Fields plenty of time to get used to his new target, which will help the Bears offense reach the next level.
This has been an ongoing topic since free agency as a ton of conversations about the Bears surrounded the WR position and lack of a true No.1. Darnell Mooney has done a phenomenal job and has a great connection with Fields, but let's face it he is not a No.1 on anyone else, but the Bears.
The reality is Mooney is a No. 2 at best despite putting up the numbers he has. Bringing in a guy like Claypool will move Mooney to the No. 2 spot while Claypool takes over as the Bears' No. 1 option once he is acclimated to the offense. Granted, Claypool may not be the Bears' No.1 option of the future either, and you could see a situation where Mooney is the No. 3, Claypool is the No. 2, and the Bears sign or draft a No. 1 WR option for 2023 and beyond.
Can you imagine what that offense could do with Fields running the show and several options to throw to? The possibilities are endless, especially when you can run the ball at the clip the Bears have been recently. Getting back to Claypool for a moment. The 24-year-old third-year man out of Notre Dame has had a great start to his NFL career, where he has amassed 2000 yards receiving already.
At 6-4 and 240 pounds, Claypool is built more like a TE than a WR, but with a 4.4 40 time, he has blazing speed. That type of athleticism doesn't come around too often, so when you find a player that has it, you need to hold on to them. Fortunately for the Bears, the Steelers were willing to part ways with him, and for a second-round pick, it is not the worst move in the world.
It was a little steep, as he could have been had for a third-rounder, but you get what you pay for, and Claypool will provide you with second-round production. Claypool burst onto the scene as a rookie when he hauled in nearly 900 yards to go with nine touchdowns. Granted, his production in the end zone has gone down since; he is still going to give you 800-900 yards which the Bears desperately need.
With a young QB in Fields, Claypool has a chance to come to the Bears and build a relationship and connection that he hasn't had since Ben Roethlisberger left Pittsburgh. If it works out for the Bears, they addressed one of their most significant needs heading into the offseason and didn't spend a ton doing it.
The one issue that many people have with Claypool is his attitude, which tends to be an issue for QBs. I am not saying he buts heads, but he does have moments where he is a nightmare to work with, and that will need to change in Chicago. A new city, team, and role may help bring out the best in Claypool, as this wasn't the first time his name was linked to Chicago.
Now that the deal is made, the Bears have nine games to see what this connection will have this season before putting it to the test next year. Add in eight draft picks, and better than 120 million in cap space, and the Bears are sitting pretty as they continue to build for the future beyond this season.
https://www.youtube.com/watch?v=UbQU5nY2G2A