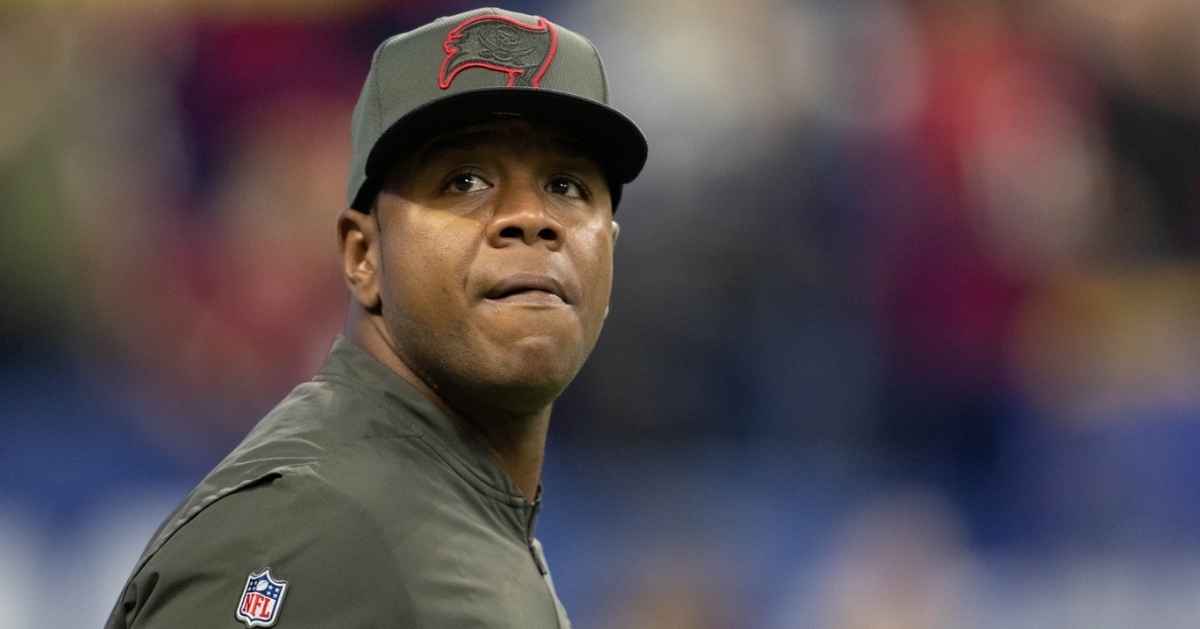 | | |
| --- | --- |
| Bears Coaching Candidate: Byron Leftwich | |
---
| | | |
| --- | --- | --- |
| Monday, January 24, 2022, 11:32 AM | | |
As if the wild card round of the postseason wasn't good enough, the Divisional round upped the ante with all four games coming down to one score. The Kansas City vs. Buffalo game Sunday night was the icing on the cake in another incredible week of playoff football. Now that the conference Championship matchups are set, four more teams saw their season end, which paves the way for more head-coaching candidates to interview for gigs.
The Tampa Bay Buccaneers are one of those teams as they not only have one coordinator, but two who are looking for Head Coaching opportunities next season. Defensive coordinator Todd Bowels has been rumored to be in on the Bears job, but I am not sure he gets one with the Bears after interviewing for other positions.
However, offensive coordinator Byron Leftwich is another story and someone, the Bears, needs to strongly consider for their head coaching position. The 42-year-old for Marshall University QB had a solid NFL career as a QB, where he spent time with four organizations, including Jacksonville, Pittsburgh, Atlanta, and Tampa Bay. The brunt of his success came with Jacksonville, where he led them to one AFC title during his tenure.
Leftwich completed around 57% of his passes for just over 10000 yards for his career. He added 58 touchdowns and 42 interceptions while securing more than 14 rushing scores. Those numbers are not great, but they were good enough for a decade-long career as he had plenty of great moments as a player.
Once his playing days ended in 2012, Leftwich took some time away from the game before getting involved in the coaching ranks. It wasn't until 2017 when had that opportunity, joining the Arizona Cardinals staff under Bruce Arians as the Quarterback coach and holding that position for two seasons. During the 2018 season, Leftwich was promoted to interim offensive coordinator, where he showed plenty of promising skills as a play-caller.
Following that brief stint with Arizona, Leftwich landed his second gig as Tampa Bay offensive coordinator, where he has been the past three seasons. During his tenure with the Bucs, Tampa Bay has had one of the best offenses in the league, including the top-scoring offense in the league this year. They did that with a QB two years older than Leftwich and dealing with a rash of injuries that took so many of those weapons away. Leftwich deserves a ton of credit for the Bucs offensive performance this year, and that is a huge reason why teams are looking at him as a head coach.
Many fans want someone with prior head coaching experience to take the Bears job, and when you look at his limited coaching experience in general, it comes as a red flag to them. However, I would argue that is the most intriguing thing about him as he has proven to be more than an adequate play caller who had results with mediocre QBs up until the last two seasons.
Leftwich heard his name rumored around Bears camp as early as November when Chicago thought about moving on from Matt Nagy then. Once the season was over, and Nagy was let go, Chicago put in their request to interview Leftwich and completed the first interview on January 20th, a few days before the Divisional round. With the Buccaneers out of the playoffs, could the Bears circle back for a second interview which often leads to an offer shortly after.
Despite his lack of overall experience, not too many coaching candidates check off Leftwich's boxes. He was a top 10 pick in 2003, played the QB position, and coached that position before becoming a play caller. He knows what it is like to be a QB in this league and how important that position is. Pairing him with Justin Fields is a match made in heaven as he would give Fields the tools and knowledge to succeed while putting him in better positions to win.
Calling your own plays is one thing at this level, and Leftwich has done a great job which is why his name is on this list. However, look at the overall offensive talent he has in Tampa. It is hard to fail with those names, so don't expect those same results right away in Chicago. No one is expecting the Bears offense to be elite right away, but at the very worst, they want to have more consistency, and Leftwich is someone who can give them that.
We still don't know what Chicago is targeting when looking for a head coach, but if they want an energetic offensive mind, Leftwich is their guy. Putting a first-year head coach in this position is a tough gig, but you never know until you give that person a chance. Leftwich is worth the chance, and the sooner the Bears offer him a contract, the better they will be because of it.