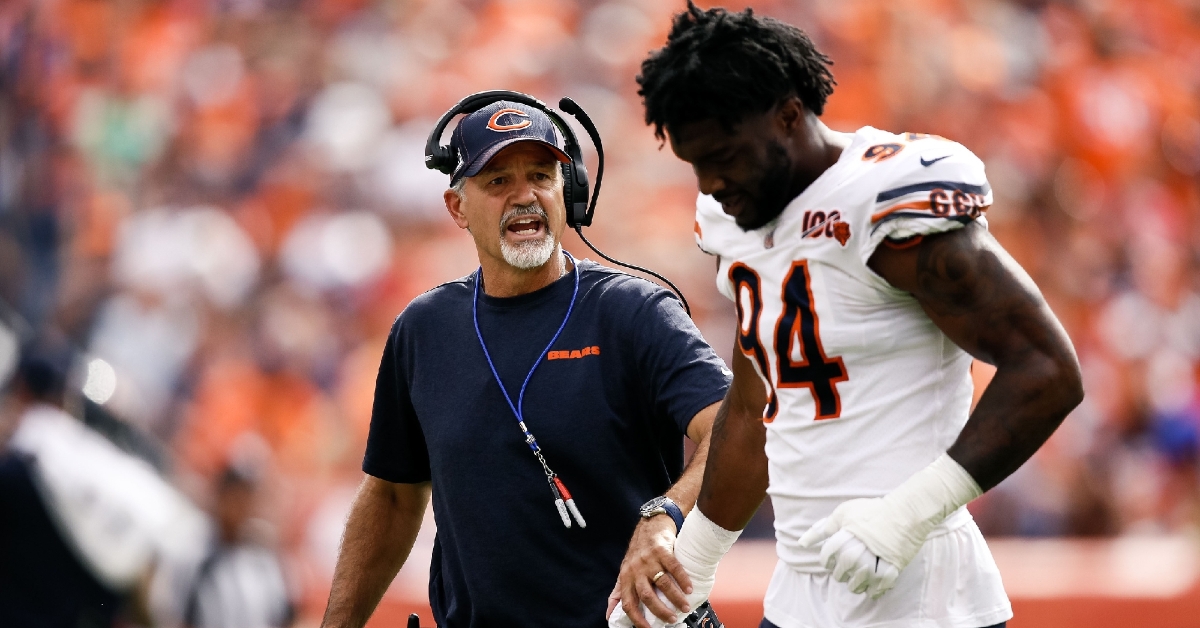 | | |
| --- | --- |
| Bears expect defense to regroup following loss to Raiders | |
---
| | | |
| --- | --- | --- |
| Wednesday, October 9, 2019, 4:17 PM | | |
After four great defensive performances to open the season, the Bears defense was exposed a bit against the Raiders in London, eventually costing Chicago a 24-21 defeat. The worst part about that loss was not only the fact they had a long 10-hour flight back home, but now they must wait an extra week to get on the filed as that loss must sit in their minds a bit longer.
However, that may not be all that bad of a thing as Chicago could use that anger to fuel their fire in week 7. They certainly will need that fire to return, especially coming off a game in which they not only allowed a season-high in yards but in points also. With the bye week now in full swing, defensive coordinator Chuck Pagano not only expects his group to bounce back but wanted to give them a clear message as to why he feels that way.
"We're a good defense," said Pagano. "We've got really good players, but you've got to be consistent. You've got to do it week-in and week-out. You've got to show up and play week-in and week-out. Take some time to get away from it. Rest. Heal up. We've all got to take a good look at ourselves and make sure we look at this tape good and hard."
"We're not going to make any excuses," said Pagano. "I know coach (Matt Nagy) isn't going to make any excuses. It's the National Football League. I think we all understand what we signed up for. We had a golden opportunity. We let one getaway."
With the defense continuing to play shorthanded against the Raiders, things got even worse in the first quarter when Akeem Hicks left the game injured for the second straight week and didn't return. Not only was that the turning point for a defense that struggled to get to Derek Carr in general, but his presence in the running game was no longer there making it harder for the Bears to get off the field when they needed too.
A prime example that happened to be the Raiders game-winning drive in the fourth quarter. After putting together several lengthy drives throughout the first half, Oakland was able to put the game away in the fourth using a 97-yard drive that ended with the game-winning Josh Jacobs touchdown run. Those are the types of drives the Bears are not used to allowing and it hit them like a shock wave much of the first half.
"We knew we had to go in and do a better job on first down and get them in second-and-eight, second-and-nine, second-and-seven, at least," said Pagano. "We knew that was their formula for winning. We didn't do that. We didn't get that job done. I've got to be better. I've got to do a better job of preparing these guys to face those challenges."
Even with the defense struggling all game long except for the fourth quarter, plenty of praise still went around on that side of the all. One player specifically stood out and that was special teams' specialist Sherrick McManis. Not only did he step in and play nickel for Buster Skrine, but McManis stopped what would have been a sure touchdown by knocking the ball loose from Trevor Davis at the one-yard line. At the time that was a game saver as the Bears were able to remain one score back.
"What a time to force that turnover," said Pagano. "It flipped the field and gave us a chance to win that football game, but we just didn't play good enough for 60 minutes."
Most bye weeks are used to let players recover and get reenergized for the rest of the season ahead. Yes, that will be one part of what Pagano's plans are for the defense, but he also has other ideas in mind. One of the big things Pagano and his boys will be doing is using all this extra time to get a jump on their next opponent. Not only will they have more film, but more time to study exactly what their next opponent does.
The other part of the bye week Pagano calls the most important as it gives his defense a chance to become a new defense. Think of this week as an inspection process with reinvention on their minds. Pagano can use all these pieces to create different looks that will make them harder to scout later.
"It will be a great opportunity for us to look at where we've been good and what we've done well," said Pagano, "then evaluate our tendencies and see if there's anything sticking out. They're a gritty bunch, they're a resilient bunch. They'll come back. We'll be back, and we'll play great football again. They're determined. They'll right this ship."