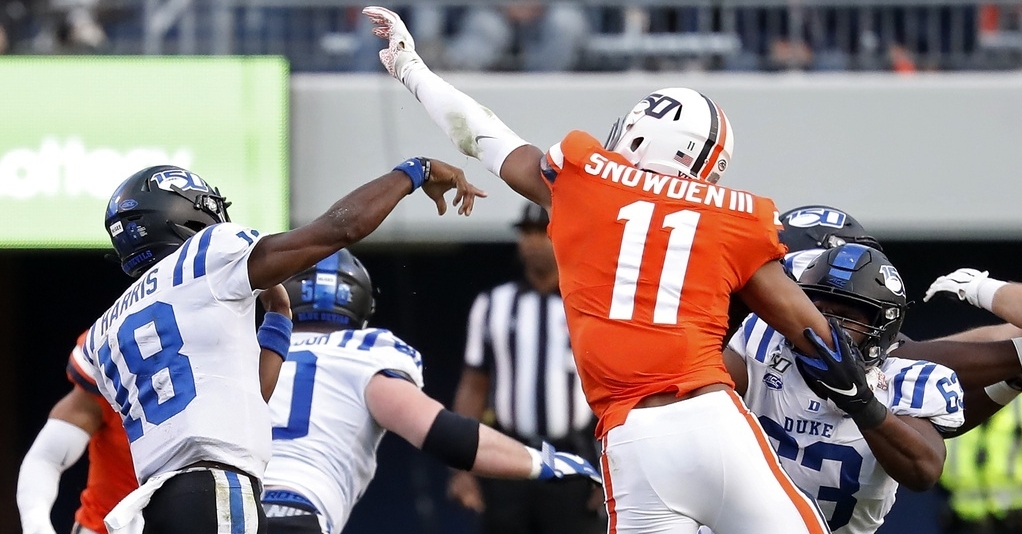 | | |
| --- | --- |
| Bears grab some hidden gems with undrafted defenders | |
---
| | | |
| --- | --- | --- |
| Friday, May 14, 2021, 2:29 PM | | |
We have come to the final installment of our undrafted players breakdown as we continue the scour the defensive side of the football. The final three players are play-makers, but all have a chance to make something happen if they somehow make this team.
Not only are the Bears bringing in pass-rushing help by adding an edge rusher, but they are bringing in secondary help, which you can never have too much of. Add in a linebacker who will be working with one of the best linebacker units in the game, and this trio has the potential to make this team and make plays happen if given the opportunity.
CHARLES SNOWDEN (EDGE Virginia)
One of the newer classified football positions has been the edge rusher position in recent years. It is a hybrid player who is too small to play defensive end and too big to play linebacker for those unfamiliar with that position. Most of these players are often linebackers in the mold of Khalil Mack, where they specialize in pass-rushing schemes. Snowden is hoping to continue that trend and provide some future support for Mack.
At 6-6 and 243 pounds, Snowden is the perfect size to play an Edge rush position. What is even more remarkable, Snowden was viewed as a fourth-round talent who could become a starter in a few seasons. The fact that he went undrafted is shocking enough, and the Bears were not going to let the opportunity slip away to sign him.
After seeing the field as a true freshman, primarily in a backup role, Snowden stepped into a starting role as a sophomore and recorded 61 tackles, 7.5 for a loss with 2.5 sacks. He also added two interceptions and seven pass breakups to lead all linebackers. In 14 games as a junior, Snowden recorded 72 tackles, 11 for a loss to go with five sacks and four pass breakups. In eight starts as a senior, Snowden picked up 10 tackles for a loss and six sacks proving to be a force on the collegiate circuit.
Not only was he a team captain, but a versatile defender who moves like a basketball player. He gets off the ball quickly and is very agile in the open space allowing him to make tough plays. That agility enables him to pursue ball carriers, while his skill set should allow him to become more of an inside rusher. Snowden is one of the biggest undrafted steals of 2021.
CALEB JOHNSON (LB Houston Baptist)
Speaking of potential steals, look no further than Caleb Johnson of Houston Baptist. The 6-2 220-pound linebacker is undoubtedly going to have to put on some size in the NFL, but his production was on point. The versatile linebacker played like a freak of nature and was always around the ball to make plays.
Going back to 2019, where he started 10 games, you have a player who ranked 10th nationally on average tackles per game, finishing the year with 104 tackles. His six sacks that season also landed him in the top 10 nationally while adding two fumble recoveries and an interception. That was certainly a breakout season for him, but it didn't come as a surprise when you look at 2018.
That season, Johnson played in one more game, compiling 102 tackles, to go with three sacks, four fumble recoveries, and a safety. In other words, Johnson was a menace on the field and always found a way to get in on a play. This is a player that is years away from making a consistent impact at the NFL level but has the tools to be someone who can contribute. The Bears have done their homework on the undrafted market, and Johnson is one of those players that shows you how research can pay off in the end.
DIONTE RUFFIN (DB Western Kentucky)
When the Bears lost Kyle Fuller, their secondary took a big hit. They did a decent job adding to that unit through free agency but still needed more depth. Grabbing a defensive back in the draft helped but picking up Ruffin will also help, at least during the training camp portion of the season.
At just 5-11 and 185 pounds, Ruffin is a bit smaller than most outside CB's meaning his future could be in the slot area. However, the 2020 Conference USA second-team nominee helped the Hilltoppers establish one of the better pass defenses in the country this season. He made 12 starts this year and has started every game for the past two seasons.
During those 12 games, Ruffin only registered 23 tackles but came away with 11 pass breakups ranking in the top five in the country. That is where he will prove to be the most significant asset as he has no problem going up and knocking passes away. Although he only ended up with four career interceptions, Ruffin compiled 24 pass breakups in his NCAA career, so he still did a great job denying the catch.
He will enter camp as an asset to the defense but brings with him some special team experience, especially in the punt game. Look for Sean Desai and the Bears to get the most out of all his abilities to find the right fit on this team.