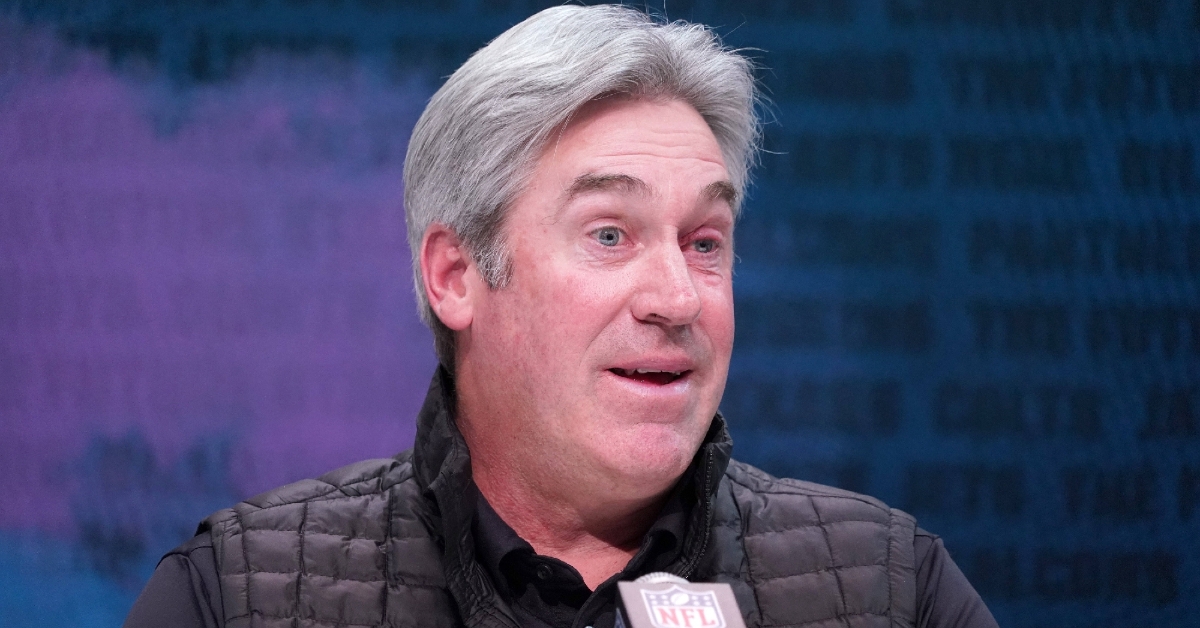 | | |
| --- | --- |
| Bears interview former Super Bowl winning coach Doug Pederson | |
---
After a complete overhaul of the Bears front office went underway, including firing GM Ryan Pace and Head Coach Matt Nagy, the search is on for Chicago to find a new man in charge. Ideally, the Bears will be looking at filling the GM position first, but that may not be an option given the head coaching candidates.
Fans are starting to see some of the candidates the Bears are bringing in, and there is a mix between happy, disappointed, and a little blah. One name that have interviewed is former Philadelphia Eagle head coach and Superbowl winner Doug Pederson, but they will not be alone in that side of things.
Pederson has already been scheduled for multiple interviews, including with division rival Minnesota, Miami, and potentially Denver. Pederson is no stranger to the NFL, having been the backup QB for Brett Favre for years and then moving on to back up several other QBs. Pederson took a few years away from the game after his playing days before getting involved in the coaching ranks.
Most of his coaching experience stems from the Philadelphia Eagles, where he worked under Andy Reid. From 2009-10 he was an Offensive Quality Control Coach before becoming the QB coach in 2011-12. Following that stint with Philadelphia, Pederson was off to Kansas City, where he was the Chiefs offensive Coordinator from 2013-15. Ironically, Reid was part of that Chiefs staff at that time also as Pederson continued to learn from one of the best in the game.
Pederson got his first crack as a head coach in 2016 when he went back to lead the Eagles, spending five years with that organization. Although his time with Philadelphia was filled with ups and downs, he had tons of early success, including reaching the playoffs in three straight years at one point and winning a Superbowl with Nick Foles as his QB filling in for an injured Carson Wentz.
When it comes to the interview process, Pederson is one of the most accomplished coaches in the hiring cycle, which is something the Bears may look at. Take away his first and last year with Philly, and he was a great head coach who was part of why they drafted Wentz, which was a big reason for his rapid growth to an MVP type of player two years into the league.
Not only did Wentz thrive under Peterson, but his offensive system was nothing short of amazing as Foles stepped in countless times and executed that same system to perfection. That is worth noting if the Bears hang onto Foles to back up Justin Fields in 2022. Foles didn't just execute that offense during the regular season, but also in the postseason. Pederson is a Superbowl winning coach and has the pedigree that any team should be looking for when it comes to finding a new head coach.
The Bears feel the same way as they wasted no time putting a list of candidates together. On the same day that Nagy was let go, reports surfaced that the Bears not only planned to interview Pederson, but had scheduled an interview with him. That just shows you what the Bears higher-ups think of him and feel about him leading this team.
Given that Chicago has a young QB in Fields ready to lead this franchise, Pederson checks all the boxes in terms of what the Bears are looking for. He is an offensive-minded guy who specializes in the development of your QBs. That is something Fields needs and something the franchise needs if Fields is their QB for the future.
Not only that, Pederson has an offensive scheme that always puts his players in the best position to succeed. You saw it first hand when Foles came into the game. Granted, he was a backup, but the system that Pederson had in place made Foles who he was and landed him the big contract he signed with Jacksonville. I know most fans want an up-and-coming assistant to land this gig, but it is hard to pass on a guy like Pederson, who is a proven winner and has what it takes to win again.