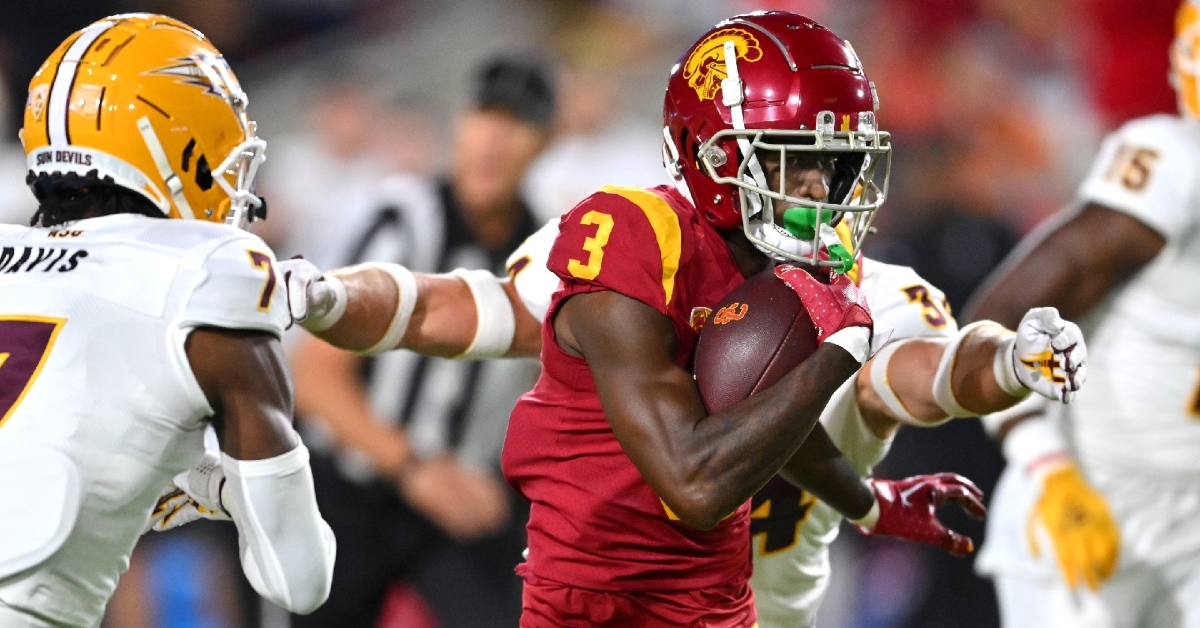 | | |
| --- | --- |
| Bears linked to top WR prospect in latest NFL mock draft | |
---
| | | |
| --- | --- | --- |
| Wednesday, November 9, 2022, 9:48 AM | | |
With the Chicago Bears sitting at 3-6 at the midway point in the NFL season, the playoffs appear to be out of reach. There is a slight chance they could still get in, but it would take a long winning streak by the Bears and some help from many of the other NFC teams.
Keeping that in mind and sticking with this is a rebuild type of season, it is never too early to look at what the future could look like in Chicago. Lately, the Bears have been considering that and have fully started to invest in their future compared to how things currently sit.
You have seen Chicago trade away Roquan Smith and Robert Quinn in exchange for draft picks, giving them nine so far for next season. They then added Chase Claypool to their WR room, as he will play a huge role this season and beyond. Add in the most money available to spend next season; the future looks very bright for Chicago.
For the future to look bright and become bright, the Bears need to make the right decisions next offseason, and a big part of that falls on the NFL draft. When you look at what the Bears offense has done in recent weeks, you can see their potential. However, they still need a No.1 WR, and the addition of Claypool doesn't change that.
They could sign a free agent WR next season with the money they have available, but who would be available, and for what price? Instead of taking that route, look for the Bears to pursue a top WR in the NFL draft, and they are currently linked to one of the top WR prospects in the upcoming draft in Jordan Addison.
If you look at the most recent mock drafts, which will change every week, the Bears are currently slated to pick No. 12, and the WR out of USC is projected to fall to them at that spot. Not only have many called him the best WR in this class, but his excellent route running and separation skills set him apart from others, and that alone would be huge for Justin Fields and this offense to have.
Some have said he is nearly uncoverable, but that is at the college level and will change once he hits the NFL. However, he is still an upgrade over what they have now, and it would allow Claypool to remain a No.2 while pushing Darnell Mooney into the slot where he could be lethal.
At 6-0 and 175 pounds, Addison is a bit smaller than most of the WRs in his class, but he makes up for that with great explosiveness and light feet. The junior began his collegiate career with the University of Pittsburgh, where he led the team in receiving as a freshman. He finished that season with 660 yards on 60 receptions and four scores before putting together a solid sophomore campaign.
Then came 2021, when Addison earned the Biletnikoff Award given to the college football season's outstanding FBS receiver. In 14 games last season, Addison hauled in 100 passes for 1597 yards and 17 touchdowns, proving how good he can be. Then comes Caleb Williams to USC as Addison transferred to USC along with Williams.
From the moment they walked into the door, you could see a great connection, which has been on display all season. Across the teams, seven games entering Saturday, Addison had 39 receptions for 585 yards and seven scores as he is well on his way to another 1000-yard season.
Originally slated as an early second-round pick, Addison has seen his stock continue to rise and has now reached a first-round level where the Bears are in the area to take him. If Addison can stay healthy, he'd be an intriguing option for the Bears. It's early, of course, but it's fun to think about the spark he could give Chicago's offense.
Think about this for the next four-plus years. You have a franchise QB in Fields, with either David Montgomery or Khalil Herbert as your RB. You then have Cole Kmet as your TE and a WR unit of Mooney, Claypool, and potentially Addison, among others. That is pretty good, especially if the offensive line gets the improvements they need to make. I know this is a long way out, but it is never too early to look at what the future of this team could look like.