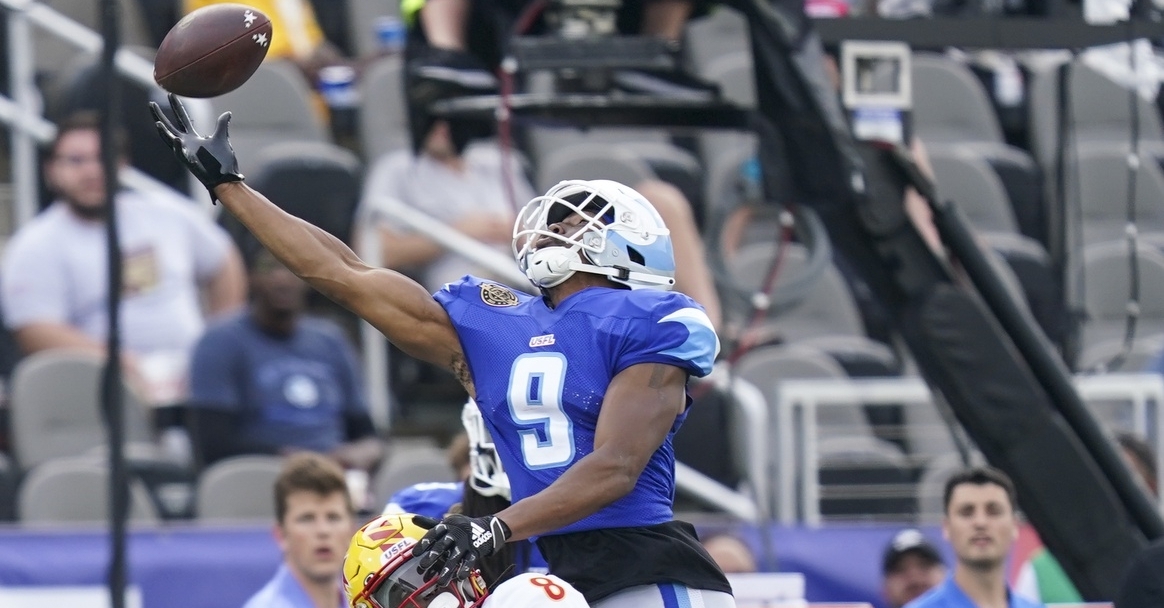 | | |
| --- | --- |
| Bears listed as top landing spot for USFL standout | |
---
| | | |
| --- | --- | --- |
| Monday, June 20, 2022, 10:07 AM | | |
Things have quieted down for the NFL offseason, but that doesn't mean making moves is finished. With mini-camps coming to a close and training camps set to begin in a few weeks, some more movement could be made as teams want to have the best roster possible for the preseason.
While many of those moves will depend on the NFL free-agent market, other players could find themselves signing with a team as the USFL regular season has come to a close. With that in mind, the Bears have done their homework on some of those players, and they are listed as the perfect fit for one of the USFL stars.
If you are wondering who that player might be, it happens to be former Arkansas St University WR Jonathan Adams Jr., who plays for the New Orleans Breakers. Unlike six USFL teams, Adams Jr has at least one more week remaining in his season as the Breakers have qualified for the USFL playoffs as the No. 2 seed in the south.
Although not the greatest of numbers through 10 games, the USFL is not the most explosive league regarding offensive numbers. Adams Jr. is ranked in the top five in receiving yardage this season and has become Kyle Sloter's favorite target.
So far, Adams Jr has brought in 398 receiving yards and three touchdowns which land him eighth in terms of WR touchdowns. Since arriving on the scene in April, Adams has not only been a significant piece to the top passing offense in the USFL but has come away with several standout catches along the way.
Seeing his name linked with the Bears is no surprise as he spent the 2020 season on their practice squad. For that reason alone, many NFL analysts think the Bears should take a look at bringing him back, especially if he has some connection with Justin Fields.
I fully understand the quality of the USFL product hasn't been great hence why the overall statistical numbers are lacking across the board. However, Adams has had plenty of eye-catching moments this season and, for that reason, has been more of the more consistent and productive players.
The 6-2 210 Adams has proven to be a solid WR, especially when it comes to going up and challenging jump balls in the air. A few of the grabs he has made this season have not only been highlight-reel plays, but have been flat-out ridiculous.
If you want to look at his overall track record as a player, go back to the 2020 NCAA season, where Adams was one of two players to have 75 receptions, 1100 yards, and 10 TDs. The only other player to do that was DeVonta Smith from Alabama, so you can see the company Adams was in.
Given the consistent production he has given in the USFL, a lot of people feel he is the best player in that league and will be one of those lucky ones to land an NFL contract. Initially pegged as a fourth or fifth-round product, Adams was always seen as a role player type of WR who would give the Bears the big-bodied WR they are looking for now that Allen Robinson is gone.
After logging 2396 yards and 21 touchdowns in college, Adams has used his time in the USFL to prove he can still help out an NFL role in some aspect. Chicago already has several big-bodied WRS on the roster, but unlike some of them, Adams has had a consistent role this season. It wouldn't hurt for Luke Getsy to get him in camp and see what he can do.
https://www.youtube.com/watch?v=JHgXL3npJUY&t=35s