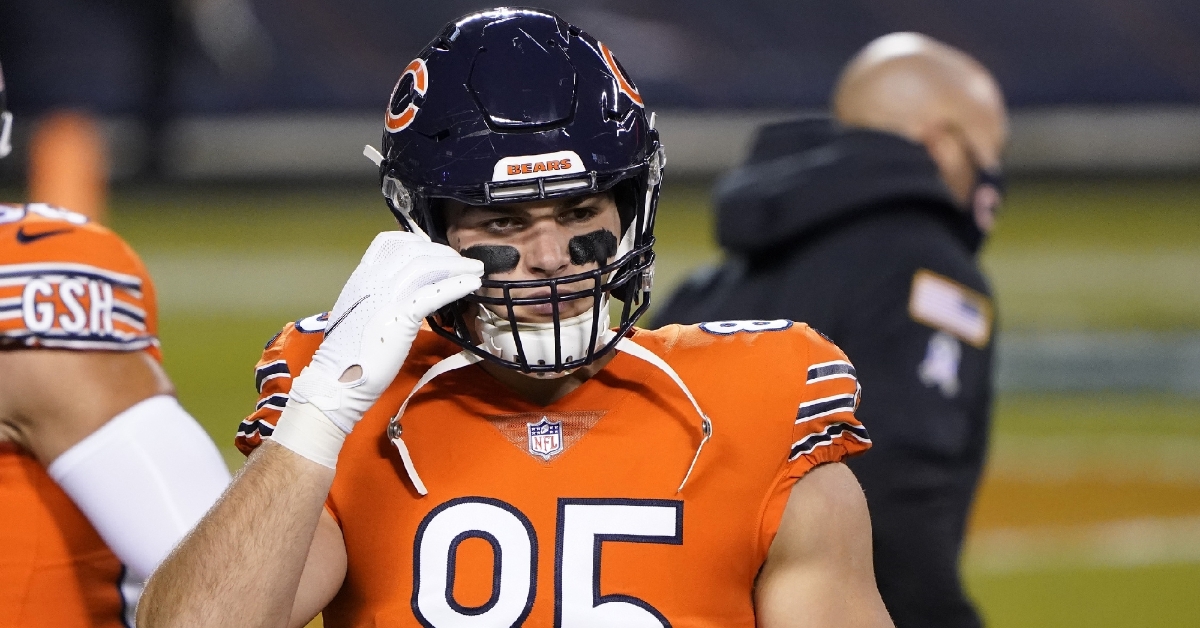 | | |
| --- | --- |
| Bears News: 2021 Season Report Cards: Cole Kmet, Jimmy Graham, more | |
---
| | | |
| --- | --- | --- |
| Saturday, February 12, 2022, 9:32 AM | | |
Perhaps the most significant and most crucial part of any offense is having a TE group that can block and make plays in the field. That is something former Chicago Bears head coach Matt Nagy preached, but consistent results from that position group were not there.
Sure, there were significant signs of improvement last season, but even at that, those big plays were few and far between as the Bears offense continued to struggle when it came to scoring points. With a new head coach and new play-caller coming into the fold this season, the Bears offense will look to make those improvements to help Justin Fields develop into the franchise QB that everyone expects him to be. Tight end production could be a huge reason for his success or failure in this league.
Drafted in the second round of the 2020 NFL draft, the former Notre Dame product was viewed as one of the top TEs of his class. That alone made his selection an intriguing one for the Bears, giving them another young offensive piece. Known for having great hands, Kmet was drafted to stretch the field and make a lot of plays that the Bears TE group hasn't been able to make in years.
Things didn't go as planned for Kmet as a rookie as he not only struggled to see the field, but didn't produce at the level the team expected him to when he had his chances. Things were much different this season as Kmet not only emerged as the top TE on the team, but showed the Bears what he is capable of.
Kmet hauled in 60 receptions for 612 yards despite not scoring a single touchdown this season. Both landed him second on the team behind Darnell Mooney as his production was outstanding this season. This is the kind of year the Bears were hoping to get out of him last season and a year the Bears are hoping to have on an annual basis.
Season Grade B+: Had Kmet gotten a few touchdowns, his grade would have been in the A range. Because of that, you have to deduct a little bit, but not enough to take away from the season he had. Kmet displayed the great hands that made him a household name at Notre Dame while also showing the play-making ability everyone thought he had.
Not a stretch the field type of TE, Kmet does most of his damage after the catch where his YAC category ranked high among TEs. 2022 will be a massive season for Kmet as he will not only be the most trusted TE on the roster but could be the lone TE remaining from this season's team. Fields will rely on him a lot in the future, which is good for this team.
There was a time when Graham was a top three if not the top TE in all of football. His mix of speed, size, and overall leaping ability made him a matchup nightmare, and Drew Brees utilized that to his advantage when he played for the New Orleans Saints. Once the injuries started to pile up, Graham was not the same player and has since bounced around the league quite a bit.
Signed as a free agent in 2020, Graham was brought into Chicago to give them a veteran presence along with adding a solid red-zone target into the mix. He gave them exactly what they were looking for during his first season, where he finished with nine touchdowns proving to be the red zone threat they were looking for.
2021 was a different story as Graham was a shell of himself this season. Not only did he lose the starting job to Kmet, but he was held to a career-worst 167 yards receiving as the Bears didn't go his way a ton. He gave them three touchdown receptions, showing that he can still be a red-zone threat, but that was all he gave them.
Season Grade C-: Graham didn't have a great season this year, but he did produce when needed. He will be a very interesting topic this offseason as his days as a starter are over. However, if you are looking for a veteran leader capable of producing in the red zone, there are far worse options than him. Chicago might be looking to bring him back for one more season.
Chicago was the laughing stock of the NFL at one point as they carried 10 TEs into camp. That number was drastically cut in half, but even then, the Bears had more TE's than any other team this season. For the most part, Kmet and Graham got all the attention, but the Bears did have two more TE's step in when needed.
Offseason pickup James finished the season with eight catches for 62 yards to go with one score. His score happened to be Fields first career touchdown pass. The next step for him is to get more playing time to see if that success carries over.
Season Grade N/A: Neither player saw enough time on the field to log a grade, but there is potential for one of them to have an increased role in 2022.