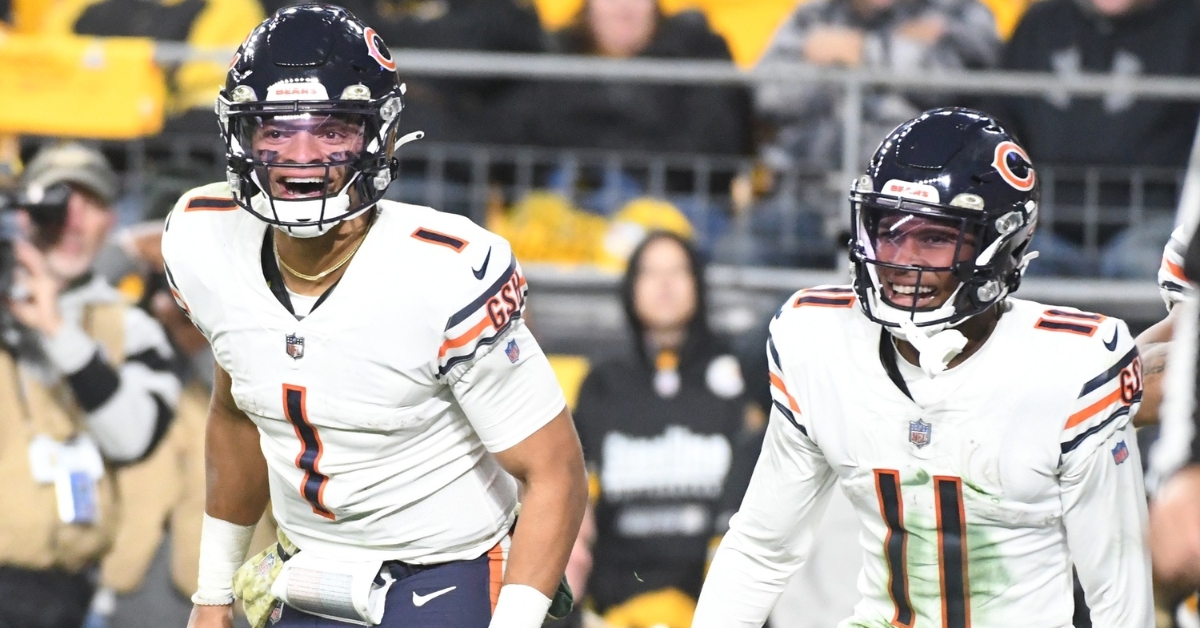 | | |
| --- | --- |
| Bears News: 2021 Season Report Cards: Darnell Mooney, Allen Robinson, more | |
---
| | | |
| --- | --- | --- |
| Wednesday, February 9, 2022, 9:32 AM | | |
We continue our season report card series by moving further down the offensive side of the ball. Today it is all about the receiver position as several surprising players emerged as the go-to guys this year. No, it wasn't Allen Robinson like most would expect, but instead rising star Darnell Mooney and several others who showed their worth this season.
Their unexpected positive production was not only a pleasant surprise this year, but will pave the way to what hopefully is a successful career for Justin Fields for years to come. Even though the overall results were pretty good, plenty of work still needs to be done for this offense to reach the levels they expect it to go.
With Luke Getsy leaving the Packers to come to Chicago as the new OC, it will be interesting to see what kind of knowledge he can bring with him. After working with Aaron Rodgers the last few seasons, things will be drastically different as Fields is no Rodgers. Still, look for him to use a lot of the knowledge he learned from Rodgers to put this team in the best position offensively.
Darnell Mooney
There were a lot of surprises on offense this year, but none were as surprising as Mooney. Drafted as a fifth-round talent out of Tulane in 2020, Mooney showed a lot during his rookie season, where he emerged as the team's No.2 option. One year later, Mooney took his game to a whole new level as he became the favorite target of Fields.
He led the team with 1055 yards receiving, but he led the team with four receiving touchdowns. Ideally, the Bears would love more from him from a receiving touchdown side of things, but he proved he is capable of handling No. 1 receiver duties. Ideally, I still see Mooney better suited as a No. 2, but for the Bears, it may be a good option.
Season Grade A: You can't argue with the production he put up this season which is why he gets an A grade. However, I wonder if that production can continue. He was not viewed as a true No. 1, but he will not be taken lightly next season. Now that people have seen what he can do, he will be treated as a No. 1, which could have lasting effects.
He doesn't have the ideal size to be a No. 1, but he does have the hands, speed, and route-running ability. That alone is worth the chance to take on a No.1 role so let's see what the Bears plan is for him going forward.
Allen Robinson
Entering 2021, there was no question who the Bears No. 1 option was. However, as things unfolded during the 2021 season, it was clear that either Robinson checked out or the Bears didn't believe in him anymore. After having consecutive 1000 yard seasons and close to 1000 yards in his first season in Chicago, things didn't go as planned this season.
Robinson not only endured his worst season as Bear, but perhaps the worst season as a pro as he hauled in 410 yards this season to go with one touchdown. Injuries played a significant role in his decline, but it was as if the Bears didn't trust him anymore even when on the field. He was visibly frustrated with his contract situation last year and one has to wonder if that started to weigh on his production on the field.
Season Grade D: Robinson was a failure this season in Chicago and the Bears offense took a hit because of it. He was not the go-to guy anymore as Mooney overtook that role. He couldn't stay healthy this season and you could see that it slowed him down. Regardless, you can't use that as an excuse as Robinson had a bad season and played himself out of Chicago.
When the Bears brought in Goodwin this offseason, the main focus was for them to add a speedy receiver who could stretch the field. Given the arm strength of Fields, it seemed like a match made in heaven as Goodwin has made some impressive plays across his career. Throughout the season, you saw some of those plays, but those plays didn't come as often as you would like.
Goodwin hauled in 20 passes for 313 yards and one score lined up with many players on this Bears roster, but his 15.9 YPC led the team, proving that he was a big-play type of guy. Goodwin would be a good fit for the Bears next season should they move on from Robinson and look for a short-term option.
Season Grade C: Goodwin was never going to be looked at as a go-to player, but that doesn't mean he couldn't have been involved more on the offensive side of things. There was a two-game stretch midseason that Goodwin was one of the main targets, and when that happened, he showed what he can do.
Originally brought in as the teams No. 3 option, he fell to the No. 4 midseason. He will be looking for work outside the Bears organization in 2022 as I expect a major overhaul on the offensive side of the ball this year.
Another offseason signing looked to improve the receiving core was former New England Patriot Damiere Byrd. Like Goodwin, Byrd showed plenty of signs when it came to being a productive wide receiver, but the overall consistency wasn't there. Unlike Goodwin who had plenty of chances. Byrd didn't have those same chances, at least not early on.
As the season went on, Byrd settled into a more regular role and overtook the No. 3 receiver spot from Goodwin. His one touchdown was not that great, but his 329 yards proved adequate enough for the Bears to at least think about him next season. In fact, he was second in overall receiving yards the final month of the season as Chicago started to go his way a lot more.
Season Grade B- This was the first time in his career that Byrd was going to be looked at as a trusted option. Although things didn't work out that well, he at least showed he can be a valuable asset to any team. Byrd has good hands, but he is a good route runner with a fearless attitude. That alone makes him trusted by his Qbs.
I would love to see the Bears put some stock into him again next year as they try and rebuild that offense. Much like this season, he will not be the teams first or second option, but there are far worse options than having him as a depth piece and understanding what Fields likes to do.
https://www.youtube.com/watch?v=YhE7-UodVuY
https://www.youtube.com/watch?v=8GTd4k9SVvU
https://www.youtube.com/watch?v=2HMp281GMvk&t=71s
Upgrade Your Account
Unlock premium boards and exclusive features (e.g. ad-free) by upgrading your account today.
Upgrade Now