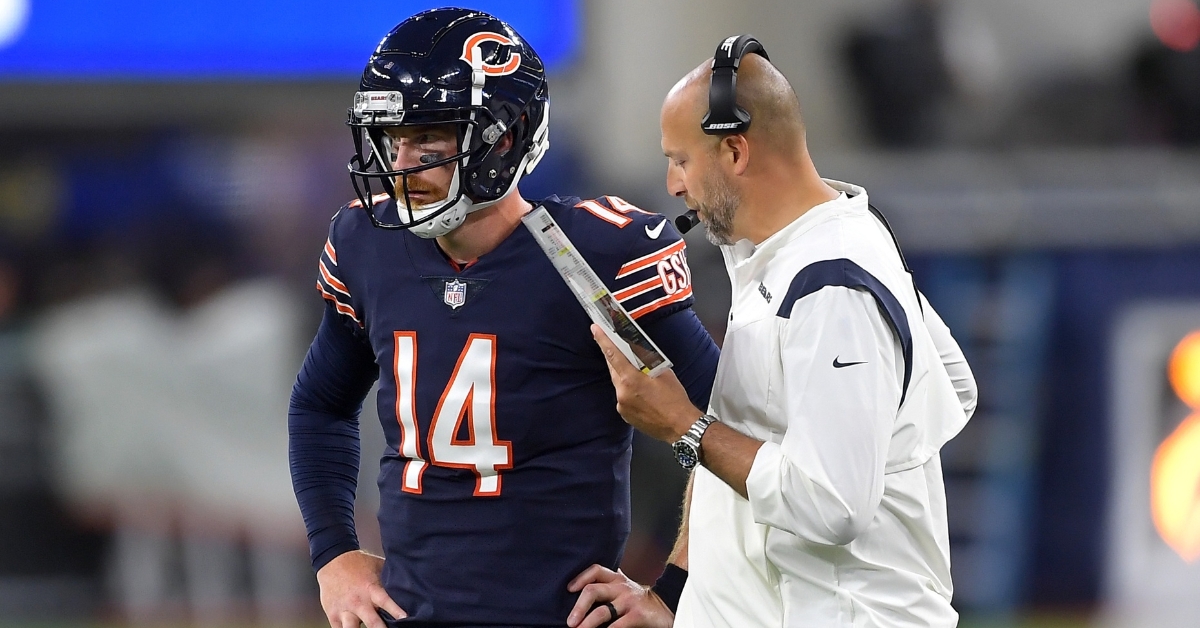 | | |
| --- | --- |
| Bears News: Matt Nagy says Andy Dalton to remain the starter when healthy | |
---
| | | |
| --- | --- | --- |
| Tuesday, September 21, 2021, 10:26 AM | | |
The quarterback situation in Chicago the past few seasons has been nothing short of a movie comedy as the Bears haven't handled it very well. From switching back and forth from Mitch Trubisky to Nick Foles back to Trubisky last year to signing Andy Dalton and drafting Justin Fields this offseason, and the Bears continue to make a mockery of the QB position as no one seems to know what direction they want to follow.
The answer is miles above the rest if you ask the fans, as Fields is their pick to lead this team. After all, you drafted him in the first round this season and has more athletic ability than Dalton, so why not see what he can do now instead of making him wait a year. While I agree that Fields gives this team the best chance to win going forward, the coaching staff doesn't see it that way yet, which is why they named Dalton the starter even after Fields outplayed him this preseason.
To make matters worse, Matt Nagy has once again gone on record to say that Dalton will continue to be the team's starter if he is healthy. That leads me to believe that if Dalton can play on Sunday which is highly unlikely (bone bruise), he will be starting sending Fields back to the bench yet again. Only the Bears would somehow find a way to screw this up, but Dalton's health is the question right now.
After looking good in his first possession of the game on Sunday, Dalton was scrambling to pick up yards and stepped out of bounds to avoid a hard hit late in the first quarter on Sunday. In the process, it appeared as if he landed on his leg wrong and ultimately came up limping on that play. The
result was deemed a lower leg injury, and Dalton didn't return to the game handing things over to Fields.
While Fields didn't play that well in his first extended regular-season action, he did what he needed to do to win the game, and that is all that matters. The thing that stands out the most is his ability to win, which he put on display to seal the game Sunday, scrambling for a first down on third down to ice the game.
With Dalton's health in the air, fans have expected to hear Fields be named the starter for the foreseeable future. However, that hasn't been decided yet, and after an MRI revealed that Dalton is only dealing with a bone bruise, he could indeed be named the starter before Sunday if this week goes well. As a football fan, I understand Nagy wanting to stick to his guns and stick with Dalton.
After all, he made the veteran a promise that he would be the starter in Chicago. However, just like any other job, football is a performance-based business, and if you are not performing, you will lose your spot. Dalton didn't perform poorly against the Rams, but he certainly didn't do enough to win that game. He was also off to a great start against the Bengals, and most people feel he played better than Fields on Sunday.
From a performance side of things, Dalton hasn't done poorly enough to lose his job. You also add in the severity of his injury, and it doesn't seem serious enough for him to lose his job due to injury. Nagy has backed himself into a corner with his comments about Dalton all summer long and now has to figure out how to get out of this corner.
On the one hand, he has a veteran QB who has proven to be a winner before, although his postseason success is non-existent. On the other hand, you have a rookie that fans will continue to call for no matter what the circumstance is. As a coach, your sole purpose is to win games, and you do that by putting your best team on the field every week.
Fans truly believe that Fields is the best QB on this roster, but unless they are at practice watching what goes on, they will only go by what they see on Sunday or in the preseason. Nagy and his group are around these players every day, so he must be seeing something in Dalton that makes him feel he is the best QB for the job.
As things sit right now, I do feel Fields will start against Cleveland on Sunday as they may want to give Dalton the week off. Should he win or at least lose and play well, it becomes his job to lose going forward. However, if he goes out there and looks like he did on Sunday, Dalton will get another crack at the starting spot once he is 100%.
Things are about to get very interesting in Chicago this week and beyond, and Nagy's future is riding on the decision he makes. Make the wrong one, and you can bet he won't be back next season. Make the right one, and the Bears will be soaring high this season.