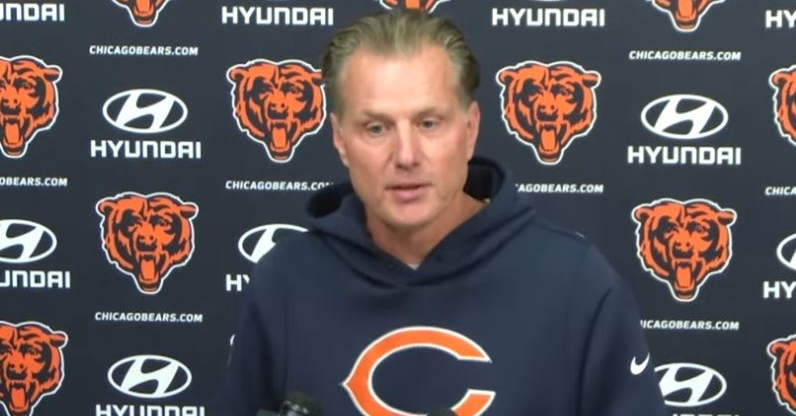 | | |
| --- | --- |
| Bears News: Eberflus on turning things around: "You got to have belief" | |
---
CHICAGO - Right about now, I am picturing the founder and winningest coach in Chicago Bears history, George "Papa Bear" Halas. He is probably rolling over in his grave watching the team he fought so hard for play so poorly.
During Halas' combined 38 years as the head coach for the Bears, his teams outscored opponents by an average of 76.4 points per season. For comparison, in current head coach Matt Eberflus' first 20 games with Chicago, the Bears have been outscored by 196 points.
However, Eberflus feels that everyone just has to believe in each other, and things will turn around.
"You got to have belief in each other," Eberflus said. "You got to have belief in the coaches, belief in the players, belief in the next sitting next to you and the work that be put in every single day and knowing that we're going to get better and knowing that history shows you that in the NFL, if you do that if you're able to have the stamina to push through obstacles and push through adversity, good things are going to happen."
Based on how the Bears are playing, it seems they need more than belief to turn this around. Sunday's loss to the Kansas City Chiefs was a sad moment for the organization as a whole. It was also a terrible game for third-year quarterback Justin Fields, who got sacked another three times in that game. In fact, there have only been two games in his whole career with Chicago where he has not been sacked.
But according to Eberflus, we are about to see some kind of a breakthrough with Fields.
"He's been doing it in terms of the work. Now, we're going to see the fruits of the labor," He's just got to keep doing the things, the platform, rhythm and timing, the things that we've been discussing. I thought we did a good job of moving him out of the pocket yesterday, and we had a couple of quarterback-designed runs, a couple of run-pass options."
Part of the disappointment of the start of this season is how there was so much made of all of the offseason acquisitions. On offense, the biggest was clearly wide receiver DJ Moore. They also acquired tight end Robert Tonyan, as well as multiple offensive linemen.
Most of these acquisitions have not seemed to help so far, except for Moore who currently leads the team in receiving with 170 yards.
"A lot of people say we're a loss, a far way away. I don't believe that," Eberflus said. "I think we're close, and I think it's more about the details of the individual person, and if we just keep doing that right, right things are going to happen."
There have been some acquisitions that have made a difference, however. Typically, defense is not a bright spot after giving up 41 points. Nonetheless, there is something positive to take away from the defense. In the offseason, Chicago acquired linebackers Tremaine Edmunds and TJ Edwards.
Edwards is currently second in the NFL in total tackles with 43, while Edmunds is tied for eighth in tackles with 31. The two combined gives the Bears the best duo of tacklers as they have 74 between them; the next closest duo is Roquan Smith and Patrick Queen with the Baltimore Ravens who have a combined 64 tackles.
While there certainly needs to be more improvement on the defensive side of the ball, especially when your linebackers are making all of the tackles, these two players are currently bright spots on the team.
"They're right there. They're right in position where they need to be, and those guys have been making a lot of plays," Eberflus said of Edwards and Edmunds. "So, I think it's more about the strip attempts that we have to have when we're going to tackle. I think we might be missing that some, so we have to do a great job with that."
If the team wants to start turning things around, the best opportunity they will have to do so is against the 0-3 Denver Broncos this Sunday (Noon / CBS), who just gave up 70 points to the Miami Dolphins. The Broncos gave up the most sacks out of any team last season and have already given up 10 this season.