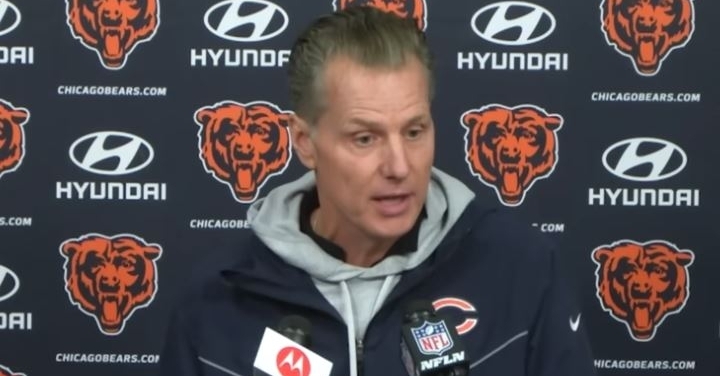 | | |
| --- | --- |
| Bears News: Eberflus provides injury updates, details Detroit's dynamic duo | |
---
CHICAGO - Injuries have been a problem for all teams this season thus far. For Chicago, they finally will have their starting quarterback in Justin Fields return to the field.
According to head coach Matt Eberflus, Fields has made a lot of steps in the right direction toward rebuilding his chemistry with his teammates.
"I thought (Fields) improved. I thought he got a feel for where he was and I thought he improved every single day," Eberflus said. "So, you get that timing with the receivers, the concepts that you're running a particular week and I thought he got his footwork back where it needed to be and I thought the accuracy was better as the week went. So, I thought he was good."
Around him at offensive line, they are also getting healthy with the return of Nate Davis. Davis' return from injured reserve (IR) shook up the lineup a bit, but Eberflus believes that is the ideal combination on the line.
Further, the coaching staff is satisfied with how Davis has progressed through the week.
"Nate's been looking good all week and we like that. We like the combination we have at offensive line. Right now, it looks strong," Eberflus said. "It looks good in there and we certainly are pleased with that and how it progressed through the week."
Defensively, the Bears are also looking for the return of linebacker Tremaine Edmunds. Edmunds injured his knee against the Los Angeles Chargers on October 29 and has been out since then.
He was able to practice in a limited fashion on Friday and is officially questionable for the game Sunday against the Detroit Lions (Noon / FOX).
"Edmunds practiced (Friday). We thought he looked good. He's been moving around, working with the trainers earlier in the week," Eberflus said. "Got him on the grass today, we'll see where it goes. But, we like where he is right now."
This Sunday against the Lions will be the third division game of the season for the Bears. They lost their first two against the Green Bay Packers and Minnesota Vikings; the Vikings game was when Fields dislocated his thumb. If Chicago is going to have any chance of making any kind of a run this season, they will need to win games in the division.
Eberflus is not focused on the future of the season as the team is focusing on the now.
"All wins are important. Of course, division wins do have more weight. We certainly know that," Eberflus said. "But, our focus is on this game right here, right now against Detroit. That's where it is."
In order to have a chance in this game, the Chicago defense will have to contain the Lions's top playmakers - receiver Amon-Ra. St Brown, the brother of Bears receiver Equanimeous St. Brown, and tight end Sam LaPorta who in his rookie season is among the NFL's top players at his position. As the defensive play caller, Eberflus has been scouting on these two quite frequently.
"Two really dynamic players at their respective positions. St. Brown, I think, is just a fantastic player. First of all, he's a very good football player and then you talk about his strength and his quickness, his ability to stay open with his quickness but also be open with his strength if he is covered," Eberflus said. "(LaPorta) shows great athletic ability. He's got (a) big catch radius, which allows him to stay open. But, he understands the game, understands how to use his body, I think above his years (with) him being a rookie. He looks like he's, to me, when I look at him, he's (like) a second or third-year player. So, both fantastic players."
Thursday Night Football's game with the Baltimore Ravens playing against the Cincinnati Bengals reignited a league-wide debate about tackling techniques. Linebacker Logan Wilson tackled tight end Mark Andrews around the hips and landed on his ankle, which was also twisted, and ultimately ended Andrews's season.
When speaking with the media Friday, Eberflus was asked about how Bears players are trained in their tackling, if this is a kind of tackling technique Chicago teaches. However, Eberflus explained that first, if there is data to show this form of tackling is detrimental to player safety, then it should not be allowed.
Second, he stated that this is not a form of tackling the Bears use as they tackle below the hips.
"In terms of the way we tackle, we're a low-tackling group," Eberflus said. "So, we don't really tackle by the hips. We tackle lower than that and we focus on that and we're doing it right."
Their tackling will have to be top-notch going against St. Brown, LaPorta and the rest of the Lions offense. Their offense also has a dual threat ability with running backs David Montgomery, who spent his first four seasons with the Bears, and rookie Jahmyr Gibbs out of Alabama. This has the potential for an offensive shootout where Fields will need to step up and lead the offense, even if he is not 100 percent coming back from his thumb injury.