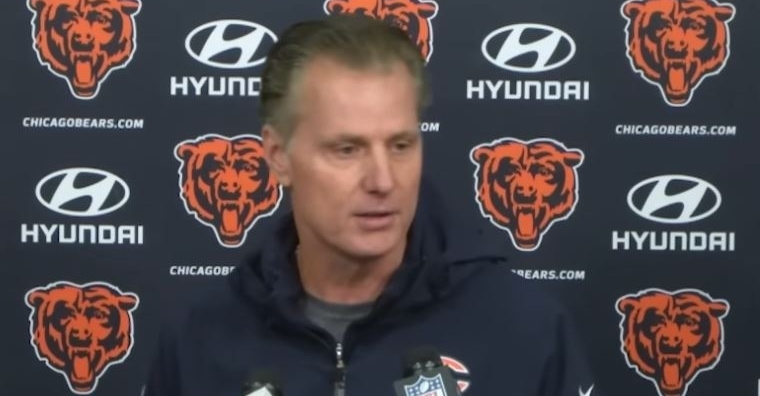 | | |
| --- | --- |
| Bears News: Eberflus: Justin Fields expected to start, offensive line changes | |
---
CHICAGO - After missing four weeks, it finally seems that quarterback Justin Fields will return against the Detroit Lions this Sunday (Noon / FOX). He suffered a dislocated thumb against the Minnesota Vikings and was close to returning last week against the Carolina Panthers, but ultimately was not able to.
"Fields will be back at practice today. Our plan is to start him on Sunday. He continues to progress this week," head coach Matt Eberflus said. "Returning to practice today is going to be a big part of the evaluation. But, again, he's progressing well and our plan is to start him this week."
In his absence, rookie Tyson Bagent went 2-2 with victories against the Las Vegas Raiders and Panthers. After having a disastrous fourth quarter against the New Orleans Saints, which ultimately cost the Bears the game, Bagent bounced back against the Panthers; he was not sacked nor was the ball turned over.
Overall, Bagent showed a lot of positives and seems like a solid backup for Fields for the rest of the season.
"I really thought that he made a huge jump in the New Orleans game with the drive coming out there, taking them down the field in that environment, really the first time in that environment, being that loud," Eberflus said. "Going into the last game about how he protected the football and that's the number one job of a quarterback is to protect the football. He got rid of the ball, didn't take any sacks. So I think that's a big growth there."
In other injury news, linebacker Tremaine Edmunds is still questionable with a knee injury. He has missed the last two games for Chicago, but there are hopes he will be able to return against the division leaders Sunday.
Edmunds has defended three passes for far this season and has a fumble recovery.
"He's optimistic. He did (walked) through (Wednesday). So, we'll see where he is," Eberflus said. "He (didn't) practice (Wednesday), so we'll see where he is. He ran with the trainers (Wednesday) morning and we'll see where it goes, but he felt good about it."
There are a number of players returning from injury, including offensive lineman Nate Davis.
With the return of Davis, Teven Jenkins is being moved back to the left side of the line while Lucas Patrick is moving to center.
"(Davis)'ll be starting at right guard. Jenkins will be moving to left. That's going to be the move that we make there," Eberflus said. "We feel that's our best five out there as we get healthy with our football team, so excited about that … Lucas will be at center."
Running back Khalil Herbert also has yet to be activated from injured reserve (IR). However, Eberflus explained last week that this is not because of Herbert's health but because of the number of players that have performed well currently on the active roster.
Further, D'Onta Foreman has been doing a very good job at the starting back for Chicago as he is leading the team in rushing yards with 367 yards in five starts. Foreman is averaging 4.3 yards per attempt, his fourth year in a row with an average of at least four yards. Eberflus did not comment on whether Herbert would be activated for this week, but referenced Foreman's production.
Perhaps sticking with Foreman might be the best option. He had a very successful last year with the Panthers, particularly after the departure of Christian McCaffrey. However, his best game of the season was against Detroit where he had 165 rushing yards and a touchdown. He averaged almost eight yards per attempt that game. That could be a bit different this year as the Lions are one of the best rush defenses in the NFL in yards per attempt allowed.
They are not as strong in the passing game defensively this season. Thus, for Chicago to stay alive in this game, perhaps this will become a shootout similar to how the Panthers game versus the Lions did last season.