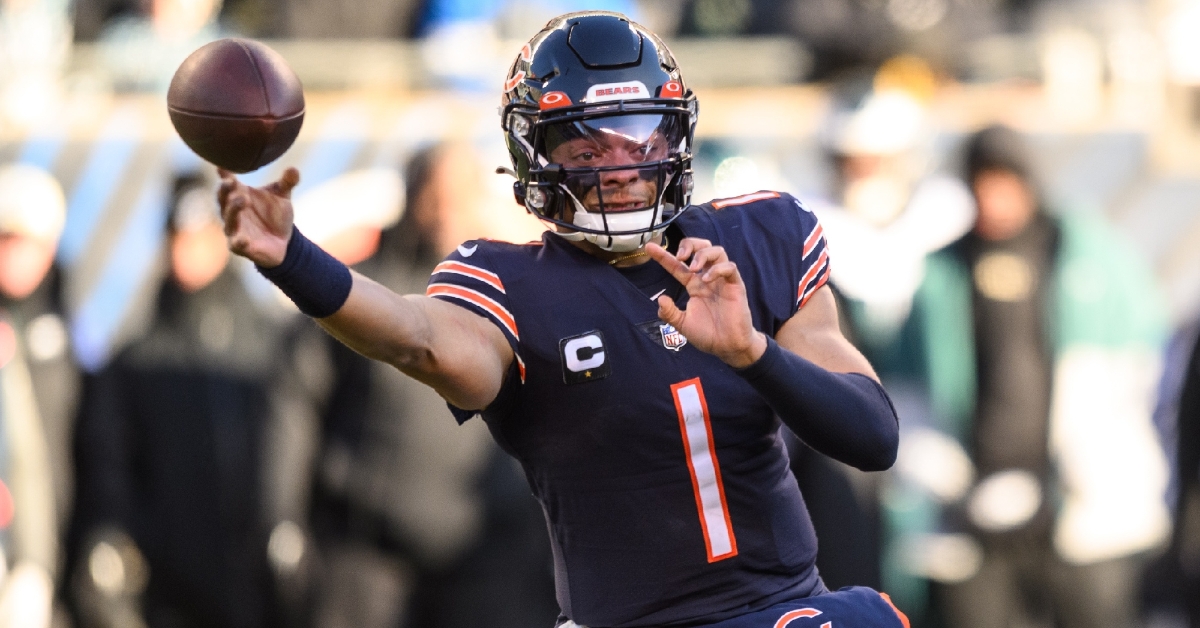 | | |
| --- | --- |
| Bears vs. Bills Prediction: Can Bears pull off shocker? | |
---
| | | |
| --- | --- | --- |
| Saturday, December 24, 2022, 11:00 AM | | |
Happy Holidays to you and your families from all of us at BearsHQ.com. This weekend is, of course, Christmas weekend, and that will be filled with football all day Saturday and Sunday. For the Chicago Bears fans out there, they get to enjoy an afternoon of Saturday football as the Buffalo Bills come to town.
This is a David vs. Goliath type of matchup on paper, but if last week taught us anything, it would be that the Bears will not be pushed around. They took the Eagles to the brink and made MVP front-runner Jalen Hurts look human before falling 25-20.
This week pegs the Bears up for another tall task as they not only get the top seed in the AFC, but they are facing another MVP candidate and arguably the top QB in the league in Josh Allen. Comparing Allen to Justin Fields, you can see both have similar traits, although Allen does many things better than Fields. This will not be an easy game for the Bears, who need to be ready to play.
Here are some things to look for:
Can the Bears play spoiler?
Although the Bears are out of the playoffs, the Bills are not, and they currently hold the top spot in the AFC. For the Bills to secure that top spot, they need to win out or, at the very worst, hope for a Kansas City loss to ensure the seed.
Given how the Bears played against the Eagles last week, I wouldn't put it past them to pull out all the stops this week and go for the upset bid. They have a chance to play spoiler this weekend, and that would be a nice Christmas gift for the home fans.
History in the making
Say what you want about Fields and his lack of passing stats, but he has put together a great season. In a season where the Bears are struggling to win games, Fields has grown into a more complete QB while using his strengths to his advantage.
His biggest strength is his legs, as he has put together a historic season on the ground so far. Not only did he break a five-game record from Michael Vick earlier this season, but Fields surpassed the 1000-yard mark last week, making him the third QB in history to reach that.
Should his current pace continue for the next three weeks, you are not only looking at a QB who could reach 1300 yards, but one that has an opportunity to break Jackson's all-time record. The Bears may not be going anywhere as a team this season, but at least the fans have seen a historic season from their franchise signal caller.
Bracing for the elements
Football is meant to be played outdoors, and when it comes to outdoor games in December, Chicago is a tough place to play. That will hold especially true this weekend as the weekend forecast doesn't look too kind.
If current projections hold, not only will the Chicago area get pelted with nearly a foot of snow from Thursday through Friday, but the temperature at game time will be in the single digits with below-zero windchills. That would make this one of the coldest games in Soldier Field history and one the players will need to adjust to.
There are only so many players or teams built for weather like that, but both of these teams are. I give the 61,000-plus fans in attendance a ton of credit, as they will be bracing for some serious cold on Saturday.
Merry Gameday ?? pic.twitter.com/DCgFYyUylB

— Chicago Bears (@ChicagoBears) December 24, 2022
Prediction: 34-28 Bills
Three weeks ago, I would have taken Buffalo in a blowout. However, the Bills have looked mediocre at best in recent weeks, while the Bears are coming off a near upset of the Eagles. Throw in some frigid temperatures, and this has all the makings of a good game which I anticipate it being just that.
On one side, you have a team going nowhere and currently holds the No. 2 pick in the draft. On the other side, you have a team that occupies the top spot in the AFC and is on the verge of clinching home field for the first time in a long time. I expect this game to come down to the final minute, but once again, the Bears upset bid comes up just short as the Bills win 34-28.
https://www.youtube.com/watch?v=23eMQeQPseE