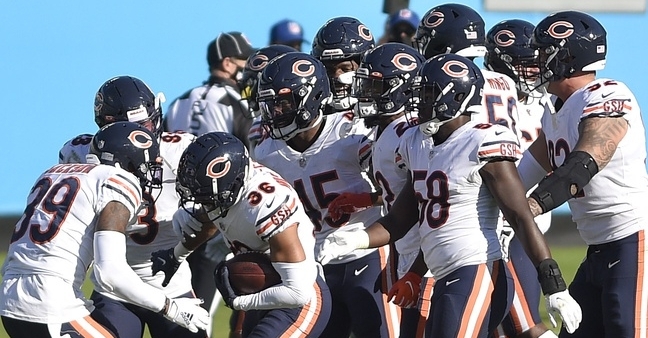 | | |
| --- | --- |
| Bears vs. Bucs Prediction: Can Bears get pressure on Tom Brady? | |
---
| | | |
| --- | --- | --- |
| Friday, October 22, 2021, 9:28 AM | | |
If Bears fans thought last week's game with Green Bay was difficult, it won't get any easier this week as the Bears will head to Florida to take on the defending Superbowl Champion Tampa Bay Buccanneers. Led by the ageless wonder Tom Brady, who is playing at an MVP level to start the season, the Buccaneers look every bit of a Superbowl contender yet again as they have revenge on their mind.
In an early-season matchup last season in Chicago, Brady inexplicably lost track of what down it was, costing Tampa Bay in the end. That situation resulted in a 20-19 Bears win which was their best win of the season last year. In hindsight, that loss was also a wake-up call for Bruce Ariens and his group as they followed that loss up with three months of great play capped off by a Superbowl victory over the Kansas City Chiefs.
Fast forward to 2021, and these two teams are set to meet again, with each one heading in different directions. For Tampa, they continue to be one of the best teams in the NFL and will once again be a force to reckon with come playoff time. As far as Chicago goes, they continue to be stuck in their old ways, and until that changes, you are looking at a team that will hover around .500 much of the season.
This is a game that Chicago needs to have for a variety of reasons. Not only would a win give this team confidence and keep them in the early season playoff hunt, but it would be the biggest win of Justin Fields career to this point. Who knows what that would do for his psyche going forward, as sometimes it takes just one game to completely change a season's outcome.
Here are some things to look for in week 7:
Get pressure on Brady
Despite approaching 44 years in age, Brady still has plenty left in the tank, and he has shown that again this season. A big reason for his success has been the protection his offensive line has given him, allowing him to utilize all his weapons at his disposal.
The best way to get Brady off his game is to pressure him and force him off his spot in the pocket. Fortunately for the Bears, they have one of the best pass-rushing duos in the game, with Khalil Mack and Robert Quinn leading the way. This season, Quinn especially has been a pleasant surprise as he has responded from his worst season as a pro and is starting to look like the guys the Bears paid for. These two need to be as disruptive as possible.
Protect Justin Fields
When the Bears drafted Fields, he was not only seen as the franchise savior, but gave the Bears an athletic quarterback in the likes the franchise has never seen. Sure, Fields has proven to have all the tools to be a franchise leader, but he is still a rookie, and with that comes rookie mistakes.
Not only has Fields taken his fair share of sacks, but he leads the league in yards lost by a sack. Granted, some of that resulted from the offensive line getting destroyed by Cleveland, but one thing he needs to work on is getting rid of the ball. Fields knows he is athletic, and sometimes that hurts him in his decision-making.
Instead of sensing the pressure and getting out of the pocket to throw it away, Fields often tries to make something happen behind the line of scrimmage, which results in considerable losses. One thing the Buccaneers do very well is pressure the QB, so Fields needs to be ready for that.
Given his scrambling ability, Fields can make plays happen with his legs. However, he needs to trust his legs more and run when the opportunity presents itself. The Buccaneers are a great team that doesn't need any more help.
From the moment Fields has stepped on the field in place of the injured Dalton, it has been his team, and he has taken off and run with it. Outside of three plays against the Raiders where Dalton came under center, Fields has been on the play for every play despite the wins still struggling to come.
However, this is one of those weeks where I wouldn't be surprised to see Dalton get some action, and I am not talking about him coming in for an injured Fields. When you look at this Tampa Bay defense, I compare them to Cleveland, where they seemingly have endless pass rushers. As improved as this offensive line has been, can they compete with a pass rush this difficult to contain?
While I do expect them to be improved from that Cleveland game, Fields will be under duress and will take some shots. If that is the case, look for the offense to struggle to the point where Dalton may get some snaps in relief to try and make something happen. Other teams like the Miami Dolphins have done that in the past with Ryan Fitzpatrick splitting snaps with Tua Taguviola in several games, which led to more wins down the stretch.
Who knows, maybe the Bears can figure out a way to incorporate both QBs using different sets of play designs. That not only would keep defenses off-balance, but would maximize the Bears chances on offense.
Prediction: Bucs win big
Much like last season, the Bears enter this week as heavy underdogs against Tampa. However, this game isn't in Chicago, and this isn't the same Tampa team that was in Soldier Field a season ago. The Buccaneers are a well-oiled machine that knows how to win and has been familiar with winning since Ariens took over.
They are loaded on both offense and defense and have the GOAT calling plays under center. This is a team that is not only playing like a Superbowl contender once again, but a team that believes they will win the Superbowl yet again this season. This game could get out of hand early, with Tampa Bay winning 31-13.