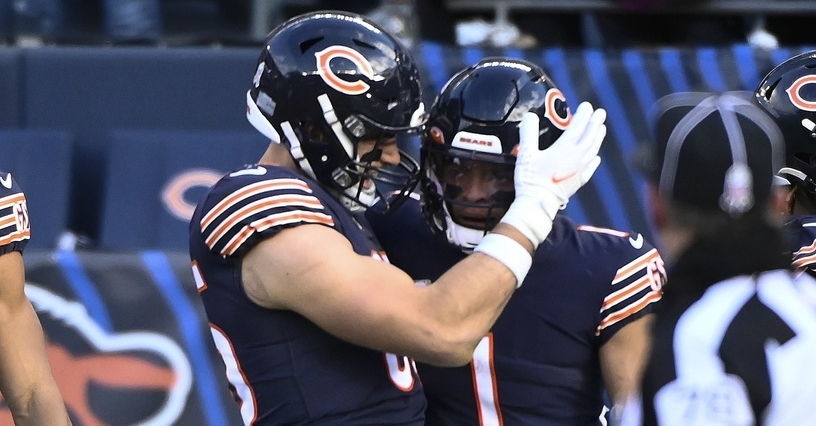 | | |
| --- | --- |
| Bears vs. Eagles Prediction: Can Bears pull off shocker? | |
---
The Chicago Bears return to action this Sunday for game one of their final four this season. If you have yet to make a game this season, and have been wanting to, this is your chance, as three of the Bears final four games are at home.
That comes with its perks, as weather conditions will not be ideal, and some of their opponents are not used to the elements. The problem is some of their opponents are used to the elements, and you could even argue their elements are worse than the Bears. Put that together with the hardest remaining schedule in the NFL, and the 3-10 Chicago Bears appear to be locked into a top-five selection this spring.
Chicago has a very tall task this weekend as they face the team with the best record in Philadelphia. This is the classic David vs. Goliath matchup on paper, as the Eagles are the far superior team. However, looking at the history of these two in recent meetings and what the NFL has shown us this season, this will be a great matchup. This season has been unlike any other, and fans should expect the unexpected. Here are three things to look for and a prediction.
Hello old Friend: Sunday will be a homecoming for one of the Eagles players as Robert Quinn returns to Chicago. This will be his first time back at Soldier Field since the midseason trade that sent him to the Eagles.
Say what you want about Quinn
He had a rough go of things early in his Bears tenure and then erupted to set the single-season sack record for the Bears in 2021. This season saw Quinn take a step back, but he was still their best and most consistent pass rusher. As nice as it will be for him to be back in Chicago, it doesn't look like he will play, as he is listed as doubtful on the Eagles injury report.
The Bye week couldn't have come at a better time for Bears QB Justin Fields. Not only did he come off arguably his best overall game this season, at least from a passing side, but he has been nursing a shoulder injury for the better part of two weeks. The bye allowed Fields to rest up, heal, and prepare for the stretch run.
Fields also missed some practice time with an illness but will be ready to go, as he wasn't on the latest injury report.
Ready to fight ?? pic.twitter.com/B4lWmVtGY5

— Chicago Bears (@ChicagoBears) December 18, 2022
Who knows who best
Sunday presents a unique challenge for Matt Eberflus as he goes up against Nick Cirriani. Why is this such a unique challenge, you ask? Well, these two were co-workers in Indianapolis three years ago, as they both worked on Frank Reich's staff.
To make things more interesting, Eberflus was the defensive coordinator, with Cirriani calling the offensive plays. These two had to face off daily in practice, so they should know each other very well. Being a first-time Head Coach comes with its challenges, but this is one of those instances where Eberflus may have an advantage if he can exploit Cirriani's weaknesses.
Prediction: Eagles win 38-20
As much as a Bears win would be nice, it is doubtful that it will happen. Chicago has been struggling for a while now, while the Eagles are coming off a demolishing of the New York Giants and may be playing better football now than a month ago. That is scary when you think about it, as they have Homefield on their mind.
However, Chicago can put up a fight as their offense has dramatically improved and could give the Eagles some issues. The problem is the defense which is one of the worst in the league, and now they face one of the best offenses. That doesn't bode well, as the Eagles make quick work of the Bears 38-20.